When Jack Yoss was the chef of the excellent Ten 01 restaurant in Portland, one of his most requested recipes was the Thai ribs, which were only available in the bar. He was kind enough to send it to me, and several readers have thoroughly tested the instructions and cut it down from a restaurant-sized portion to one that is more manageable. The final result is really good, and worth the effort.
Base sauce (Makes 3 cups of sauce, enough for 4# of ribs)
1 17.6oz jar Pantainorasignh brand Chili Paste with Soya Bean Oil
2 tbsp + 2 tsp champagne vinegar
1/2c Rice wine vinegar (aka Rice Vinegar, avoid the seasoned type)
1/4c Mirin
2 tbsp + 2 tsp Soy Sauce
1 tbsp Fish Sauce
2 tbsp + 2 tsp Sambal Oelek (Ground Fresh Chili Paste)
Whisk ingredients together until completely blended.  Refrigerate any unused portion.
Jack Yoss' Thai Ribs recipe:
2-4# Pork baby back ribs (natural with no additives)
1c + 3 tbsp cornstarch
Peanut oil for deep-frying
1c roasted finely chopped peanuts
1c minced mint leaves
1c minced cilantro
1/2c sesame seeds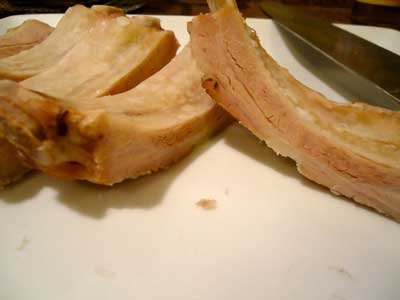 Place ribs into a 13×9 Pyrex baking dish; add water to the dish to a depth of ½".  Cover dish tightly with foil and cook in a 350-degree oven for 1 hour to 1 hour 30 minutes until meat is tender.  Thicker ribs will require longer cooking time.  Use 2 baking dishes if needed to avoid overloading with a large number of ribs.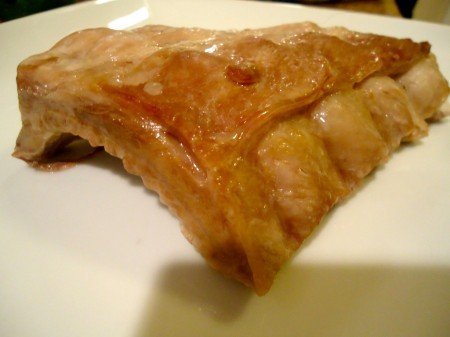 Remove ribs from oven and chill, covered, on a baking sheet in the refrigerator for 4 hours or overnight.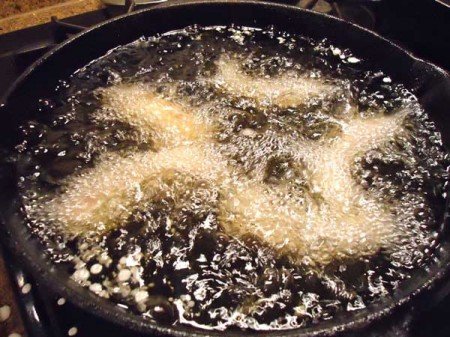 Cut chilled ribs into single rib pieces.  Whisk cornstarch and 3/4c cold water together in a small bowl, the mixture will resemble heavy cream.  Heat 3" of peanut oil in a heavy saucepan to 350 degrees.  Dip each rib in batter, drain off excess and fry for 3 minutes until crispy.  Drain on paper towels.  Work in small batches so the oil does not cool and the ribs are not crowded.
Heat a 12" sauté pan over medium-high heat.  Add 1 cup of Base sauce to the pan, followed by enough rib pieces to fill pan without crowding.  Toss and turn ribs to coat them evenly.  Cook for 2 minutes as sauce thickens and darkens slightly.  Remove pan from heat.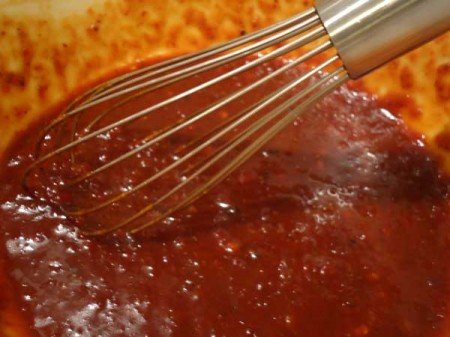 Quickly sprinkle some of the peanuts, mint, cilantro and sesame seeds on the ribs, tossing to distribute.  Pour ribs into a serving bowl.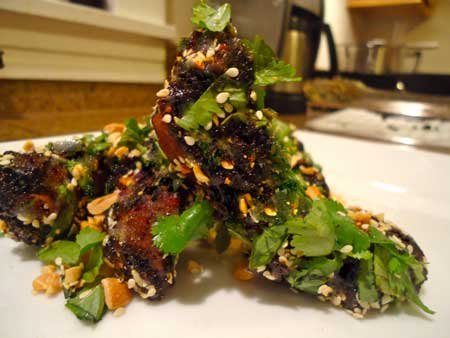 ---
Thanks to our testers GrapeDog and Whitney, and of course Jack Yoss! Photos by Whitney