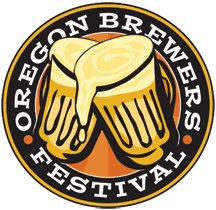 Under perfect summer skies on the banks of the sparkling Willamette with Mt. Hood towering in the distance, 72 wildly wonderful beers will pour for the denizens of Beertopia and the folks who are lucky enough to visit here.  It's the most perfect weekend of the summer, and following is a preview of how you're likely to spend it.
Now 21 years old, our Oregon Brewer's Festival (OBF) has become the stuff of legend.  Some say it's the largest outdoor beer festival in the country.  I say it's just another one of the many things that make our city great.  When the fest started, there was only one brewery within walking distance of the festival.  Now Portland boasts almost 30 breweries, with most of them crafting something special for OBF.
The festival looks to be great this year.  Like last year, the OBF will run for four days, from Thursday, the 24th through Sunday.  The festival saw fit to expand its distribution as well, adding two extra beer trucks pouring 220 additional kegs.  More staff will also be on hand to speed entry into the fest.  Look for Beer Ambassadors roaming around, including yours truly, who will provide visitors with all of the information needed to enjoy the festival, and indeed all of Beervana.  1800 volunteers are needed to staff the event, and, yes, they too are in it for the beer, just like you.
Entry to the festival is free, but you will need to buy a souvenir cup for $5.  Tastes of beer, really the best bargain of OBF, are still just a buck for four ounces.  Pick up a program and read about the beer.  And keep in mind three things.  Please don't drive, drink lots of water and eat, and go with a group to taste more.
And just what will you be drinking?  Bridgetown beer sage, and proud owner of four Collaborator jackets, Noel Blake is back with some of his picks for buzz beers:
Fruit beers:
Cascade Brewing Razberry Wheat: tart and fruity for when the sun is shining
Roots Calypso Ale: contains locally-grown apricot and scotch bonnet peppers
On the lighter side:
Hopworks HUB lager: this great pilsener has it all, plus it's organic
Fifty-Fifty Foggy Goggle White: lots of stuff (sour mash, spices, blend of 3 Belgian yeasts) might add up to overkill or sublimity – I'd bet on the upside.
Quaffing ales:
Green Flash Hop Head Red: lots of Amarillo hops in a red ale sounds like a winning recipe
Alameda East Village Amber: because when you want an amber it should taste this good
The Dark Side:
Bell's Porter: legendary brewery, very well-balanced versatile beer with enough malty complexity to reset your hop-o-meter
Surly Coffee Bender: a brown ale with a toddy of fresh-roasted Guatemalan coffee added for extra zip to keep you balanced on the balls of your feet
The Belgian Way:
Golden Valley Côte d'Or: G.V. specializes in wine-barrel aged beers, and this Belgian golden ale is aged in Oregon chardonnay barrels
Rock Bottom Congo Queen: They threw everything but the kitchen sink at this one – you've got to try it, then decide whether you love it or hate it
Bigger:
Rogue Glen: Cha-ching!
Collaborator Resurrection Rye: Balanced towards the hoppy side – try this early in case it runs out.
Century Club – take your pick of the following five beers over 100 IBU:
Russian River Pliny the Elder: this and Rogue I-squared are the gold standard of Imperial IPA's, soon to be seen all over town.
Lagunitas Hop Stoopid: because RR is not the only Sonoma County brewery that likes hops – this one is very aromatic, too.
Widmer Full Nelson: using only New Zealand hops, I've been hearing good reports on this one
Bridgeport Hop Czar: you must obey the hop czar!
McMenamin's Hillsdale Madman Jacks Insane Pale Ale: this one has hops over the top and everywhere in between
All of those look fantastic.  No wonder there's a hop shortage with all of those IPAs in the Century Club!  As for me, with 11 Belgian varieties pouring this year, I'm looking forward to tasting the following Belgian Beauties:
Flying Fish Love Fish Abbey Dubbel:  Be still my heart, I think this beer might make me fall in love.  Cherries and almonds and malt, oh my!
Golden Valley Cote d'Or:  Worth its weight in gold.
Goose Island Matilda:  Another Belgian golden, and this one is from a fantastic brewery.
Fifty Fifty Foggy Goggle White:  Orange peel, coriander, chamomile…sounds like a lovely afternoon in a glass to me.
Boulevard Brewing Lunar Ale:  Lazy, hazy brown beer with fruity aromatics, yeah, I'm in.
For more information check out the following sites:
The Oregon Brewer's Festival: http://www.oregonbrewfest.com/
The Oregon Brewer's Guild: http://oregonbeer.org/
Tri-Met: http://www.tri-met.org
Oregon Brew Map: http://placemapper.com/maps/brewmap.htm
Suds Sister, a.k.a. Niki Ganong, is a budding beer scholar and beer tourist.  We are always glad when she gets a chance to write for us.