Note: Karam still exists but at another location. I haven't tried it, so I can't stand by this review.
[minor updates 1/11 – prices and a few dishes, grammar]
Lebanon is a small country on the Eastern coast of the Mediterranean. The name is from Lubnan, the word for white, to describe the snow-covered peaks of the Mount Lebanon Range. Working from Egyptian hieroglyphs, early settlers in the area made a contribution to history by developing the basis of the alphabet used today throughout the Western world.
As settlers emigrated from many regions, the food is a mélange of influences gleaned from other cultures such as the Ottoman Empire, Ancient Greeks, Persians, and Egyptians. This means the cuisine tends to be more varied and refined than its Middle Eastern neighbors, and quite distinctive from that of Jordan and Palestine. Because of a shortage of meat in the area, the cuisine includes many vegetarian dishes – I never have trouble getting my vegetarian friends to come to Karam.
Because of the varied influences, one can see a marked difference among even simple things like hummus, depending on the region. This makes it a bit difficult to compare individual restaurants as many lean towards different traditional preparations. Another thing to understand is that the cuisine is very traditional. You don't tend to see menus with organic or seasonal ingredients, at least not in Oregon. I often wonder what could be done with the food under the hand of an accomplished chef, looking to work a little fusion magic.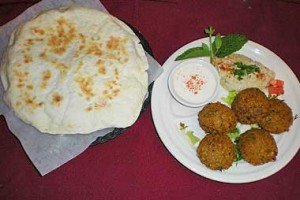 Portland is lucky to have a variety of Lebanese establishments. I have tried many, some are decent, some downright terrible. For my money, Karam in downtown is the best of the lot.
Karam means "generous". Judging from the amount of plates that pour from the kitchen with each order, the name is taken seriously. The only drawback is that they seem to take it a bit personally if you don't take all the leftovers home. For the amount of food you get, the prices are reasonable, with entrees running between $10 and $20. Yes, this is much more expensive than other Lebanese restaurants in town, but I don't mind paying more if the food is better, and in my opinion, this is.
Located downtown on Stark Street near Huber's, Karam is rather kitschy, with its walls painted to look like ancient pillars, but is a warm, pleasant environment, with the right companion, romantic. On most nights the service is stellar, with only an occasional misstep. The wait staff is more than happy to help you through the long menu and give suggestions.
There are a few common terms that will help you get through the menu at just about any Lebanese restaurant. I'll list them so you'll know what I am talking about when I describe the food:
• Baba Ghanauj [ba-ba-gah-noosh]. I have been told the name literally translates to "spoiled old daddy". It's another dip, made from roasted eggplant, garlic, sesame paste, olive oil, and seasonings. It's better than it sounds, and is made to be eaten with pita.
• Bulgar (wheat). A parboiled cracked wheat. Pleasant chewy texture
• Falafel [fuh-lah-ful]- When made correctly, these are crispy meatball-sized balls of ground chickpeas, fava beans and spices, deep-fried. A street food. Great with a beer.
• Hummus – a dip made from pureed chickpeas, sesame, garlic, lemon, olive oil and salt. Scoop it up with the pita bread. Native to Lebanon.
• Kibbee – sometimes considered the national dish of Lebanon, Syria, and Iraq. It consists of ground meat with onion, spices and cracked wheat (bulgar), formed into various shapes.
• Mezza – [mehz-uh] a large grouping of small appetizers.
• Pita – a middle-Eastern flatbread. Light and fluffy; a simple bread. It arrives hot and puffy from the oven.
• Shawarma – a marinated meat dish.
• Tabbouleh [tu-boo-lee] – a salad made with bulgur or parboiled wheat, chopped tomato, garlic, onions, parsley, lemon juice, and olive oil.
• Tahini – sesame paste with an almost peanut butter texture.
Main courses start with excellent homemade pita bread, hot and puffed from the oven, which is replaced when you get close to finishing it. This is accompanied by a small side salad of tomatoes, lettuce and parsley with a slightly vinegary dressing.
I like to begin with the veggie mezza appetizer ($10.95), little plates of tabbouleh, a grain pilaf made with bulgar, perfectly balanced hummus with just enough lemon and garlic, moist delicate grape leaves – probably the best in town, smoky baba ghanouj, and the best falafel I have had anywhere – chick-pea croquettes, freshly made for each order with a nice crunchy crust, and a terrific spiced filling that is moist enough to hold its shape. These are the best falafel I know of in Portland. I inhale these and dream of more.
For something with a bit more Mediterranean influence, try batenjan mekle. The thin, grilled slices of eggplant in olive oil and lemon juice is topped with garlic, parsley, and feta cheese, served with tahini ($7). I didn't particularly care for the Kibbee Nayee, an interesting mix of bulgur wheat, onions, garlic, and tomatoes, but I think it was just me, as another of my party finished it off ($5.50).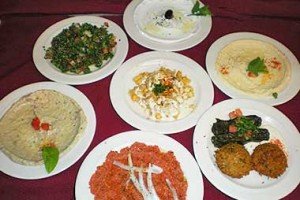 Vegetarians will be at home in any Lebanese restaurant. Try the veggie kabab with a variety of vegetables – most recently onions, tomato, eggplant, zucchini, served with pesto sauce on a bed of basmati rice and tomato sauce ($14.00). There are plenty of meat options available. For the uninitiated, the Meat Mezza is a bit of everything. Plates fly from the kitchen with slightly smaller dishes of tabbouleh, hummus, grape leaves, baba ghanouj, falafel, kafta kabab, and chicken shawarma ($14.00). For those feeling a bit gluttonous, get the Masawat instead of the Mezza. You'll get all the above, plus veggie kibbee nayee, labne, baleela, and lamb shawarma. Good luck walking out the door ($21.95).
Another excellent choice is any of the various Kibbee plates. I had this dish for the first time in Turkey, sitting on a sunny patio overlooking the coast. I'd had a few too many drinks at the time, which is probably why it holds a place in my heart, but since then I've had a weak spot for it. My favorite versions are either stuffed with lamb or beef. Karam's kibbee saneeyeh  is filled with beef, onions and pine nuts, served with a side of yogurt ($14.95), or kibee labnieh, with grilled ground beef, onions, spices, homemade yogurt, mint, and garlic, served with basmati rice ($16.95). For those looking for a meatless version, try the pumpkin kibbee, layers of fresh pumpkin, bulgur wheat, onions, and walnuts. It's kind of a strange dish, but I like it, especially during the fall when it just seems to fit ($12.00).
The meat in the goat dishes is slowly simmered and literally falls apart under your fork. I love the Goat Bil Tfeen – tender goat simmered in red wine, topped with garlic, vinegar, and pine nuts, served with bulgur wheat, garbanzo beans, and potatoes. Don't worry if you can't say the name, just point and the server will help you through it. It is the best goat dish I've had in Portland, with a texture like nothing you have had before. If you've never tried goat, this is a great introduction ($19.95).
A dish that is on just about every Lebanese menu is shawarma. They have it over hummus with onions, garlic, vinegar and spices (you can substitute baba ghanouj for the hummus) or with tahini with onions and parsley on a bed of basmati rice. Both the chicken and the lamb version are excellent; unlike many restaurants, the meat is moist and tender. (All versions are $13.95)
Karam has a full bar with some interesting choices. I enjoyed a cocktail made with arak, liquor from Asia and the Middle East, distilled from sundry-palm sap and dates. Like ouzo, the clear liquid turns cloudy when the water and ice are added. You'll want to sip this one slowly. Rose syrup is more common in desserts and drinks then you might expect. Here an interesting option is the rose martini with strawberry lemonade and rose syrup. The sodas are also fun – soda water flavored with rose water, jallab, tamarind, or mulberry ($3.50).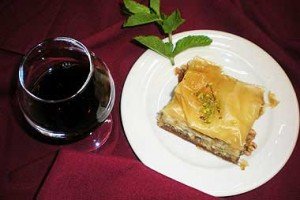 I was surprised how good the desserts are. The baklava is good, sweet (but not sticky sweet like many places) and crispy ($3.50). However, I like to try some of the more exotic offerings like knafe-b-kaak – cheese mixed with farina (a cereal), baked and served with a golden envelope of kaak, and topped with honey-like attur. It is almost ambrosial ($5). Another winner is Kateyef Bil-Ashta, a pancake filled with cream, light syrup and pistachios. What's not to like? ($4) I love muddy, thick Turkish coffee, and almost always get it too ($2.50).
I think the reason I like Karam so much, is because I can close my eyes and pretend I've been transported to another world and back to the Middle East. It's an oasis off of Stark Street; walking though the door brings you to an unexpected, incongruous space. It is a must on any tour of Portland Lebanese cuisine.
Grade: B+

Phone: 503-223-0830
Address: 316 SW Stark St., Portland OR. 97204 Google Map.
Hours: 11am-9pm Mon-Sat. Closed Sunday
Website: KaramRestaurant.com