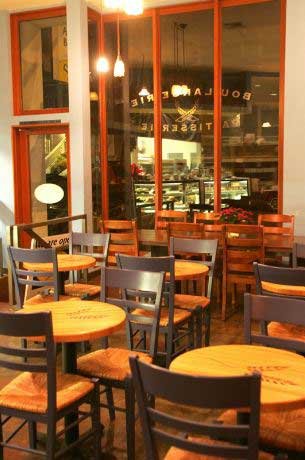 Updated 6/118. Text, details, photos.
When I think of bakeries, my mind rushes back to Manhattan Beach in the '60s. Once a week, my dad would stop on the way home from work and pick up all kinds of rolls for breakfast the next morning. It's called Becker's, and according to my mom, it is still thriving after all these years. It's miles from where we lived but was the best around, and Dad always picked up a sampler of the simpler fare that was available then. No croissants, no tarts; instead, things like hot-cross buns, (do they still make those?), twists, and jelly rolls. He'd bring them home in a big pink box tied with white string, and my sisters and I would rush him to see what delights lay inside. Nowadays you only see this type of thing in grocery stores, and when you try them they usually taste like cardboard. Back then, though, they were the height of culinary baking, and nothing was better than one of those rolls, warmed slightly with a bit of butter, before school.
These days bakeries are a far different place. Ken's is a pretty good example of state-of-the-art. When you walk in the front door, a dizzying array of colors and shapes greets you from the glass case. Fluorescent macaroons, multicolored tarts, and perfectly browned croissants fight for your attention. On a nice day, large open windows let in light and a warm breeze. The walls are painted in different blues and yellows, making it feel more spacious than it really is. This actually feels like a real French bakery, much more so than the Disneyland version at St. Honoré a few blocks away. A long community table with a huge vase of flowers crosses the space, with about ten small tables dotted about the room. Outside tables make a pleasant place to sip coffee or enjoy a sandwich on a nice day. This is a comfortable space to while away time.
To me, the best indication of the excellence of any bakery is the bread, and I haven't had any better in Portland. Ken Forkish uses the best organic flours, French sea salt, and even more important, hours and hours of patience. The dough is fermented slowly, retarded, taking the time needed to develop the best flavor, a perfect complexity of tastes that makes it stand out from everywhere else. The naturally leavened (sourdough), bread is terrific, full of rich nutty taste that makes you dig into the depths of your brain, separating out all the flavors. The perfect crust shatters under your teeth, giving in to a rush of tangy piquancy, a perfect synergy of ingredients. The crust has greater scorch than most, an almost caramel brown. This is what bread should taste like. Available loaves are pain rustique ($2.95), a walnut baguette studded with fat walnuts ($4.95), huge crown loaves ($8.00), country boule ($3.95), country brown with a lovely nutty finish ($3.95), country demi-baguette ($2.95), Parisian baguette ($2.50), and others depending on the day.
A good rotation of sandwiches is also available, and they are some of the best in town. Over the past few weeks, I've been working my way through them. The pulled pork with a somewhat sweet barbecue sauce is loaded with lots of tender, moist meat on a perfect slice of bread. An accompanying slaw is a low acid, but after a few bites, you realize it really complements the sandwich with lots of raisins and a little bit of fresh thyme. The Croque monsieur is the best in Portland. Not that flat thing that so many places serve, but little waves of ham covered with Gruyère, on top of béchamel with more of the ubiquitous thyme on a thin slice of fresh country bread – transcendent. I also fell for the braised roasted beef with caramelized onions. A horseradish sauce gives a nice counterpoint to the beef without masking its nice meaty flavor. If you are in the mood for a summer classic, the roasted eggplant and mozzarella with fresh basil, tomato, and balsamic reduction are the perfect accompaniment to a sunny afternoon. All sandwiches are $6.45. They come with a bit of lightly dressed greens or a few blueberries that are still little flavor bombs, even in early September.
The pastries are more of a mixed bag. I am told to be here early in the morning when they first come out of the oven, or Saturday when they come in waves all day long. The butter croissants ($1.95) are marvelously layered, shattering into buttery flakes when you bite into them, never being greasy. Pick one with Valrhona French chocolate ($2.50), and it is like a dessert, pairing perfectly with a cup of coffee as you watch the parade of Portland chic pass by. Then suddenly you'll realize, at that moment, you are one of them in the trendy little bakery, but it doesn't really matter. Pretend.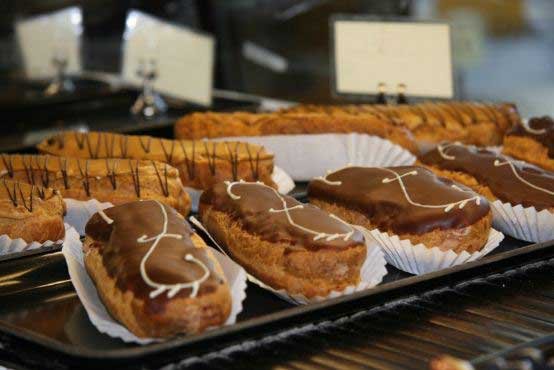 A summer pudding ($3.75) is soaked in fruit syrup without being too sweet with a crème anglaise to counter the tartness. It is studded with blackberries, raspberries, and blueberries – most of the seeds are out, but a few have been left leaving a little crunch. I liked it, but it didn't do anything for other people that tried it with me, and I have to say I probably wouldn't order it again. A seasonal fruit amandine was okay with a good almond paste flavor on a light crust, but still, I've had better, especially for $3.50. St. Honoré Bakery is fairly well known for its almond croissants, and I went back to compare the two against each other. The Honoré is denser and less flaky with a sweeter, stronger almond flavor. I actually prefer the lighter Ken's version, but the almond paste in both could be better. Finally, we come to the Canalet, a traditional treat from the Bordeaux region of France. Traditionally made with milk, eggs, sugar, flour, vanilla bean, and rum, they taste like a cross between a cake and a cookie and are quite addictive. They look simple but are extremely complicated to make. I like Ken's for his dark, caramelized crust and creamy center.
My memory has failed me, but there was a bun filled with chocolate and fruit. I can't remember what it was called. Maybe it is because I just didn't think it worked. (I'll update this next time I'm there.) While the bun itself had a nice texture, the filling was a bit harsh for me. I'd pass on it again. Same with the macaroons; an entire side of the case full of brightly colored cookies, but they were just too cloyingly sweet for me. Though mine were fresh, I am told they can taste a bit stale at times.
Coffee is Mr. Espresso – organic, free trade, sustainable. I didn't care for it too much, but I'm used to Stumptown.
The pastries are fine, but the bread is the number one reason this bakery should be a destination.
Phone: 503.248.2202
Address: 326 NW 21st Avenue, Portland, 97209. Google Map
Hours: Mon-Sat: 7am-6pm, Monday Night Pizza: 5:30pm 9:30pm. Sun: 8am – 5pm
Website: Ken's Artisan.com