[Koji's now has over 6 locations in the Portland area and an outpost in Seattle. This review only refers to the downtown Portland location on SW Broadway, and the NE 15th and Weidler location near Lloyd Center]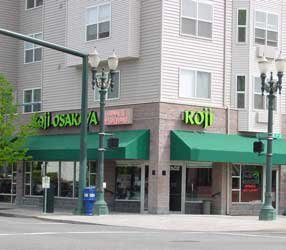 Although Koji's was never what I'd call grade 'A' Japanese food, for many years it was one of my old reliable stand-bys. Koji's was a place I could always get decent sushi at reasonable prices, a warming and filling bowl of buckwheat soba noodles in a well balanced broth, or the simple protein over rice combinations known as donburi. I knew I could sit at the counter alone, elbow to elbow in the comfort of strangers, and the pleasant wait staff soon learned my name and my favorite dishes. The jewel box of a space on SW Broadway filled my Japanese food cravings on a student's budget, and soon became a familiar haunt for lunches downtown or dinners with friends before a night of pub hopping.
Keep in mind though, ten years ago in Portland, we didn't have the same plethora of Japanese dining options that we do now. Conveyor belt sushi didn't exist in the Pearl or most other neighborhoods. There was no competition in the way of the mid-range chains, and forget about the existence of Japanese hot spots like Biwa or Masu. With an increase in Japanese dining choices, and with sushi sneaking into mainstream dining, I found myself eating at Koji's less and less. It was no longer a destination, and more of an afterthought.
A few months ago I stumbled back into the 15th and Weidler location, and had one the worst sushi meals ever. It was even worse than a gut wrenching sashimi meal in New York in 1987 at a dirty late night hole near Canal Street, or a past its prime suburban sushi place in the Midwest that unapologetically served freezer burned sushi and undercooked rice.
At Koji's, fibrous maguro tuna started the meal off on a bad note. It went downhill from there, with things like brown around the edges rubber tako octopus, and a spicy scallop hand roll that can only be described as a goopy abomination. Imagine a generous scoop of mayo flavored with Siracha hot sauce, and a tiny bit of watery chopped scallop sans typical accompaniments like sliced cucumber or even radish sprouts. It was rolled into a nori and rice cone, and left to sit on the counter for a good five minutes before it reached my table. The once crispy nori was now "mellowed" into a disintegrating mass of soggy seaweed. At over $6.00 for what was essentially the equivalent of one inedible sushi roll, I knew I had been ripped off. The bargain basement sushi-go-round down the street has better quality for half the price.
Thinking it might have been an off night, I decided to check out the downtown location and had a sadly similar experience. I went back again, and again. Could it really be this horrible? I took friends with me to make sure my taste buds hadn't suddenly changed. No, even people who have never been to Koji's thought it bad, or alternately, friends who used to eat there as frequently as I did concur: Koji's is just not very good anymore. Through each and every meal, either the food or service would be unacceptable.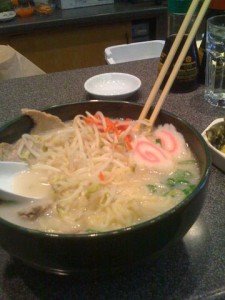 One meal at the downtown location included a pathetic version of the Japanese comfort food known as okonomiyaki. This dish, often described as the Japanese "pizza pancake," is a ½ inch thick vegetable concoction that may contain seafood, or meat. Bound with an egg based batter and fried on a griddle, it should be crispy on the outside and moist and tender within. Covered with condiments like crispy nori flakes or drizzled with different sauces and cut into wedges, it is the perfect casual shared meal over sake and beer. But the recent Koji's version was burnt on the outside, soggy and undercooked within, and smothered with an overpowering syrupy and sweet soy based tonkatsu sauce. During the same meal, what should have been toothsome buckwheat soba noodles in dashi broth, came out so overcooked the noodles were a pasty mass.  Another visit included a past-its-prime raw scallop sushi with so much wasabi buried between the fish and rice, I can't help but wonder if they did it on purpose to hide the strong fishy taste. A few other visits offered up sushi rolls so badly prepared they fell apart when picked up.
One night there was the unfortunate experience of the Tonkotsu Ramen. In Japan, there is no single style of ramen. Indeed, this country has dozens of documented styles based on geographic location, ingredients and cooking techniques. Yet the broths can usually fall into one of four categories: shoyu (soy sauce), shio (a light meat, usually pork, base), miso, and tonkotsu. Tonkotsu ramen is made with a pork bone based broth that can range from milky pale to deep brown. Many regions and individual ramen shops have their own special methods or secret ingredients such as dried fish, ginger, garlic, white pepper, and other spices. This gives their soup a unique depth and multiple layers of flavor that makes for an addictive and deeply satisfying dish.
I say this because it wasn't the style of ramen that was the problem at Koji's. The noodles were fine, as were the generous condiments of bean sprouts, chopped onion and other sliced vegetables. The tonkotsu broth and meat, however, were just unpalatable – greasy and salty with an underlying rancid meat taste. There was no depth or dimension, and sliced pork tenderloin was boiled to the verge of shoe leather. Yes, it was that bad.
Then there were the service issues. On one visit, the dining room was half full with only a couple of people at the bar, yet the server and the kitchen staff seemed overwhelmed. Dinner tickets and prepared dishes piled up in the kitchen awaiting pick up. It took a good 45 minutes for our food to arrive and the bill was not added correctly at the end. This, coupled with the strong concentrated ammonia smell from the cleaning fluid permeating the restaurant as the kitchen scrubbed down during the dinner, made for more than a bad experience. Unfortunately, this kind of service and ambience seems typical of the downtown location with problems ranging from forgotten orders to slow service to incorrect bills almost each time I dined there.
To be fair, two out of three visits to the NE 15th and Weidler location fared better than all 4 visits to the downtown one. It offered mostly efficient service, except for one visit perfectly fine but not horrible sushi, and pedestrian dishes like tempura, broiled salmon and teriyaki in the $10 – $15 range.
A cloud of malaise has descended upon the SW Broadway Koji's though, with what seems to be unhappy servers, unmotivated cooks merely going through the motions, and food that is often ill-prepared and less than fresh. It's a shell of what this restaurant once was. This is a shame since Koji's is in a prime location near Pioneer Courthouse Square, is the rare Japanese restaurant downtown open seven days a week for lunch and dinner, and provides a mid-range price point for a type of food that is much needed in that neighborhood. Koji's is also located near several hotels and is always listed multiple tourist guides, making it an obvious choice for newcomers to town. Someone needs to print a warning in those guides that says, "Proceed with caution if you chose to eat here."
Japanese food doesn't always have to be extravagant and expensive. Nor does it need to be on-the-go $1.00 sushi from a conveyor belt. At lower prices, one can expect lesser quality, but service and food should never be this bad no matter what the price.
Koji's what happened to you?
Grade: D
Phone: See website for locations
Address: Numerous. See website for locations
Hours: Varies by location
Website: Koji.com