Figs are coming into season early this year, and Lizzy's post from 2006 is always popular, so I thought I'd run it again. Recipe by Eric Bechard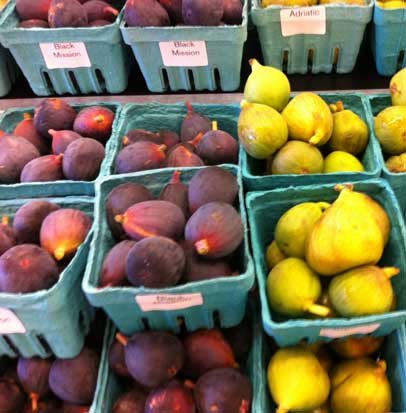 Portland Oregon is practically raining figs. There are big brown, black and green blobs on sidewalks, on top of cars, and backyards are slippery mine fields. It won't last long though, because we are nearing the end of the  season.
Fresh figs remind me, somewhat sadly, that summer has now peaked and I need to savor every last bite, for there are only a couple of the good weather months left.
Portlanders love figs, our green grocers and farmers markets are overflowing with them, and chefs in town are swooning with inspiration.
There are over 75 identified fig varieties that grow in the Willamette Valley, each just slightly different enough to be noticed. Common types in Portland include the proficient and hardy Brown Turkeys, large chartreuse Desert Kings, and the thick-skinned but honey sweet Kadotas. Some varieties are much less known, like the Madeleine des Deux Saisons (Madeleine of Two Seasons) from Brittany, France, so named because they bear fruit in the summer and then again in the fall which is somewhat unusual for our climate. There is also  the Cottenham. As lore has it, the was rescued in the 1920's from the dilapidated memorial site of a 17th century British Knight. A single cutting of this tree was brought to our area by chance, propagated, and resurrected from near extinction. Several years ago it was designated as a heritage tree, and saved. It now thrives in Portland.
Figs are mythical and mysterious, and dredge up all kinds of things burned deep into our collective consciousness: Adam and Eve with their fig leaves and other morality tales, ancient still life oil paintings showing platters overflowing with the fruit, and quaint seasonal songs about Figgy Pudding. On a more personal level, fresh figs always bring me back to a decadent vacation, lounging in the hot Mediterranean sun, and eating figs until my stomach hurt. And one of my earliest memories is of being 6 years old and lifted up high on Daddy's shoulders, covered in a thick canopy of green, feeling on top of the world and trying to grab the ripest ones from our Grandmother's giant tree.
Figs are ancient, thought by some the oldest cultivated fruit. Remnants have been found in excavation sites traced back to 5,000 B.C. Many cultures view them as medicine, certain that they will cure both heartaches and upset stomachs. Figs are high in calcium, potassium, and magnesium. Yes, they also contain quite a bit of fiber, so they have very real laxative qualities. Figs are good for you.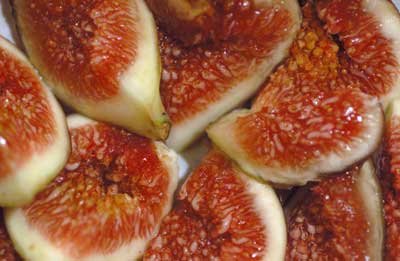 Such a coy little fruit too, their modest fat bottomed exteriors hiding such luscious pink insides. Figs have a slightly nutty taste and a distinctive crunch from all those tiny seeds. They are not terribly juicy, and will not drip down your chin like a peach or a watermelon. They have a subtle scent, somewhat musky, but not overly perfumed like our garish party girl fruit, the cantaloupe. A good ripe fig is as soft as a marshmallow and can be peeled, eaten as is, or (my favorite method) simply cut in half and scooped up with a spoon. These fruits are delicate, bruise easily, and must be picked when ripe, as they do not do well once off the tree. This makes them difficult to transport and sell commercially, and is the main reason you rarely see fresh figs in large corporate supermarkets. Many people in colder climates can't even get them, and I know a poor soul or two that has never even tasted one. Oh, how lucky we as Portlanders are to have figs growing so close to us.
Figs, however, are the ambassadors of the fruit world, showing up in many an international culture, and they get along with just about everyone, both savory and sweet. Grilling brings out their sugar as does a pinch of salt, and they are good roasted or baked, or stuffed with many varieties of cheeses. They mix nicely with raw or cooked vegetables, and can be paired with meat, fish, and fowl. Figs are versatile, and are included in all kinds of desserts from creams to baked goods, and even go well with chocolate, nuts, and other fruits, especially citrus. If treated right, figs can easily be preserved for the winter by drying, canning, put up into in jams or chutney, or boiled down into bright sticky syrups. Daydreaming of summer in January? Try some figs preserved in brandy over ice cream, a splash of vanilla-fig syrup with orange liqueur in your vodka cocktail, or spicy fig chutney with roasted peppers for your pork chops.
Back in 1996 when Eric Bechard was executive chef of the now closed Alberta Street Oyster Bar and Grill, he waxed poetic about his love of fresh figs. Eric had all sorts of ideas on what do with them, and kept saying things like, "ah, the Missions, it's so hard to find an ingredient with that deep black color, they look so beautiful cut on a plate, and figs pair well with just about everything."
Now the owner of Thistle restaurant in McMinville Oregon, Chef Bechard was generous enough to share this recipe, and I hope you will enjoy it. It serves 4, very generously. Smaller plates could serve 6 as part of a larger meal, or even 8 as a tapas style appetizer.
Salad of Mission Figs, Roasted Chanterelles, Goat Cheese, Frisée and a Warm Bacon Vinaigrette
Ingredients:
12 Mission Figs (each cut into quarters, stems removed if you wish)
3 heads Frisée (cleaned and leaves separated)
2 oz Goat Cheese (chèvre style)
1 lb Chanterelles (roasted, instructions below)
2 Cups Bacon Vinaigrette (recipe follows)
For the Roasted Chanterelles:
Preheat oven to 400 degrees. Wash Chanterelles to remove all dirt and place them in an oven proof pan and cover with foil. Bake at 400 degrees for 20 minutes. Cool. This can be done in advance.
Warm Bacon Vinaigrette:
3 Strips of Bacon
2 Shallots (chopped)
½ Cup Sherry Vinegar
1 ½ Cups Canola Oil
1TB Fresh Thyme (chopped)
Salt and Ground Pepper to Taste
Cut the Bacon into small pieces and cook in a small pan at low heat
until crispy. Turn off heat and add Shallots, Sherry, and Thyme, and slowly whisk in Oil. Season to taste with Salt and Pepper. This can be done in advance. Be sure to reheat vinaigrette before assembly.
To Assemble:
In a large mixing bowl gently combine prepared frisée, roasted Chanterelles and cut figs. Dress with the Warm Bacon Vinaigrette and place a small amount of salad, being sure to get some of each item, in the center of each plate. Finish by crumbling the Goat Cheese on each salad. Serve immediately.
Enjoy.