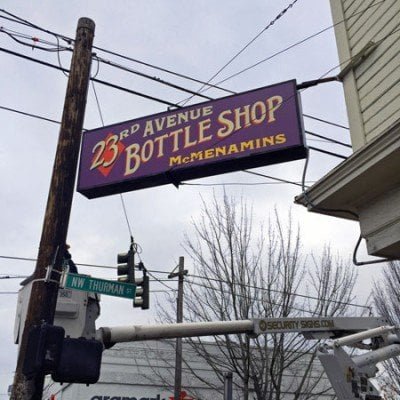 McMenamins has announced the opening of a new bottle shop on NW 23rd Avenue. The newest venture, the 23rd Avenue Bottle Shop, will carry over 800 bottled craft beers, ciders, wines and spirits. The public opening will be on November 19th, 2015. Here is the official press release –
799 BOTTLES OF CRAFT BEER, CIDER & SPARKLING WINE ON THE WALL

– McMenamins Opens New Bottle Shop on Portland's NW 23rd Ave. –

WHAT:           Imagine Portland 38 years ago – before the craft beer explosion. That's when Mike McMenamin purchased a local market in Raleigh Hills and began stocking the shelves with imported brews and fine wines. Dreaming of something more, he sold the Raleigh Hills Market, partnered with his brother Brian, and together they opened their first pub in 1983 – creating a community gathering space to enjoy a pint. Fast forward to present day and Portland looks a lot different, but the brothers are still at it – creating spaces in neighborhoods to enjoy beer, wine, spirits and ciders. Their newest venture is the 23rd Avenue Bottle Shop – featuring a combination of hand-crafted ales, cider, spirits and wine, and imported bottles from around the globe. It's a new chapter for McMenamins and a valuable addition to the Northwest Portland community.

McMenamins 23rd Avenue Bottle Shop will be home to:

800+ bottled craft beers, ciders, wines and spirits from McMenamins and around the world
A special section of more than thirty-nine sparkling wines, ranging from  $12.75 to $279 in price
Weekly cocktail specials

Monday

and

Thursday

growler fill specials
Food from Tavern and Pool next door
16 taps featuring McMenamins' hand-crafted ales, hard ciders and rotating guest beers

Opening to the public on Nov. 19 – the 30th Birthday of McMenamins Terminator Stout – four variations of Terminator will be available on tap in the bottle shop, while supplies last. The variations include the original recipe, Billy Barrel Cherry Sour Terminator from Cornelius Pass Roadhouse Brewery, Spanish Coffee Terminator from Thompson Brewery and Black Rose Terminator from Edgefield Brewery. Wine, cider and spirits tastings will also be available throughout the weekend as part of the grand opening celebration.

Passport Stamps will be available at the bottle shop for McMenamins Passport holders, and on opening day guests can stop by for Terminator's 30th Birthday Passport Discovery Hunt.

WHEN:           Grand Opening: November 19, 2015

Regular Hours:  Daily, 10 a.m. – 10 p.m.

WHERE:         McMenamins 23rd Avenue Bottle Shop

2290 NW Thurman

Portland, OR 97210

WEBSITE:      www.mcmenamins.com/bottleshop

About McMenamins

McMenamins operates 53 distinctive pubs, restaurants and historic hotels in the Pacific Northwest. Founded by brothers Mike and Brian McMenamin with a single Portland neighborhood pub in 1983, McMenamins today includes eight Washington locations and 45 Oregon properties, 18 on the National Register of Historic Places. McMenamins handcrafts its own beer, wine, spirits, cider and coffee and offers an eclectic mix of pubs, hotels, movie theaters, concert venues, spas and events for guests to enjoy.