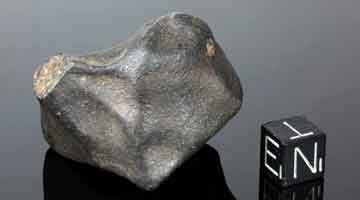 Yup, you heard it right. Ian Hutcheon, a British astronomer, has introduced a red wine that contains… a 4.5 billion-year-old meteorite.
The meteorite from an asteroid belt between Mars and Jupiter, is introduced into the wine just after a 25 day maloactic fermentation, and then blended with Cabernet.
"The idea behind submerging it in wine was to give everybody the opportunity to touch something from space," Hutchinson told The Drinks Business. "When you drink this wine, you are drinking elements from the birth of the solar system."

Borrowed from an American collector, this particular meteorite crashed at the Atacama Desert about 6,000 years ago, according to Discovery News.
Anyone else think this is totally stupid? My favorite line –
Hutcheon believes the meteorite gives the wine a "livelier taste".
Sigh. You can read the article from The Drinks Business.com here.