Mother's – Subliminally Sublime?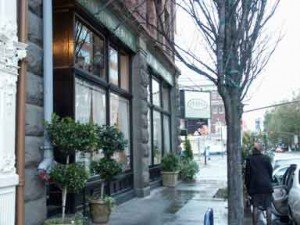 Sitting at Mother's at 1:15 pm on a Thursday afternoon looking at all the dust on the fixtures above me, it seems the place needs a good cleaning. Though the restaurant is only about 20% full, I am surrounded by empty tables full of dirty dishes that haven't been cleared. Several tables of patrons are looking around wondering where their food or checks are. We ended up waiting ten minutes to order. While I didn't time the wait for food but it was unusually long. I thought to myself, this doesn't bode well for Mom.
I like the concept of Mother's. They specialize in comfort food, the type of dishes most mothers make; things like meatloaf, pot roast, chicken with dumplings, and macaroni and cheese. In addition to her standard repertoire of comfort food, each month owner Lisa Schroeder features a selection of recipes from a new mother. This makes it interesting because she doesn't' stick to the United States, but features mothers from around the world.
Between the controversy on my website and all the accolades on the walls, I know I have to be careful with this review. She has been written up in many magazines and named restaurant of the year by Willamette Week. These are pretty good credentials, but I wonder if there isn't a portion of our population that is subliminally drawn to a place named Mother's. To make sure I'm trying a good selection of dishes, I went back four times.
Let's talk about the food at my initial lunch. We shared the following: a pulled pork sandwich with honey-mustard BBQ sauce. It was very bland, not much flavor and the meat was rather mushy. The fries were very good – thin and crisp, but not too crisp, skins left on. The hamburger had all the basic building blocks but not much in the flavor department. Grind very fine. It wasn't bad, but the quality of the ingredients was not sufficient to make it anything more than average.
Undaunted, I came back the next night for dinner. Service was much better, really good in fact, though once again empty tables weren't getting cleared very quickly. At one point on my fourth meal, we were forgotten entirely, but they made up for it later by paying extra attention. The portions were very large and there are several good vegetarian options…I'll quickly go through the items on the menu and comment on the things I've tried.
Appetizers:
Perogi – hand-made, very light, but not much potato filling. They were overpowered by the dough. They came topped with sour cream and sautéed onions.
House salad –loaded with raisins, dotted with sunflower seeds; your average dinner salad.
The Caesar was a limp, soggy, sad little salad. The lettuce seemed like it was either old or had been pre-dressed. The type of thing a mother (who had never had the real thing) might make.
Matzo ball soup was good. Nice chicken flavor, huge matzo ball in the middle. Probably the best thing we had at Mother's.
Denver macaroni and cheese with ham, pepper, onions, and cheddar cheese. No added crust, this is middle-America food; a huge portion on bow-tie pasta. It was pretty good but was slightly gummy. A few nights later it came with bacon and a dollop of sour cream. My dining companion loves this type of thing and was excited to try the dish, but admitted afterward that he was a bit disappointed and wouldn't try it again. They also offer a vegetarian version.
Roasted rotisserie chicken with red potatoes and seasonal vegetables was basic, a bit dry, skin not too crisp. The potatoes were mashed and had a bit of an off-flavor, though a few nights later they tasted great, loaded with butter though a bit overworked for some tastes. Nothing special here.
The Cascade Natural ground beef meatloaf and gravy with seasonal vegetables smashed red potatoes were fine but very dry. Came with gravy which was average and tasted strongly of corn starch. The seasonal vegetables this week are zucchini, one night overcooked and over-salted, other nights just fine. They strike me as a strange choice with all the good things in season, but there is a lot of repetition of sides which I suppose is necessary with all the menu choices.
The final night I had pan-seared Carlton Farms pork loin medallions which are simmered with beer and caramelized onions, once again served with the ubiquitous smashed red potatoes and zucchini. They were okay, but nothing I'd have again.
Blueberry crumb pie served warm with vanilla ice cream – nothing memorable.
A rice pudding topped with candied almonds was incredibly thick with a texture near that of wallpaper paste. It stuck to the roof of my mouth. The flavor was okay, but with four people at the table, we didn't finish it. That should tell you something.
There was a peach crisp with nut topping served warm with vanilla ice cream. Again, nothing special – I could make better in my sleep; the same thing with a poor imitation of seasonal cobbler.
As I said, I want to like Mother's. The concept is great, the staff seems nice if a bit harassed, but now that this review is done, it is not somewhere I'd want to go again. There are just too many misses. I guess my mother was just a terrific cook.
Phone: 503-464-1122
Address: 212 SW Stark St, Portland OR. 97204 (on the corner of Stark and 2nd). Google Map
Hours: Breakfast Tue-Fri 7am-2:30pm, Sat-Sun 9am-2:30pm. Lunch Tues-Sun 11:30am-2:30pm. Dinner Tues-Thurs 5:30pm-9:00pm, Fri-Sat 5:00pm-10:00pm
Website: MothersBistro.com