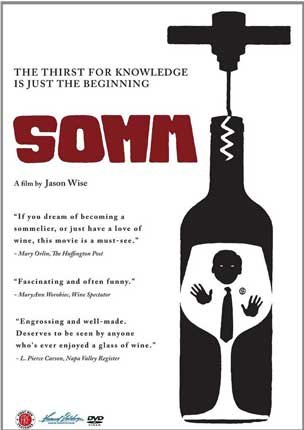 You may not have heard of the organization, but in 1977, the Court of Master Sommeliers was established to provide a worldwide certification of in the art, science and history that is required to become a sommelier. The exam is brutal. Over the past forty years, only 211 candidates worldwide have earned the Master Sommelier Diploma.
The feature-length documentary follows four men as they study to pass the exhaustive exam, which is given once every year. Not only do the candidates have to be masters in service, but they need to know wine history, regions, and be able to identify a where a wine was produced, just from a taste.
If there is a lesson to be learned in the film it is how subjective wine tasting can be. Rapid cuts between the students compare their descriptions of the same wine – "It's medium-high acid", "it's low acidity", "no oak whatsoever", "highly oaked"… At other times, tasting notes are very similar. Sauvignon Blanc is frequently described as smelling like cat pee, more kindly termed "blackcurrant bud". Other candidates refer to the smell of a "newly opened can of tennis balls" or even "the odor of pool toys" – both of which I completely understood.
Rather than being a dry documentary, "Somm" develops the characters enough so that, on some level, we care about the outcome of the testing. By the end, it is easy to get caught up in the suspense, and if nothing else, you'll have a new respect for those who actually pass the exam and become Master Sommeliers. Overall, I enjoyed a recent rainy evening curled up with the dog, a good bottle of wine, and the movie.
It is interesting to note, that there are six in the Northwest – Greg Harrington, Robert Bigelow, Christopher Tanghe, Joseph Linder and Shayn Bjornholm in Seattle, and Nate Ready in Dundee Oregon. Portland needs to step it up.
Four men will do anything to pass the most difficult test you've NEVER heard of… SOMM takes the viewer on a humorous, emotional and illuminating look into a mysterious world – the Court of Master Sommeliers and the massively intimidating Master Sommelier Exam. The Court of Master Sommeliers is one of the world's most prestigious, secretive, and exclusive organizations. Since its inception almost 40 years ago, less than 200 candidates have reached the exalted Master level. The exam covers literally every nuance of the world of wine, spirits and cigars. Those who have passed have put at risk their personal lives, their well- being, and often their sanity to pull it off. Shrouded in secrecy, access to the Court Of Master Sommeliers has always been strictly regulated and cameras have never been allowed anywhere near the exam, until now. How much do you think you know about wine? SOMM will make you think again. SOMM takes you on the ultimate insider's tour into a world of obsession, hope, and friendship in red, blanc and sometimes rose. (c) Samuel Goldwyn
Running time is 1:33.