I'd like to say this was all April fools, but the HunnyMilk brunch is true.
Wake and Bake Brunch at HunnyMilk
Intrepid Willamette Week reporter Martin Cizmar wrote a review this week of the new "Wake and Bake Brunch" at HunnyMilk, a popup inside Hogan's Goat Pizza on NE Sacramento street. This is not some stupid April fools joke – I hate those; this is for real. Here is the blurb from the HoneyMilk website:
Imagine strolling over to grab brunch with your friends on a beautiful Portland morning.

You've got a bag full of cannabis goodies in your backpack or purse. All of these products were provided to you through our partner dispensary, Pure Green, a few days earlier – how thoughtful!

You arrive, hungry for brunch, and… what's this? There's a deluxe party bus from High 5 Tours parked right outside. Comfy seats. Tinted windows. Total privacy. You get onto the bus and enjoy your weed while listening to chill music. Niiiiice.

Feeling good? Now it's time to head inside, sip a warm beverage and watch classic cartoons (like Ninja Turtles, Care Bears, DuckTales, Inspector Gadget, and The Smurfs) on an 8-foot projector screen.

And OMG! Now it's time for brunch! There's an epic selection of brunch items for you to choose from, including: red velvet waffles… warm biscuits with vanilla honey butter and strawberry jam… croissant-donut sandwiches with sunny egg, thick bacon, cheddar, and spicy maple drizzle… rosemary french toast with crispy ham, brie, and red bell pepper marmalade… chocolate chunk monkey bread with peanut butter custard for dipping… and so much more.

Just when you thought life couldn't get any better, you're given a stack of trippy, brunch-themed coloring sheets + crayons so that you can compete in the WAKE AND BAKE coloring contest (and win prizes)!

You sob softly, dabbing away tears of joy, feeling grateful that you live in America in 2016 and weed is legal and maybe, just maybe, our world is going to be OK.
Cizmar's review is summed up in one sentence: "Turns out, brunch is better when you're high".
You can't make this stuff up.
Portland's first marijuana bone broth bar has arrived.
Combining the two biggest trends to hit in 2015: bone broth and recreational marijuana, Bone a Bong promises their special broth will "help with rashes, kill intestinal worms, check urinary infections, is a tonic for senior citizens & sick people, cures malnourishment, treats kidney & urethral stones and eliminates poisons". The mixture consists of chicken stock, cannabis butter and a selection of "secret herbs and spices", with a long list of add-ons  like chicken, oregano, carrots and noodles, each $1.50 additional. For paleo, just omit the noodles! At Bone a Bong, you are the architect, they just build it.
The MBBB is another project from the brains at ChefGanga.
Cat & Cuddle Cafe adds Cannabis to their Coffers
A recent merger between Portland's Cat Cafe and Cuddle Cafe has resulted in and out-of-the-litter-box expansion into… cannabis. Who doesn't want to get really high then cuddle and play with cats all day? Menu items have expanded to include vegan versions of Taco Bell, a very large plate of nachos, plenty of buttery sweet baked goods, and a limited line of luxury catnip for resident felines. What if you are more into dogs than cats? The cafe plans to add other rooms with puppies! What could go wrong?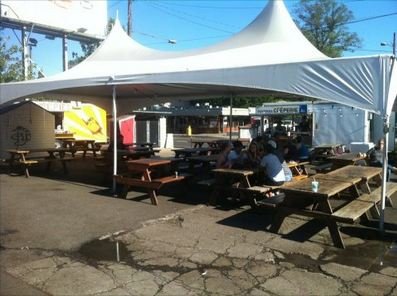 City Hall Pushes New Solution to Food Cart Crisis
It seems like every week there is more news of food cart closures, as additional parking lots are redeveloped into apartment and office buildings. After a rancorous meeting last week, where one city commissioner pushed a plan to  pave over parks and put up a food cart lot, professor John Nerdelbaum Frink Jr., or simply Professor Frink, came up with a novel idea: food cart tunnels under downtown, accessible by escalator. At the same time, commissioners proposed a measure to end the money pit that is public art, and instead spin the funds into a new system of pneumatic tubes which would allow cart operators to deliver meals directly to new condominium projects. Because of their shape, this system, called "advanced pneumatic delivery system", or APDS will initially be used for burrito deliveries, but plans call for expansion to other cuisines.
As the vent system for a food cart heats, an updraft will be created, causing a vacuum, and powering the system. Precisely timed for maximum upsuck at the moment the food is ready, the burrito will be pulled into a tube and launched to the appropriate building. In a cooperative agreement with Trimet, signal controllers for the downtown streetcars will also route burritos. Heat generated by the friction of passing trains, will act as boosters, keeping our tortilla-wrapped friends moving to their destinations. To save the expensive and messy installation of the pneumatic tubes throughout existing condominiums, burritos will appear at the concierge desk, where they will be kept warm, until being picked up by the ordering party. When asked about icing problems during winter nights, Trimet spokeswoman Roz Doyle, says that extra burritos will be generated every 15 minutes to keep the system functional, with the food popping up randomly in specially modified news racks and "Portland Loos". Unfortunately, no pneumatic tubes were added during construction of the new Tillikum Crossing bridge, so hungry folks on the east side will have to trudge downtown for their burrito fix.
Zoosk.com launches Burrit-OH! a new food-based dating app
Explains Zoosk: "Burrito preference can say a lot about a person — perhaps they live a simple life and only have three ingredients in their burrito, or think people that put peas in the burrito-rice are evil individuals bent on destroying the good in the world. Using its 32 Ingredients™ framework, Burrit-OH! calculates all this to find the perfect match and help daters connect on a deeper level."