Updated 4/22 – Penzeys Spices Clacakamas store moved as did Beaverton store. Portland Pearl District store has closed.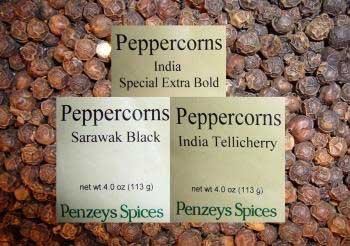 Though the downtown Portland store has closed, there are still Penzy Spice stores in Clackamas and Beaverton.
Things I like:
They have a large variety of spices. If you haven't seen a Penzys catalog, you'll enjoy wandering around and reading the detailed signs on each spice. Most spices are available in multiple varieties with different characteristics. Cinnamon? Seven types. Each spice is available from different countries. Not only that, they have many of the hard to find Mexican, Indian, Pakistani spices. I bought a few things just because I've never tasted them outside of a dish.
Lots of sizes – pre-ground spices have a shelf life of maybe a year or two, so it is best to buy small bottles of things you don't use often. They have from small sizes to bulk.
Tasters – Almost everything is available in glass jars which you can sniff to compare varieties as well as taste. This is an education in itself.
Prices – About ½ what you would pay in the grocery store. Now that you can get them without doing the mail order thing, you save on shipping too.
The staff is well versed with the various spice types, and friendly and happy to help you shop.
Things I don't like:
Penzeys doesn't have organic spices. (Still true as of 4/22)
Not everything is of the highest quality though generally, they do a good job. I compared what I purchased today and what I already had at home. Most of the Penzeys stuff was better, even accounting for the age difference. Just smell/taste before you buy.
Beaverton
Beaverton Town Square – 3831 SW 117th Ave, #F, Beaverton, OR 97005.  Map
(503) 643-7430
 Happy Valley/Clackamas
1211 SE 82nd Ave, D. Happy Valley, OR. 97086   Map
(503) 653-7779