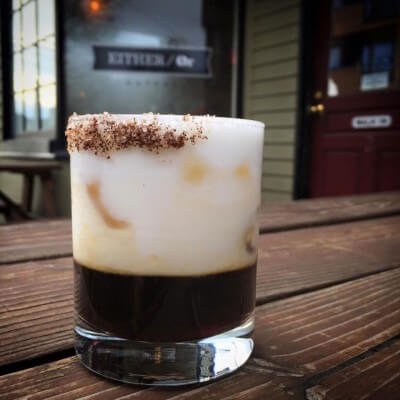 Either/Or Coffeehouse brings a whole new level of creativity to Portland coffee
This review was updated in 2/2023 to reflect the opening of their 2nd, much larger location on N. Williams Ave., and their announcement of the closure of the original cafe in Sellwood.
When I was a kid, I spent a lot of time at Either/Or Books in Hermosa Beach, California. For sentimental reasons, I drove over to Either/Or coffeehouse in Sellwood to check it out. I'm not sure if the name is based on Kierkegaard's book, but I don't care. The overall experience – excellent coffee, interesting drinks, good pastries, and passionate staff is the reason I keep coming back.
This is not your ordinary Portland coffee. They tend to push the envelope cycling through multiple roasters, and a selection of house-made sodas, pastries, Chai and thoughtful coffee drink experiments. The menu is Portland simple; great cappuccino, lattes, and espresso. For those who want them, house-made vanilla, orgeat (almond), and caramel syrups are available, along with soy, almond, and hemp milk. But it is the flights that draw me in – one double espresso, one double espresso with milk, sparkling water, and a "small taste pairing". Recently the coffees were Rosaline's Ethiopia Chelechele and Heart Coffee Ethiopia Duromina, paired with a strawberry cream bon-bon ($8). It is a thoughtful match, and I had extra energy for the rest of the day.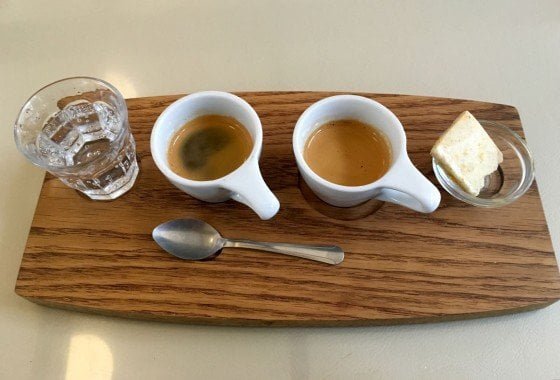 After their Ginger Spiced Chai gained a passionate following, Tanglewood – a name that sent me spinning back to warm days on the lawn at the Boston Symphony, was spun off for distribution to local coffeehouses like Barista. It is sold by the growler at Either/Or and is worth a trip in itself. The seasonal sodas are really good. As of this writing, they are made with ginger and orange zest. "Mocktails," their "dry cocktails," are really creative. In January they created a "Salty Russian" using a coffee-based vinegar to emulate vodka, and an alcohol-free Kahlua topped with heavily shaken vanilla cream and finished with a half-rimmed garnish of chocolate coffee salt. Early this year they did a riff on a gin Rickey, a "Café Ricky," made with coffee "gin", infused with herbs in palm vinegar with sparkling water and lime. Currently, they have brought back a cold brew "old-fashioned". These folks are seriously creative, and no matter how improbable, the drinks are mostly great.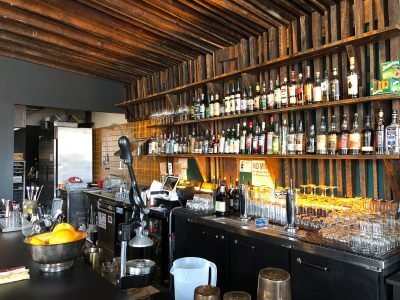 The new North Williams shop is large, with a nice window that opens to the street, tables along the street, and lots of kitschy decorations and tables inside. In this location, they have a full bar in case you need a cocktail. The cafe has a good selection of breakfast sandwiches and the like, and with all the other restaurants in the neighborhood, you've got a great location to start an evening.
Address: 4003 N. Williams Ave., Portland, OR. 97227. Map  Mon-Fri 7 am-12am, Fri-Sat 7 am-1am.
Website: EitherOrPDX