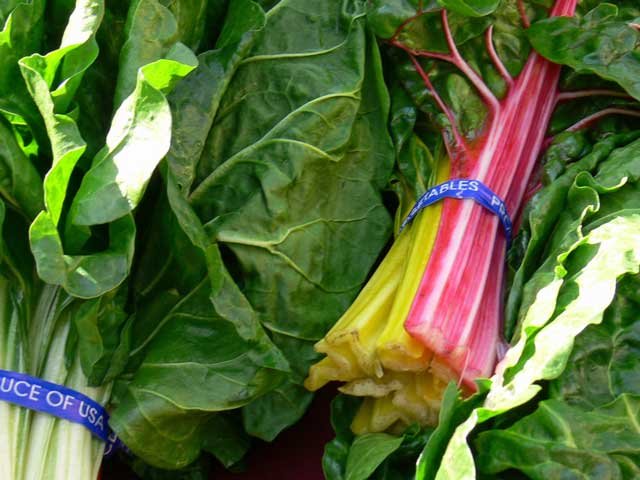 Portland Farmers market opens their 22nd season on Saturday from 8:30 am to 2:00 pm in the South Park Blocks.
This year 11 new vendors will be taking part:
Bodmer – Gourmet garlic growers offering over 20 varieties of soft-neck and hard-neck garlic and several varieties of shallots.
Honey Mama's – Their flagship product is a nutrient rich, cocoa-honey treat called Nectar Fudge—a soy-, dairy- and gluten-free food, made from five pure ingredients.
InTownAg – Neighborhood crops farmed in Portland yards brought to market through garden sharing with homeowners.
Kuys Cambodian Sauces – Made-by-hand sauces from Kuys restaurant, using local ingredients whenever possible.
Little Localvore – Always-fresh baby food made in a certified kitchen using locally grown, organic fruits, vegetables and grains.
Mickelberry Gardens – Specializing in treatment-free raw honey and bee products used to make Honey Tonics and organic skincare.
Natural Valley Poultry – Offering pastured poultry that is free of hormones and antibiotics.
Nectar Creek Honeywine – Handcrafted mead from small batches, using the best ingredients the Pacific Northwest has to offer to produce a sensational pint.
Nightlight Farms – A truly urban farm at 39th and E. Burnside offering specialty microgreens.
Nossa Familia Coffee – Locally roasted coffee sourced directly from the owner's family farm in Brazil. A true farm-to-cup pedigree.
Three Sisters Nixtamal – Organic corn masa and tortillas made using the centuries old, nutritionally-rich process of Nixtamalization.
Some of the items you'll find available include Kale, Stinging Nettles, Rhubarb, Fresh Beef, Pork Lam, Pastured Chicken and Eggs, Wild Mushrooms, Microgreens, Honey and Beeswax, Goat Cheese, Honeywine, Pie, Fresh milled flours, Drinking Vinegar  Oregon Walnuts and Dungeness Crab.