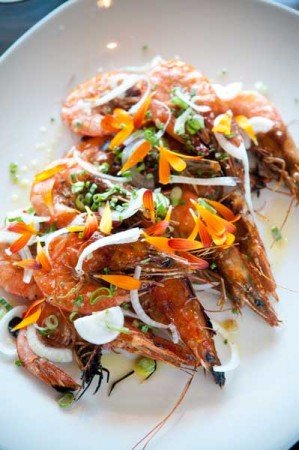 In spite of the shaky economy, it seems that more restaurants have opened in Portland this year than in the last 2-3 years combined. The list  contains new takes on many interesting cuisines: Argentinian, French, Mexican, Asian, vegetarian* and even one which is dabbling in molecular gastronomy. I'm encouraged by our embrace of these more exploratory restaurants, and am excited to see which ones will move to the Best Restaurants results next year.
Listed by number of votes:
1. OX – restaurant is a temple to "the wood-fired grilling tradition of Argentina, and with it, the culinary heritage of Spain, France and Italy". Opened in early 2012, this restaurant has shot to the top of  the "must visit" restaurant lists. Try the wood-fired house ricotta with sautéed morel mushrooms, balsamic brown butter and grilled bread, or a bruschetta of Dungeness crab with avocado, radish, cucumber and shiso. Follow it with wild Alaskan halibut on the bone, a large bowl of Oregon white prawns, or a maple-brined pork loin chop. For two persons, throw caution to the wind with their "Asado Aregentino for 2", a monument of meat – grilled short ribs, house chorizo & Morcilla blood sausage, skirt steak, sweetbreads, fried potato and chimichurri. Your table will be covered with food! There is a reason this restaurant is on the radar – we've had others in this genera, but no pulling it off as well as OX.
Address: 2225 Northeast Martin Luther King Junior Boulevard  Portland, OR 97212  Map
Phone: (503) 284-3366
Website: OxPDX.com
Hours: Tues – Sunday 5pm – close
Happy Hour:
Noise level: Moderately loud, but not difficult for conversation.
Price: Moderate – Expensive
---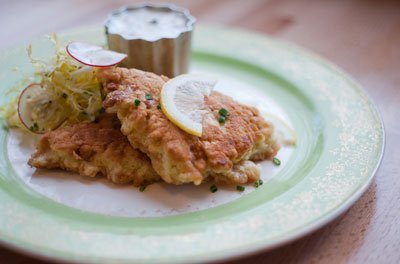 2. St. Jack – The glory of St. Jack has to be its pungent, deeply flavorful meats. The restaurant is heavily invested in organ meats, but even the timid may agree that the adventure is well worth the risk. A "petit plat" of fried tripe is for sure a tad fatty, but it's the kind that's addictive and utterly delicious. The French call it tablier de sapeur, or "fireman's apron." Basically the tripe is breaded and sautéed, and slathered with a sauce of capers, red onion, and homemade mayonnaise, it has both crunch and lusciousness. Then there's a salad of leeks and mixed greens topped with crispy bits from a pig's head, a tantalizing mix of health and hedonism, just enough of the latter to give extra interest to the vegetables. There's fowl afoot in the form of coq à la bière instead of coq au vin. It's a lighter dish than its more common cousin, drenched in sparkling farmhouse ale and not in the wine that stains the bird a blood-red, while pearl onions, wild mushrooms, and bacon give the chicken a pungent taste of the earth. But for those who really need a break from meat, one heavenly fish makes its appearance. Boned trout, a giant beauty curls in a semi-circle as if following the rim of the plate, bedded on a warm lentil salad. The trout is soft, moist, and as fresh as you'd wish for. Roger Porter's Review
Address: 2039 S.E. Clinton St., Portland OR. 97202  Map
Phone: 503-360-1281
Website: StJackpdx.com
Hours: Patisserie: 7 days a week 7am-4pm. Restaurant – Mon-Sat.  Dinner: Sun – Thurs 5pm, – 9:30pm, Fri & Sat 5pm – 10:30pm
Happy Hour: daily, 4pm-5:00
Noise level: Contented buzz in the rooms
Price: Appetizers: $3-$13; entrees: $17-$22; desserts $5-$7.
---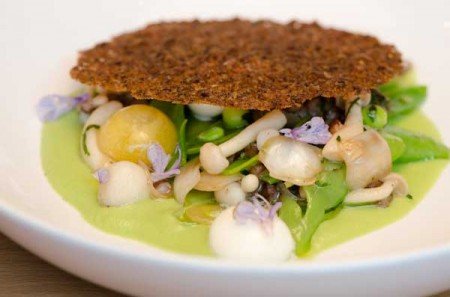 3. Aviary – The food served at Aviary is executed with a rare degree of excellence. It is not merely to be consumed; it's meant to be thought about, tasted with eyes closed, lingered over, and discussed with a good friend. Salads are unusual, always showcasing the ingredients in new and interesting ways. One combines lightly dressed arugula, strips of Asian pear and celery root, thin bright wheels of watermelon radish and tiny grains of candied cumin. Without the latter, the near perfect composition of the other ingredients would make it stand out, but the scattering of the spicy little grains are like a spark waking the mind. The crispy pig ears are, in a word, perfect. When the paella pan is brought to the table you are assaulted with the hot scent of steaming coconut rice, which acts as an aromatic basket for salty chunks of Chinese sausage, avocado and barely wilted greens. Black vinegar-pickled daikon are scattered throughout, providing little prickly strands of flavor. The ears are delicate crispy wafers, almost like a meaty potato chip, the rice so rich I could eat an entire bowl. Every time I ordered this dish other people at the table recoiled, but it always ended up being the star of the night. Full review
Address: 1733 NE Alberta St., Portland OR. 97211  Map
Phone: 503-287-2400
Website: Aviarypdx.com
Hours: Mon – Thurs 5-10pm, Fri-Sat 5-11pm
Happy Hour: Mon – Fri 5pm – 7pm
Noise level: Can be loud at times
Price: small plates: $8-$13; larger plates: $12-$22. Spilt 1/2 a dozen between friends for a great meal.
---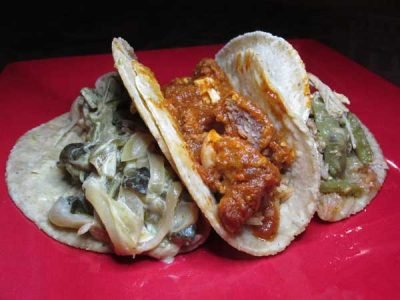 4. Mi Mero Mole – This new Mexican restaurant by well-known food blogger Nick Zukin, has quickly made a name for itself on "Best Mexican" lists. The focus is on af a rotating menu of guisados – traditional Mexican stir-fries or stews. All are plated as you want them – burritto, taco, quesadillas or plates. The preparations are simple, but the flavors complex. Their focus on clean preparations with fresh ingredients, combined with interesting flavor combinations and  just-made tortillas, make it one of the best and most authentic Mexican restaurants in the area.
If they are available, try the chiles rellenos – fresh chiles, roasted and stuffed with cheese, battered and fried, served in tomato, onion and serrano chile sauce, or  cochinita pibil – pork marinated in achiote and sour orange juice, smoked in banana leaves. Other favorites of mine are the albondigas – beef, pork and ham meatballs stuffed with boiled egg and stewed in chipotle-tomato sauce, hongos, and the pollo con nopales en salsa verde. For the more adventurous, the smoky lengua – tongue is a must. Get them in a "plato macho" – two quisados with rice, beans, chips & four handmade tortillas. For dessert, try platanos fritos – ripe plantains fried and served with sweetened and spiced Mexican sour cream.
The menu is helpfully coded to denote gluten free, vegetarian, and vegan dishes as well as the spice level. Beer, sangrita and cocktails are available, including a "create your own tequila flight".
Address: 5026 SE Division St., Portland 97206  Map
Phone: 503-232-8226
Website: Mmmtacospdx.com
Hours: Tues – Thurs 5pm-9pm, Fri 5pm-10pm, Sat Noon-10pm, Sun Noon-9pm
Happy Hour: 4pm – 5:30pm Tues – Fri
Noise level: Moderate
Price: Inexpensive
---
.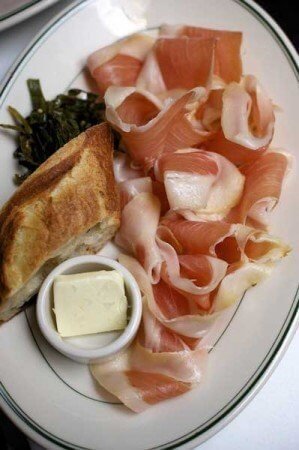 5. Woodsman Tavern – Duane Sorenson of Stumptown Roasters fame opened Woodsman Tavern with Chef Jason Barwikowski, ex-ulumis of Clyde Common. In a short time they have developed a reputation, even being crowned by GQ Magazine as one of the "The Ten Best New Restaurants in America" for 2012. "Chef Jason Barwikowski steals smartly and shamelessly from around the globe, whether it's the perfect acqua pazza on the roasted trout or the smoky hint of Lapsang souchong in their signature riff on a Manhattan".
The food is described as "American, centered around a charcoal oven, using local ingredients". Try the thin American ham with bread, butter and pickled collard greens, or the pork loin chop with baked beans and stone-fruit BBQ sauce. For brunch, the pan-fried trout with Bearnaise sauce or buttermilk biscuit with country ham and poached eggs are good choices, and as of this writing, there is little wait for at that time of day.
Address: 4537 SE Division St., Portland OR 97206. Map
Phone: 971-373-8264
Website: WoodsmanTavern.com
Hours: Daily 5pm-10pm, Brunch Sat – Sun 9am-2pm
Noise level: Moderate
Price: Expensive
---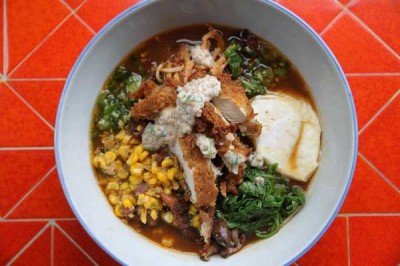 6. Boke Bowl made a name for itself as a "pop-up" restaurant before opening a ramen restaurant on the inner Eastside. They are known for hearty ramen with thick homemade noodles, including one with an excellent caramelized fennel broth, Japanese eggplant and rice cakes, which will satisfy the vegans at your table. A recent salad composed of warm broccoli, cauliflower, citrus, house tofu and Thai vinaigrette was excellent. Get the chicken and pork ramen and add an egg, or the slightly gamy rabbit version – rabbit three ways, dashi, confit and meatballs. If you are hungry, a side of fried chicken is a good option.  Try their Thursday Korean fried chicken night which is quickly building a following. Gluten-free options are also available.
Address: 1028 SE Water Ave., Portland, OR. 97214  Map
Phone: 503-719-5698
Website: BokeBowl.com
Hours: Mon – Wed 10:30am-3pm, Thurs – Sat 10:30am – 9:30pm.
Noise level: Moderate
Price: Inexpensive
---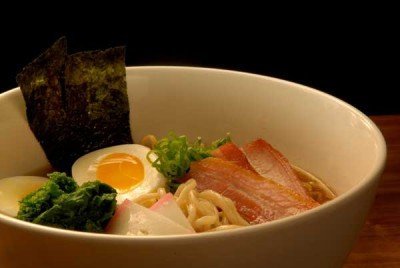 7. Wafu – Trent Pierce, previously chef of the much-loved Fin, opened Wafu, a "Japanese style" noodle bar, late last summer. Like Boke Bowl, they feature ramen, though they have other small plate choices which are more "upscale".
I like any of the ramen, but my favorite dishes are the ceviche, quail with fruity blackberry mustard, steak skewers, the best tempura I've had in Portland, and the buttery seared lamb's tongue. The menu is varied with lots of interesting choices, though quality from night-to-night seems to vary more than it should.
Though the cocktails are generally well-composed, if you haven't been exposed to saki before, try getting a flight of three; it's a great way to learn. Check the board for the specials – I haven't had a bad one yet! Many of the dishes are gluten-free, and are marked as such on the menu.
Address: 3133 SE Division St., Portland OR 97202.  Map
Phone: 503-236-0205
Website: WafuPDX.com
Hours: Mon – Sat 5pm-10pm
Noise level: Moderate
Price: Moderate
---
8. Noisette –  Chef Tony Demes has worked under famed chefs Thomas Keller, Michael Romao, Roland Cheneau and David Bouley. In 1995 he opened the lauded Couvron in Portland, which was known for its hours long tasting menus. In the late 90's Demes closed the restaurant and opened a NYC version, but then returned to Portland in 2010 to open Noisette, a restaurant with cooking based on French technique, featuring local ingredients.
The menu is made up of small plates, so you can compose your meal by what dishes interest you. However, be prepared to order 3 or 4 plates or you will leave hungry. The cost can add up quickly, and those who are not familiar with the concept of small tasting plates will probably not appreciate this restaurant.  If you want a truly romantic experience, the entire table can order the eight-course tasting menu for $75 a person; in the long run, I think it is a better deal. Recently the fixed menu consisted of Oregon line-caught albacore, Maine dayboat lobster, organic butternut squash soup, a BC diver scallop, Idaho white sturgeon, Moulard duck magret and liver, Oregon Natural New York strip steak alongside Painted Hills braised short ribs, finished with a Noisette Souffle for dessert.
Address: 1937 NW 23rd Place, Portland OR 97210. Map
Phone: 503-719-4599
Website: NoisetteRestaurant.com
Hours: Tues – Sat 5pm-10pm
Noise level: Can be loud when busy
Price: Expensive
---
9. Interurban – John Gorham wasn't satisfied with owning Toro Bravo and Tasty n Sons; he also wanted to open a bar with simple but really good food. The resulting gastropub seems to have struck a chord with Mississippi Avenue diners.
The interior walks a fine balance between trendy and old-school, coming across more as a regular bar than a hipster tavern. The menu is a panoply of choices: "Portland's Finest Hand-Dipped Corndog", Smoked Oyster Board, Buffalo Wings, Whiskey Chicken Liver Mousse, Chuck Roast – Rubbed and Dry-Aged, Omelette & Frites… there is something for every mood or time of day. Somehow my culinary education has proceeded sans corndog, so that's the first thing I ordered. It's a juicy Olympic Provisions dog dipped in crispy coating with several mustards on the side. Other hits include any of the rotisserie meats like the Pork Loin Plate with roasted potatoes and romesco, or in sandwich form with kraut, havarti and mustard.  15 beers by draft, seven by bottle and a full liquor license give more than a few options to go with the food.
Address: 4057 North Mississippi Ave., Portland OR 97227. Map
Phone: 503-284-6669
Website: InterurbanPDX.com
Hours: Weekdays: 4pm – 2:30am, Sat – Sun 10am-2:30
Happy Hour: 4pm – 6pm Mon-Fri, Sun 10pm – close
Noise level: Moderate/Loud
Price: Inexpensive/moderate
---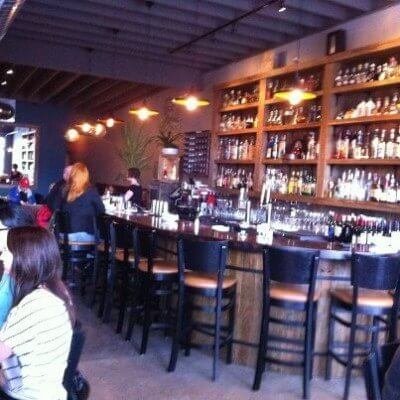 10. Mextiza – Oswaldo Bibiano of Autentica fame wanted to showcase traditional dishes from many regions of Mexico, which is why he opened his second restaurant, Mixtiza or "pieces of Mexico".  You'll find lots of unusual – for Portland – authentic dishes on the menu. Standouts include better than average enchiladas zuisas with a nice tomatillo tang, the fried tongue sandwich with habanero mayonnaise and spicy potato salad, and the very traditional rotisserie whole pig with black beans, onions and salpicon, or even cabrito – slow-roasted goat in a chile vinegar sauce. You'll also find more familiar choices such as sope, tacos and tamales. Still, don't expect Americanized Mexican food.
Service can range from pretty good to downright awful, which made it a surprise when Mextiza received so many votes. In spite of this, the restaurant still has a strong following, so obviously they are doing something right.
Address: 2103 N. Killingsworth, Portland OR. 97217. Map
Phone: 503-289-3709
Website: Mextiza.com
Hours: daily – lunch 11am-3pm, dinner 5pm-close
Noise level: Usually moderate
Price: Moderate, can add up quickly
---
.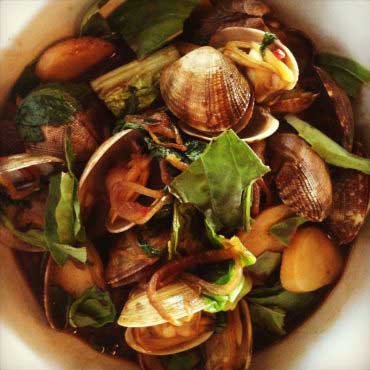 11. Smallwares describes itself as "Inauthentic Asian cuisine meant to be shared, and eclectic wine, sake and cocktails". The menu is composed of small plates featuring seasonal ingredients. Order multiple dishes and share with a date to understand what chef Johanna Ware is trying to accomplish. My favorites are the spicy Fanny Bay oysters with fish sauce, cilantro and lime, a lovely scallop sashimi, the fried chicken lillipops with sriracha mayo sauce and the spiciest oxtail curry I've ever had. Many dishes can be very spicy, so ask questions if this is an issue for you, or be prepared to sweat. Wine, sake and beer and are combined into one menu, each section with its own description such as "fruity", "earthy", "rich". I love that it gets me to try pairings that I otherwise might not consider.  For those with an interest in exploring new concepts, Smallwares can be a terrific adventure.
Address: 4605 NE Fremont St., Portland OR 97213.  Map
Phone: 971-229-0995
Website: SmallwaresPDX.com
Hours: Mon – Fri 11:30am-10pm, Sat – Sun 5pm-10pm
Noise level: Low/moderate
Price: Moderate
---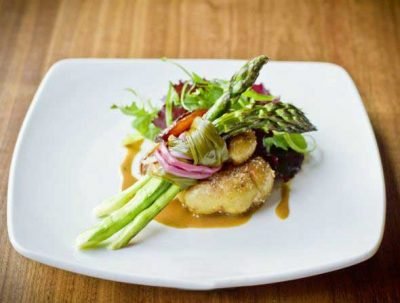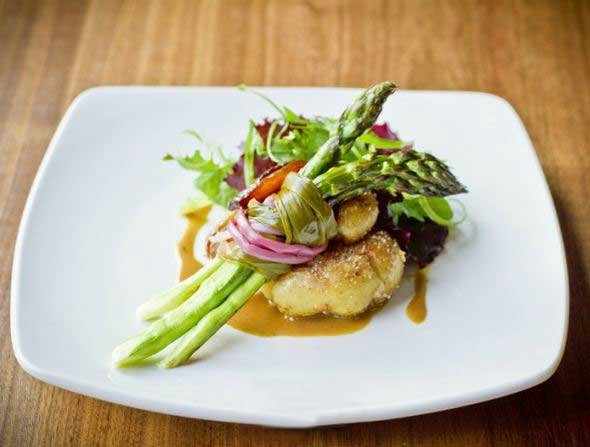 12. Natural Selection – This new vegetarian/vegan restaurant is taking the community by storm, winning over vegetarians and meat-eaters alike. The chef's selection of colors, textures and flavors are impressive. He uses flowers from various vegetables along with dried items to intensify flavors, textures and to add lots of color. Put yourself in the kitchen's hands and try the four-course pre-fixe dinner for $35. The recent selection consisted of corn & mascarpone agnolotti with sea beans, watercress, truffle oil and corn broth, a fresh bean salad – endive, peppers, walnuts, egg and olive vinaigrette, squash, garlic scape & potato gratin with beets, carrots, fava beans and salsa verde, and apricot & brioche bread pudding with blueberries, lemon balm and a vanilla creme fraiche.
Selections are also available a la carte, and portion sizes are larger than you might expect. This is not your average vegetarian restaurant!
Address: 3033 NE Alberta St., Portland OR. 97211. Map
Phone: 503-288-5883
Website: NaturalSelectionPDX.com
Hours: Wed – Sat 5:30pm-10pm
Noise level: Moderate
Price: Moderate
*Vegetarian food is from the little-known country of Vegetar, which has been at war with Ireland since 1401. Because of an ongoing blockade of their ports, the country has developed an all fruit and vegetable cuisine which is now being practiced by fanatical monks all across the United States, and especially in Portland.
---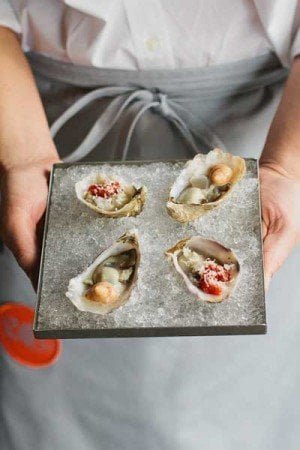 13. Riffle NW is the newest seafood restaurant to open in Portland for some time. I haven't been, so can't speak from personal experience, but the website describes it as  "… the vision of Ken and Jennifer Norris, two chefs who believe in the philosophy of "one house" where the kitchen, bar, and dining room all work seamlessly to create delicious food and drink served with a fun and approachable style". They have garnered lots of positive press in a short time, with mentions in Star Chef, Food & Wine, Portland Monthly and Men's Health magazines. Chef Norris has a long cooking pedigree, including August and Restaurant Daniel in NYC. Teardrop Lounge alumni Dave Shenaut is getting lots of attention for quality cocktails and fanatical use of specially shaped ice in the bar.
The octopus is getting a buzz around town with a Willamette Week review saying, "The Spanish octopus is skillet-charred and served with a chorizo chili cream, but what's really flabbergasting is the size and texture of those arms. The meat is presented in pieces so large and firm they recall beefsteak more than any catch of the day. It's the porterhouse of the sea."
These folks are serious about seafood, and I'm looking forward to giving it a try.
Address: 333 NW 13th St. & Flanders, Portland OR. 97209. Map
Phone: 503-894-8978
Website: RiffleNW.com
Hours: Tues – Sun 5pm-12am
Noise level: Moderate
Price: Moderate/expensive
---
14. PaaDee  literally means "to bring good things", and this new Thai restaurant features an array of dishes that are different from similar restaurants found in the Portland area. Owners Nik and Jen of Kinara Thai Bistro and Mee-Sen's co-founder Earl Nunsom, have set out to create a restaurant that duplicates their passion for Thai comfort food.
The industrial/modern space is interesting and stands out from any others in Portland. While the restaurant had a rough start, it has been steadily improving. Some of the best dishes I have tried: sauteed pork belly with green beans, sauteed crispy chicken with cashews, scallions and dry chilis, and grilled steak with sticky rice. The happy hour has loads of fans for the portion size versus price. I like the staff – some of the nicest people I've met in the industry.
Address: 6 SE 28th Ave., Portland OR. 97214. Map
Phone: 503-360-1453
Website: PaaDeePDX.com
Hours: Sun – Thu 11:30am-3pm, 5pm-10pm, Fri-Sat until 11pm
Happy Hour: 5pm-6:30pm & closing hour
Noise level: Moderate
Price: Inexpensive