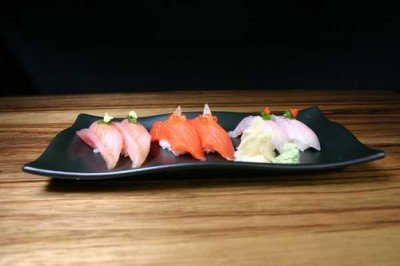 Portland has a long way to go as far as seafood is concerned. For a city so close to rivers, lakes and the ocean, the state of our seafood is sad. However, I believe this is starting to change. Last year the order was Jake's, Southpark, and Bamboo Sushi. This year Jake's has fallen off the list. Completely new to the ratings are Ringside Fish House (review later this week), Riffle NW, for which I'm hearing lots of good comments, and Cabezon, also new to the list.
Out of 500 votes:
1. Bamboo Sushi – 11%. 310 S.E. 28th Ave., Portland, OR 97214.  (503) 232-5255  Map

2. Southpark – 9.6% 901 Southwest Salmon Street  Portland, OR 97205  Map  (503) 326-1300

3. Ringside Fish House– 7% 838 Southwest Park Avenue Portland, OR 97205  Map  (503) 227-3900

4. Riffle NW – 6%. 333 Northwest 13th Avenue  Portland, OR 97209  Map  (503) 894-8978

5. Cabezon – 5200 Northeast Sacramento Street Portland, OR 97213  Map  (503) 284-6617
Not feeling well, so the map will be added later.