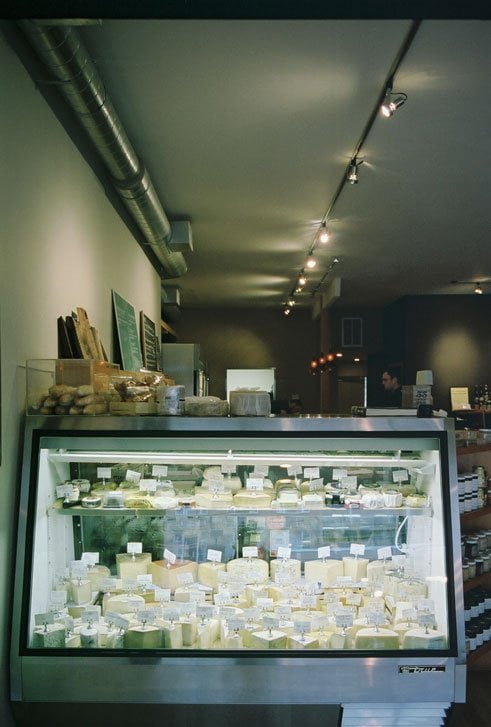 For those who don't know, "Cheesemonger" is someone who sells cheese. Every year, fewer and fewer stores are nominated in this section, and this year the nominations drop to 8!
583 votes cast:
1. Cheese Bar – 52% of the vote. 6031 SE Belmont St., Portland, OR. 97215  Map  (503) 222-6014. (Many people still think of this as "Steve's Cheese"). This store is on the West facing slope of Mount Tabor. In addition to offering cheese and a small selection of gourmet items, the Cheese Bar also offers food to eat there, with beer and wine. You'll find a selection of five cheese boards, a meat board, pate board, a few salads, sandwiches, fondue, etc. I've spent many afternoons whiling away time here.
2. New Seasons Market – 16%.
New Seasons Market is a local grocery store chain. I've noticed over the past few years that the cheese selection has increased, as has the knowledge of the good folks who help you through the selection process.
3. City Market/Pastaworks – 13%.
3735 SE Hawthorne Blvd., Portland 97214.  Map  (503) 232-1010
735 Northwest 21st Ave., Portland OR. 97209  Map  (503) 221-3002
I was at City Market a few weeks ago, and realized I need to go there more often. I really like the cheese selection, and the people that work the counter. City Market is a boutique grocery store with a selection of wines, pasta, a meat counter, and good fruits & vegetables.
4. Foster & Dobbs – 8%. 2518 NE 15th Ave, Portland, OR. 97212  Map  (503) 284-1157
Another specialty store, Foster & Dobbs is a mix of everything gourmet – wine, olive oils, chocolate, spices, etc. For my money, they have some of the best sandwiches in the city, and they have a large cheese selection.