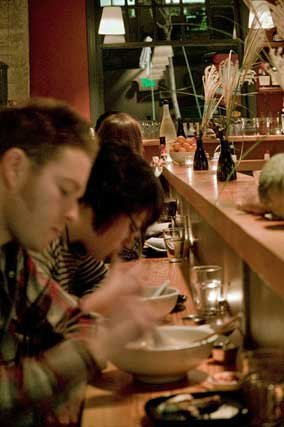 What are the best places to get late night food in Portland? If you've worked late, partied late, or perhaps you just watched one too many Taco Bell commercials, this list is for you.
Whatever reason, the winners in the 2013 survey are shaking up things a little bit.
Out of 592 votes:
1. Biwa – This popular Japanese restaurant hidden away in the SE industrial area, has vaulted to the top of the list by a significant number of votes – three times greater than the number two spot. The menu has lots of choices, with hot and cold small plates, yakimono, and of course their much vaunted udon and ramen. If you feel the need for meat to soak up alcohol, you'll find it in the form of the excellent Biwa hamburger with kimchi mayo and chasyu – and it's only $8. In fact, the most expensive option on the entire menu is hamachi sashimi which will run you $13.
Hours: Daily 5 pm – 12 am.
Address: 215 SE 9th Ave., Portland OR 97214 Map
2. Cassidy's –
Another big jump up the list, Cassidy's is a favorite of the service industry. All of the late night items on the bar menu are just $6.50 with a minimum one drink purchase. The list includes a selection of sandwiches, a burger, flatbread pizza, salads, fried items, etc. Johnathan Jenkins wrote about the restaurant, "Cassidy's is not a place that aims to impress; it's a place that is thoughtful and satisfying. The main barroom itself is the essence of warmth, with well-worn artfully-carved woodwork (that is clearly from another time). The wine glasses aren't fancy crystal; they don't need to be. The Pomp is out; the Class is in. Cassidy's is a true Portland institution. You just have to remember how good it is; and see how, after thirty years, it is still getting better."
Late night hours: 10 pm – 2 am
1311 SW Washington St., Portland 97205 Map
3. Pix Pâtisserie – Many people were familiar with the Pix locations on N. Williams and SE Division. They closed last year, but a new, larger location opened on East Burnside. The new space features a 200 bottle cellar, an outdoor courtyard and a petanque court. You'll find the same selection of gorgeous pastries that were available at the previous locations, and a spanish tapas bar. I'm a caramel nut, so you'll find me face down in the Shazam!, a concoction of caramel mousse, salted almonds and chocolate almond cake, glass of Champagne by my head.
Late night hours: Sun – Thurs until midnight, 2am Friday and Saturday.
2225 E Burnside St., Portland 97214 Map
4. Luc Lac – If you are looking for really late night dining, Luc Lac should be at the top of your list. It's open until 10 pm to 4 am on Friday and Saturdays, and until midnight Monday – Thursday. Luc Lac offers a selection of Vietnamese specialties, including pho, a perfect foil for a rainy night's romp. You'll also find salads, vermicelli bowls, rice bowls and a dozen small plates. I go for the pho "train" – round steak, brisket, meatballs, tendon and tripe. It helps beat back a hangover the next morning. Prices for most items are below $10.
Late night hours: Mon – Thurs 4 pm – 12 am, Fri – Sat 10 pm – 4 am
835 SW 2nd Ave., Portland 97204 Map
5. Cartopia – Have you ever had one of those "small plates" dinners and walked out hungry? It's happened to me, and it usually results in my making a beeline to this food cart pod at SE 12th and Hawthorne. Lots of people head to Potato Champion for poutine or twice fried Belgian style fries, but I gravitate towards Whiffies Fried Pies. You'll find both savory and sweet selections, deep fried while you wait. If you aren't in the mood for pie, you'll also find Perierra Crêperie, PBJ's Grilled ( just what you'd think), Pyro Pizza – wood fired from a cart(!), El Brasero Mexican and  Bubba Bernie's Southern food. Each has different hours, but they all stay open late on weekends. The pod even sells beer and wine.
 Late night hours: vary by cart. Google is your friend.
1200 SE Hawthorne Blvd, Portland 97214 Map
Previous years –
2012: Cartopia as SE 12th & Hawthorne, Pix Patisserie, Biwa, Salt & Straw, Le Bistro Montage, Papa Haydn, The Gilt Club, Cassidys, Bunk Bar, Victory Bar.
2011: Cartopia at SE 12th & Hawthorne, Biwa, Beaker & Flask