As the economy recovers, it seems like we are getting a wealth of new restaurants in Portland. However, unlike last year, only five restaurants received significantly more votes than any others.  Will the top choices be successful? Sometimes folks in the hardcore food community go for the new, shiny ball, forgetting the hits from a few years ago. Here is a look back at previous winners in this category:
In 2012, lots of restaurants received a large amount of votes: OX, St. Jack, Aviary, Mi Mero Mole, Woodsman Tavern, Boke Bowl, Wafu, Noisette, Interurban, Mextiza, Smallwares, Natural Selection, Riffle NW, PaaDee
2011: Tasty N Sons, Gruner, Little Bird
2010: Laurelhurst Market, Beaker & Flask, Metrovino
Beaker & Flask, Wafu and Riffle are missing, but most of the other restaurants seem to be doing fine. Of course some are more successful than others.
 Out of 676 votes cast:
1. Levant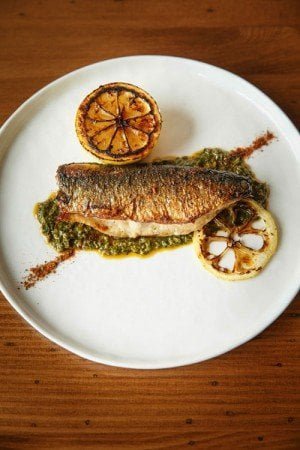 Opened by Scott Snyder, this Levant is a modern take on regional Middle Eastern food gone upscale, using French techniques. Unless you've spent time in the Mediterranean, the cooking isn't quite like any of the genera that you've seen before. Lamb 4-ways, redolent of mint. Fried holloumi cheese stretches across a bath of warm honey and walnuts. Sardine à la Plancha, a whole fat sardine prepared simply with charmoula – olive oil, lemon juice and garlic with lovely grilled Lemon slices finishing the dish. In the Spring, a tender veal breast played perfect harmony with an orchestra of morels, paper-thin Spring onions fairly bursting with sweet flavor, bright crunchy fava beans, oregano, and cardamom – playing with textures as well as flavors. Pita under a hailstorm of spices provides a moist envelope to sweep up leftover sauces. This seems to be the signature of the chef; flavors are rarely what you expect, but not in a gimmicky way. The menu is dynamic. While there are always lamb and fish dishes, the preparation or presentation changes frequently. You'll find influences of Lebanon, Israel, Cyprus, Turkey and more. I've yet to come across an ingredient here that I haven't also found in those countries, and there have been some spice combinations I've never heard of.
Yes, the flatware has to go, and not every dish works, but when this restaurant hits its stride, the food can be stunning. I've spent enough time in the Middle East for this food to transport me; it's been too long – I need to go back.
Try: Spicy Moroccan Carrot Salad, Black Olive, Parsley. Grilled Sardine, Warm Tunisian Potato Salad. Bottarga, Potato, Asparagus, Arugula, Egg, Lemon. Sweetbreads, Hummus and Olive oil. Any of the vegetable entrees.
2448 East Burnside, Portland 97214. Map Reservations (503) 954-2322 (you'll need them). Noise level: moderate. Price: moderate-expensive.
Open Tuesday – Saturday 5pm – 10pm
---
2. Ava Gene's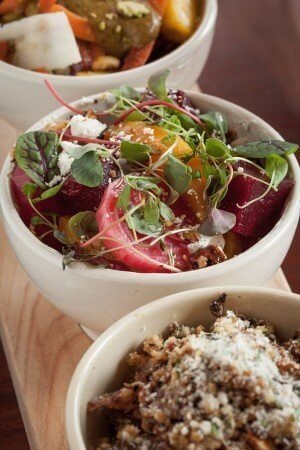 Another restaurant from Stumptown Coffee mogul Duane Sorenson, Ava Gene's is a romp through Italy, touching on every corner of the country's vast cuisine. My best meals here have been made up of smaller plates like the Distefano burrata, oh my, it's so fresh, a soft exterior of mozzarella curd, the inside oozing unfinished mozzarella and heavy cream.  Everyone has a beet salad, but this is excellent, with sweet tender beets, bright fresh greens, and a light whipped ricotta base for creamy notes. Crunchy walnuts finish it off. Fire-roasted Brussels sprouts with a light squeeze of lemon. A rib eye is cooked medium-rare and finished with colatura, basically the essence of aged fish juice, which imparts an extra level of Unami. I have to be honest here – I've had very mixed experiences with the restaurant, but it has been a while, and I should go back; obviously people love it. I've never had a misstep with service, and the wine list is excellent.
Try: Burratta – it's worth the fat, as are any of the well-chosen cheeses. Fire-roasted Brussels sprouts. Warm bread with chicken livers, plums and Marsala. Chitarra pasta with Mussels, almond butter
3377 SE Division St., Portland 97202. Map (971) 229-0571. You'll probably need reservations. Noise level: loud. Price: expensive. 
Open Daily from 5pm to 11pm.
---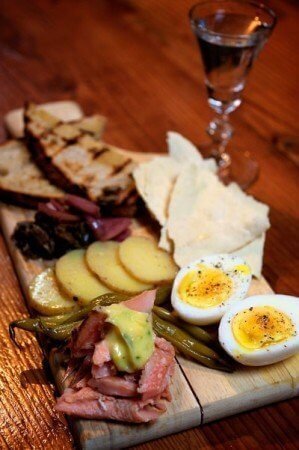 3. Tasty n Alder
How do I love thee? Another grand slam by John Gorham, owner of perennial favorites Toro Bravo and Tasty n Sons, this restaurant raises brunch to an eclectic selection not seen elsewhere in Portland. Think salad niçoise with house-canned albacore, rich and creamy whole toad baked egg bread pudding, Korean fried chicken with short grain rice, house kimchi and eggs two-ways. I dream of the Bim Bop, eggs running creamily into crispy rice, spicy kimchi and fat, juicy bacon. Even steak and cheddar eggs are elevated far above the norm with the base of a crispy cornmeal pancake awash with jalapeño butter. At dinner time, go upscale with Sonoma foie gras, juicy strips of Korean bulgogi, five different steaks, a thick juicy apple-brined pork chop – the best I've had in years. Unless you've spent time in South America, you won't be familiar with Moqueca de Piexe – Brazilian fish stew. Layers of flavor dance across the palate like something from Fantasia. They even use the right type of palm oil.
I like Tasty n Sons, but I love Tasty n Alder. Let me count the ways…
Try: Baked Prunes with Talleggio. Potatoes Bravas with easy over eggs and aioli. Smoked Trout and Accoutrements. Tasso Hash with onion sour cream and over easy egg. Grilled Spanish Octopus. Iberico Pork Skirt Steak.
580 SW 12th Ave., Portland 97205. Map (503) 621-9251 (reservations for parties of seven or more, dinner only). Noise level: moderate. Price: low-moderate. Price: inexpensive-moderate.
Open daily: Brunch: 9am to 2pm | Dinner: Sun-Thurs 5:30pm to 10:00pm Fri-Sat: 5:30pm to 11 pm | Mid Day: 2:00pm to 5:00pm with reduced menu.
---
4. Imperial
(tied in total number of votes with Racion)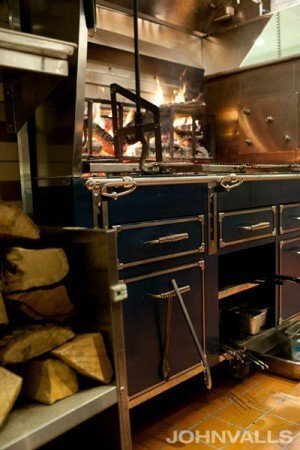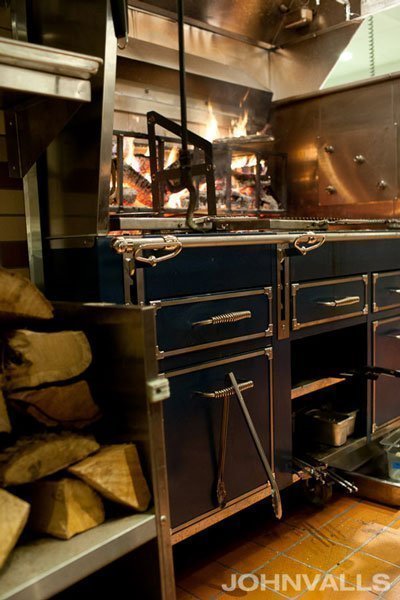 Imperial is the second restaurant by renowned Vitaly Paley of Paley's Place. It opened in the old Typhoon space in hotel Lucia on SW Broadway. There are some neat elements to this industrial chic space.  The chandeliers are made of bicycle chains.  The lighting is rather dim. As with most restaurants, it had a bit of a bumpy start, but it has smoothed considerably over the past few months. Service is excellent, with waiters and bartenders going out of their way to answer questions. As it is affiliated with the hotel, it is open for breakfast, lunch and dinner. Executive chef Ben Bettinger heads up the kitchen. Breakfast is as you would expect, but stepped up a notch by the quality of ingredients used. Lunch is also fairly typical, but items like Quail and Rockfish bring it to a more sophisticated level, and help it stand out against other downtown restaurants. Imperial stretches its wings a bit more at dinner, with selections like fried lamb tongue, duck meatballs, fried rabbit, and Tails and Trotters barrel planked pork secreto. Not every dish scores a goal, but dishes like Fried Rabbit with semolina corn cake, Imperial barrel-aged hot sauce, watermelon rind pickles and Laurelhurst honey make up for it.
Pastry chef Michelle Vernier rolls out updated versions of classics, such as New York cheesecake with sweet corn crumble and huckleberry compote, olive oil pound cake with roasted figs, almonds and lemon mascarpone, or even a black and tan sundae.
Try: Grilled Romaine with cherry tomatoes Israeli feta and salsa verde. Kale and Raw Vegetable Salad with sunflower seed brittle and goat cheese dressing. Duck Meatballs. Wilson Ranch Dry-Aged Ribeye, mushrooms, asparagus, herb butter.
410 SW Broadway, Portland OR 97205. Map (503) 228-7222. Price: moderate.
Open Daily. Breakfast Mon-Fri 6:30am to 11:am | Lunch Mon-Fri: 11am to 2pm | Dinner Sun-Thurs: 5pm to 10pm and Fri & Sat: 5pm to 112pm | Brunch on Sat & Sun: 8am – 2pm.
---
4. Ración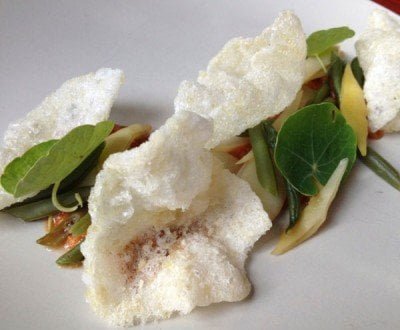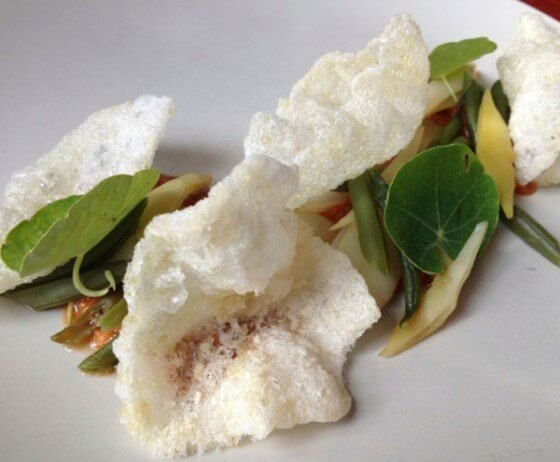 Chef Anthony Cafiero followed his dream, leaving Tabla to open his own Spanish tapas restaurant in the Indigo building downtown. This is modernist Spanish small plates, with an emphasis on sous vide cooking. Heck, he even has the five volume tome of Modernist Cuisine. Outside of the bar, the food is served via tasting menus. The five courses will run you $50, with a wine pairing available for an additional $30. A recent menu consisted of  Heirloom Tomato chèvre, mâche, watermelon, granita;  Smoked Salmon serrano dashi, yuzu, celtuce, finger lime caviar; Sous Vide Egg summer corn, Aleppo chili, bottarga; Estancia Teres Major Steak beluga lentils, almond ajo blanco, summer savory; Almond Crumble frozen lemon cream, dark chocolate, sparkling Venus grapes. Not every dish works, but everything is interesting and fun.
You can also purchase "raciones", or "rations" individually for $11 each. The current choices are Foie Gras + Duck blueberries, beets, cous cous + curry; Sous Vide Egg summer corn, Aleppo chili, bottarga; Abalone Mushroom quinoa, mojo verde, black sesame; Pork + Beef Chorizo mongetes, Basque piperade, aioli powder; Haricot Vert salbitxada, Jacobsen sea salt, malt vinegar chicharrón; Spanish Octopus romesco, hazelnuts, new potatoes, Tanzanian chocolate. During happy hour (5 – 6), they are only $7.
Try: there are no choices for the prix fixe menu, just sit back and wait. If you just want raciones, be daring and tell Anthony to feed you. Have a couple of the unusual cocktails such as their Mezcal Sour – jalapeño simple, smoked salt, the Margarita with chorizo tequila and salt foam, or a Daiquiri made with yuzu and bonito
1205 SW Washington St., Portland 97205. Map (503) 971-8008. Price: moderate-expensive
Open Tuesday – Saturday 5pm – 10pm. Happy hour 5pm – 6pm. Enter through ZGF lobby in the Indigo building.
---
5. Sen Yai Noodles
Sen Yai is the newest restaurant in Andy Ricker's march across the USA, and specializes in Kuaytiaw, the noodle dishes of Thailand. "Kuaytiaw is eaten at all times of the day; as a late night snack, economical dinner, a quick lunch on the run, even for breakfast." If you've spent time in Thailand, you'll recognize this as the real thing – authentic street food. Ricker felt the need to educate diners, so I'm just going to copy his explanation here –
"San Yai specializes in Kuaytiaw, the noodle dishes of Thailand. Kuaytiaw is eaten at all times of the day; as a late night snack, economical dinner, a quick lunch on the run, even for breakfast [Sen Yai opens at 8 am] Noodles are typically eaten with chopsticks and Chinese soup spoons, which are on the table. Certain dishes only a dinner spoon and fork are used: the spoon to eat with and the fork to push food onto the spoon. When appropriate those utensils will be supplied or upon request if you wish. Thai noodles are seasoned by the customer with Khruang Phrung, the four flavors of condiment typically found at Thai noodle shops: Phrik Phon (ground dry chilies), Phrik Naam Plaa (Thai chilies in fish sauce), Phrik Naam Som (mild green chilies in vinegar) and Naam Taan (sugar). Our noodles are seasoned to a base level appropriate to the dish and you are encouraged to adjust the flavor to your taste using the Khruang Phrung. Some dishes on the menu are offered with choice of noodles. Not all dishes make sense with all types of noodles; the menu will note where a choice is offered."

Try: Phat Sii Ew. Kai Kaphrao Khai Dao – minced chicken and long beans with krapao basil, white onion, black soy, fish sauce, garlic and dry chilies, topped with crisply fried egg. Lakhana's Kuaytiaw Lat Na – charred fresh wide rice noodles or crispy wheat noodles topped with a gravy of pork, egg and phak khanaa, stewed in yellow bean sauce and soy sauce. House drinking vinegars.
Clearly it is his way or the highway. Shows commitment – I like that.
3384 SE Division St., Portland 97236. Map (503) 238-3573. Price: inexpensive
 Open daily from 8am – 10pm