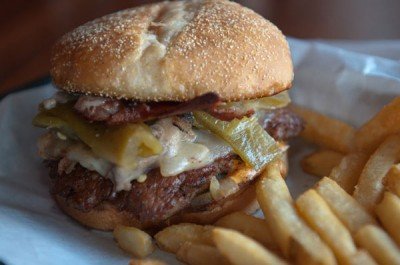 Where can you get the best hamburger in Portland Oregon? This category received 1,378 votes. I'm always surprised when we have ties with this many votes cast, and it happened three times in this category. This is always a top vote-getter in our yearly poll, with such a wide variety of responses, even the winners have a fairly low percentage of the total. The "other" write in category made up 14% of the total answers, but when I went through and added up the individual votes, they were spread over so many restaurants it didn't make a difference in the outcome. Burgers tend to be a polarizing subject, with strong opinions. Despite the explosive growth in this category over the years, there are some perennial favorites:
1. Killer Burger – 8.35% 222 votes.
KB offers a "roll your own – your own way for $8.45. It's 1/3rd pound, 100% and includes bacon. Personally, I'm not a fan of bacon on a burger, but I seem to be in the minority on this one. The price includes fries. Took me three washings to get the grease out of my shirt after I ate one of these in a car. Not complaining; I'd been drinking (was not driving), and was trying it as a hangover preventative.
2. Little Bird Bistro – 5.44%.
One of the James Beard award-winning chef Gabriel Rucker's restaurants. The burger has goat cheese, pickles, onions and fries, and is $12. Note that you can get it with seared foie gras for only $32. I used to combine the votes for LB and Le Pigeon, but didn't this year since they are now a bit different.
Little Bird: 219 SW 6th Ave. Portland, OR 97204 Map (503) 688-5952
Le Pigeon: 738 E Burnside St. Portland, OR 97214 Map (503) 546-8796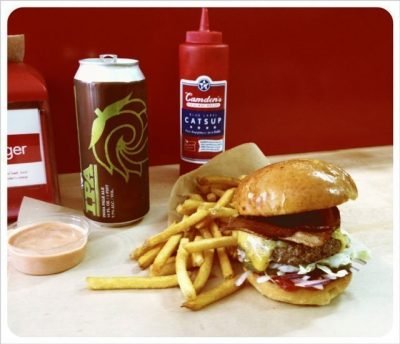 3. Little Big Burger – 4.72%. (tied with 5 Guys)
"Little Big Burgers are made with a 1/4 lb. of cascade natural beef, brioche buns, local cheeses, fresh veggies and camden's catsup! everything is delivered fresh daily, and cooked to order in an open kitchen. please note that all burgers are cooked to traditional medium unless otherwise requested." My go to spot when I want something simple that kills my burger craving – try it with the chèvre cheese and get some of the truffle fries – it's a huge bag full. Oh, and the house made catsup and aioli are a must. $4.25 for a 1/4 lb. cheeseburger.
4. 5 Guys Burgers & Fries – 4.72%
The standard cheeseburger which offers a plethora of toppings is $6.69. It's also huge. So is an order of fries. More than I can eat, and I'm good at this, so bring a friend and split an order. Good option if you find yourself near one. Very casual, toss your peanut shells on the floor kind of place. You can order online and have it ready when you arrive.
Nine Portland/Hillsboro/Vancouver branches. Map
6. Cafe Castagna – 3.99% (Tied with Slow Bar/Burger)
Cheeseburger with fries $15. Best in town in my opinion, and they'll do it medium rare. I remember when it was $11 with fries, and people considered that an outrageous price. How times change.
1752 SE Hawthorne Blvd, Portland OR 97214  Map
7. Slow Bar/Slow Burger – 3.99% of the vote.
Many people are familiar with Slow Bar, which spawned Slow Burger. "Painted Hills natural beef, Gruyere, onion rings, pickle relish, butter lettuce and aioli on a Grand Central brioche bun." $9 for an 8oz. cheeseburger – 6 and 3oz available. Lots of options.  $11 at Slow Bar.
SlowBurger: 2319 NE Glisan St., Portland 97232. Map
Slow Bar: 533 Southeast Grand Avenue Portland, OR 97214. Map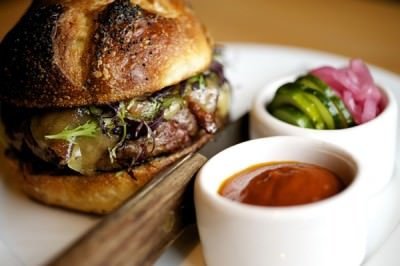 8. Grüner – 3.81%
"Hambürger with smoky bacon on a potato bun, cheddar or fontina, b&b pickles, pickled red onions, aïoli°, arugula
& house-made ketchup" – $12. Note that it is only available in the bar. It has lots of fans.
527 Southwest 12th Ave., P

ortland, Oregon 97205  

Map
9.  Yakuza Lounge – 4.2%
You wouldn't expect to find a burger this good at this Japanese spot in NE.  – 2.91%.  You can have this baby for $15, or $9 during happy-hour. It is 1/2 lb Wagyu beef, chevere, spicy mayonnaise, spicy catchup and truffled shoestring potatoes. Just calling to get to details made my mouth water. The happy hour is 5-6pm daily, with a late happy hour on Friday and Saturday from 10 pm – 11 pm.
5411 Northeast 30th Avenue Portland, OR 97211  Map (503) 450-0893
10. Lardo – 3.09% (Tied with Higgins)
"Double Burger cascade natural beef, "porkstrami", cheddar, lettuce, lardo sauce"  $9
Portland West: 1205 SW Washington St., Portland OR. 97205  Map
Portland East: 1212 SE Hawthorne Blvd, Portland, OR. 97214  Map
Portland North: 4090 N. Williams Ave, Portland OR. 97227  Map
10b. Higgins Restaurant and Bar – 3.09%
"Carman Ranch grass-fed beef on a toasted hearth-baked roll" $14.75
1239 Southwest Broadway 

Portland, OR 97205  

Map
Past winners:
Slow Burger, Le Pigeon/Little Bird, Little Big Burger, Killer Burger, Yakuza Lounge
2012: Little Big Burger, Foster Burger, Cafe Castagna, Killer Burger, Gruner, Toro Bravo, Le Pigeon, Little Bird, Slow Bar, Yakuza, etc.
2011: Cafe Castagna, Gruner, Foster Burger, Tasty N Sons.
2010: Cafe Castagna, Slow Bar, Carafe.
My favorite comments:
A simple burger at Little Big Burger is perfect! I love that it's not too big. I also like the "Girlie" burgers at Killer Burgers, although I go back and forth on the name choice.
Biwa – I never seem to actually get to eat it. Perhaps the elusiveness helps.
Ecliptic Brewing – Cant remember if there were fries, just stuffing the burger in my mouth.
Little Big Burger – Free range beef; choose your cheese, truffle fries? That's so damn Portland.
You can see the other 2015 survey winners here. The list will grow as I write the posts.