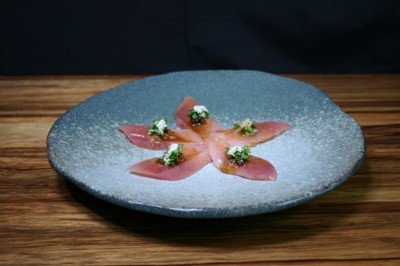 Portland is a sushi town, and that's reflected in the number of votes for the Reader Survey 2015 Best Sushi in Portland. We have lots of reasonable choices, and the cuisine seems to be growing in popularity. But the top choices always seem to come down to a favorite few. Those restaurants not mentioned here received few votes. This year, Bamboo Sushi once again swept away the competition, though their lead over previous years is significantly smaller – 28% versus 41% on the last survey. As a matter of fact, every restaurant on this list has a smaller percentage than ever before, though I this is the most votes I've ever received in this category. All of the restaurants placing from #12 to #16 tied, so I'm writing a bigger list this year, with the ties in alphabetical order.
1,165 votes cast:
1. Bamboo Sushi – 28%
The first certified sustainable sushi restaurant in the world. Very popular.  My review.
310 S.E. 28th Ave., Portland, 97214  Map  (503)232-5255
836 NW 23rd Ave., Portland 97210  Map  (503)239-1925
2. Hokusei Sushi – 10%
Japanese restaurant serving traditional dishes with some creative twists, plus cocktails and sake.
4246 SE Belmont St., Portland 97215  Map  (971)279-2161
3. Mio Sushi – 6.87%
In my opinion, this is not a very good restaurant. However, with 16 locations, they may have had a disproportionate number of votes; I am obviously in the minority. Family friendly, casual restaurant.
Nine Portland metro locations (16 total) – see website for details
4. Saburo's Sushi House – 5%
Nigiri sushi and rolls are super-sized at this busy, no-frills Japanese restaurant.
1667 Southeast Bybee Boulevard Portland, OR 97202  Map (503)236-4237
5. Murata – 7%
Upmarket destination for sushi and sashimi, served in a spartan space with traditional decor. This old-school sushi, and is generally excellent, though more spendy than some of the other choices.
200 Southwest Market St # P105 Portland, OR 97201  Map  (503)227-0080
6. Sinju Restaurant – 3.86%
At times the service can be pretty flaky at Sinju, but judging by the number of people who dine at the Pearl District spot, it's popular. This is not a traditional sushi restaurant. They try to be creative with names such as Gorilla, Hot Mama, Godzilla and Heart Attack. Not one of my favorite places.
1022 NW Johnson St. Portland OR 97209  Map  (503)223-6535
12000 SE 82nd Ave., Happy Valley OR 97086  Map  (503)344-6932
7339 SW Bridgeport Rd., Tigard OR 97224  Map  (503)352-3815
7. Masu Sushi – 3.65%
Fresh fish and updated Japanese fare served in a plush 2nd-floor spot with validated parking. The entry is next to Cacao Chocolate. This is one of my standbys.
406 SW 13th Ave., Portland OR 97205  Map  (503)221-6278
8. Yoko's – 3.22%
Small, homey sushi space with unusual rolls and an extensive sake selection.
2878 SE Gladstone St., Portland OR. 97202  Map  (503)736-9228
9. Syun Izakaya – 3%
A must stop if you find yourself on the west side. Located in downtown Hillsboro in the basement of the old library. "Japanese gastropub". Large sake selection makes sake flights interesting.
209 NE Lincoln Street, Hillsboro OR 97124  Map  (503)640-3131
10. Yama Sushi and Sake Bar– 2.79%
Creative rolls (some flaming), classic Japanese fare & a range of sake.
926 NW 10th Ave., Portland OR 97209  Map  (503)841-5463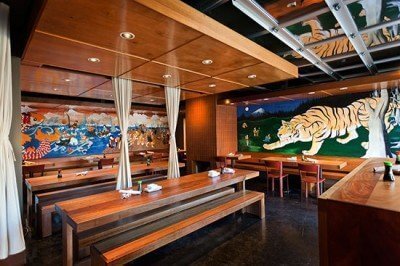 11. Yakuza Lounge – 2.58%
Stylish Japanese venue offering inventive small plates, sushi and well-crafted cocktails, plus very nice patio seating.
5411 NE 30th Ave., Portland OR 97211  Map  (503)450-0893
12. Ichidai Japanese Restaurant and Sushi Bar – 2.36%
Understated sushi house serves classic rolls and Japanese dishes in an intimate, laid-back atmosphere.
5714 Southeast Powell Blvd. Portland, Oregon 97206  Map  (503)771-4648
13. Mirakutei – 2.36%
Small unassuming Japanese restaurant serving upmarket sushi, ramen and small plates.
536 E Burnside St, Portland, OR 97214  Map  (503)467-7501
14. Samurai Blue – 2.36%
Casual, hip hub for Japanese and Korean small plates, sushi, tableside hibachi and sake cocktails.
3807 North Mississippi Ave. Portland, OR 97227  Map  (503)284-1020
15. Shigezo Izakaya – 2.36%
Ramen, skewers and other Japanese pub fare, plus sake, in restaurant with a variety of seating styles.
910 SW Salmon St, Portland, OR 97205  Map  (503)688-5202
Favorite comments: "Usually just have it on cruise ships!!" "Saburo's portions are HUGE! Sea kissed goodness fills your mouth to the max!" Bamboo Sushi: "Fusion style dishes as well that aren't so ridiculous I don't feel like I am even eating Japanese food."
Previous years:
2013: Bamboo Sushi 41%, Hokusei Sushi 7%, Murata 7%, Masu 6.8%, Saburo's 5%
2012: Bamboo Sushi 43%, Murata 7.5%, Yoko's Masu 7%, Saburo's 4.8%, Mio Sushi 3.8%, Boxer 3.6%, Sinju 3%, Syun 2%, Mirakutei 1.4%
2011: Bamboo Sushi 27%, Murata 9%