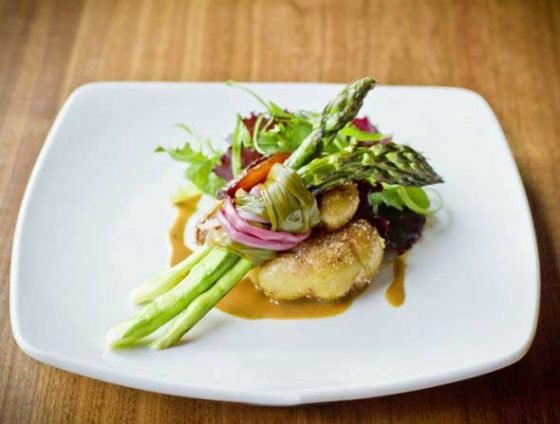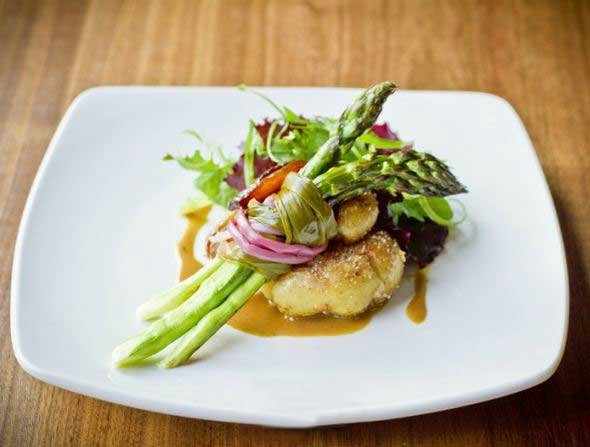 I've noticed an interesting trend in the 2015 Best Vegetarian Restaurant in Portland category. In 2011 428 votes were cast, in 2012 450 votes were cast, in 2013, 560 votes, and for this year 878 were counted. I'm not sure if this means people are trying to eat a more healthy diet, or if Portland vegetarian restaurants have stepped up their game. As in other polls, the number that each restaurant has received is diluted a bit, with the total votes of most restaurants a bit lower than in the past. I suppose this is a good thing, as it would indicate that other restaurants are getting better.
I'm not a vegetarian, though now that I think about it I don't eat much meat, so you'll be glad to hear I don't have many comments. But I'm not saying my personal dislike of most tofu dishes won't peek through now and then.
878 votes counted – 
1. Natural Selection – 17.66% of the vote.  $$$
"Natural Selection is a restaurant built on vegetables, fruits, and grains, featuring finely crafted meals paired with choice wines and spirits."
Natural Selection opened in 2012, and immediately gained a strong following, winning over vegetarians, vegans and meat-eaters alike. This is not your hippie parents vegetarian cafe. The chef's selection of colors, textures and flavors are impressive. He uses flowers from various vegetables along with dried items to intensify flavors, textures and to add color; this is a painting on a plate. Put yourself in the kitchen's hands and try the four-course pre-fixe dinner for $45. Two menus are always available. On of the most recent dinners consisted of: 1st course – Roasted Sweet Onion Soup with parsnip, shiitake, miso and chive, 2nd course – Endive and Miner's Lettuce with ruby grapefruit, dried fig, olives and dijon dressing, 3rd course – black lentils and baby carrots with roasted cabbage, coconut, radish, harissa, onion pearls, 4th course – raspberry, basil, mandarin orange sorbet. They aren't messing around. I am very happy to dine here.
Wine pairings are available for $25. Selections are also available a la carte. Full liquor license
2. The Farm Cafe – 11.4%  $$-$$
One of the oldest vegetarian focused Portland restaurants, The Farm Cafe still draws a good crowd. Obviously they specialize in vegetarian food, with menu items such as Herb Crusted Tofu with Mushrooms Marsala and a pasta dish of Braised Green Ravioli caramelized onions, pecans, sharp white cheddar, ricotta, tarragon brown butter. However, you can bring those types of friends that scrunch up their noses at the idea of vegetarian food, because they offer choices for the carnivore too, including Pan-Fried Idaho Trout, and Roasted Lamb with broccolini and fingerling potatoes. Open 7 nights a week. Full liquor license, with a wine list and lots of local beer.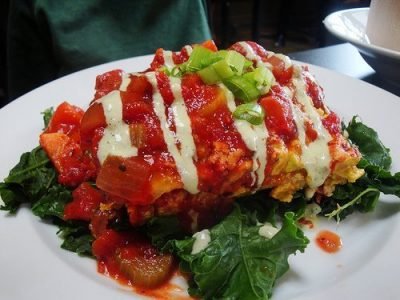 3. Blossoming Lotus – 10.54%  $- $$
Paul Gerald of Breakfast in Bridgetown fame wrote a review of the original Blossoming Lotus location way back in 2007. He said, "Although it's fun to think of a pecan pie hopping around, refusing to be eaten like the lobster on the old "Muppet Show," at the Lotus live means "raw," and many of the selections, including two on the breakfast menu, are raw. And lest you think vegan means "veggie burgers" and raw means "salad," how does this sound for breakfast? Breakfast Parfait with live granola, fresh fruit, and cashew nut crème. Buckwheat and Walnut Granola with fresh and dried fruit and nut milk. A breakfast burrito (tofu, black beans, and veggies), a Tofu Scramble with carrots, spinach, and sun-dried tomatoes, and good ol' hot oatmeal with maple syrup, fresh fruit, raisins, and Brazil nut milk. …I exaggerate to make a point: The Blossoming Lotus isn't just about nutrition; the café refers to itself as a "model" and the official slogan is "Bringing peace to life." Sitting in the sunny, relaxing café, you can see it's meant both ways: bringing a little peace to your life and trying to give life to a larger peace."
This restaurant is very serious about vegetarian food, so don't go here looking for meat. That being said, it's darn popular, and though I don't lean that way, I've seen quite a few friends sneaking out the door looking satisfied. They have a popular happy hour, with a large menu of items around $6-$7. Open 7 days, lunch, dinner, weekend brunch.
4. Portobello Vegan Trattoria – 8.83%  $$
The name says it all – "Vegan Trattoria". For that reason I've never set foot inside, but I'll give you some details from their menu. Portobello features the whole Italian style experience with antipasto, appetizers, primi, secondi, four pizza and two beet burgers. They also have a "Vtopian" cheese plate. Three salads are available, currently a Caesar, Arugula Asian Pear, and a Beet & Citrus. Primi include items such as Pioppini Risotto, a creamy risotto with black garlic, oyster mushrooms, pioppini mushrooms and truffle butter and cashew cream, or an Agnolotti with Creamy Tomato Broth – celeriac cashew cheese-filled agnolotti with a creamy tomato broth topped with celery leaves. The Portobello Steak with roasted Brussels sprouts pearl onions, carrots and rice pilaf finished with marsala reduction sounds pretty good to me. YOu'll also find pizza, such as a 12″ Arrabbiata of chili-fennel marinara cashew cream, hot peppers, garlic, and seitan arrabbiata sausage.
Open tues – sun from 5:30pm. Full liquor license, along with a selection of "mocktails".
5. Bye & Bye – 7.41% $
Another 100% vegetarian/vegan restaurant. Bowls like the Georgia Bowl Nutritional yeast breaded tofu, brown rice and collard greens, sandwiches – Weeping Tiger Sandwich with Tofu cutlets, lettuce, tomato, onion, avocado, jalapeño, Sriracha and miso mayo on Grand Central bread, and even a BBQ platter (sort of) – BBQ tofu, black-eyed peas, collard greens, and toasted baguette. Served with chips and salsa. The restaurant has a full liquor license, with a happy hour from 4 pm – 7 pm daily.
6. Vita Cafe – 6.84%  $
Vita Cafe has been dishing up vegetarian, vegan and gluten-free fare since 1999. According to their website, they "choose to use local and organic products as much as possible" along with a focus on "sustainable business practices". A few random items: Vegan Nachos – tortilla chips topped with beans, brown rice, black olives, salsa, guacamole, vegan cheese sauce and vegan sour cream. Greek Salad – greens with crumbled feta cheese, roasted red peppers, cucumbers, tomatoes, red onion and olives with basil vinaigrette. Three Bean Vegan Chili served with a corn muffin. For carnivores, there are four different hamburgers.
All menu items are clearly marked when gluten-free or vegan.  Full liquor license, with a rotating local brew list.
7. Prasad – 5.7% (tied with Harlow) $
Though Prasad and it's sister restaurant Harlow tied in the rankings, their menus are somewhat different, so I chose not to combine their scores. You'll find lots of fresh juice combinations, some of which I find a bit daunting, and I bet most vegetarians would too. There is a huge list of delicious sounding smoothies for around $6.50, a selection of bowls – The Mighty Bowl with rice or quinoa, steamed greens, beans & choice of sauce sounds good to me, and I love this "We believe everyone deserves a warm, healthy, organic meal ~ Prasad offers the Mighty Bowl on a sliding scale of $2 – $7". How cool is that? Add this menu item and I'm there, the Utopian Dream Pasta featuring "shredded green papaya, carrots, shredded collard greens, scallions and broccoli tossed in almond butter pad thai sauce, topped with sliced almonds, mint, cilantro and sesame seed". This
restaurant may not serve meat, but I'd accompany any of my vegetarian friends here. Breakfast, lunch and dinner, daily until 8 pm.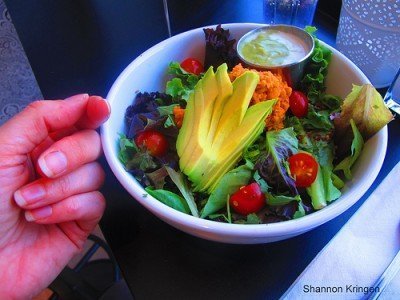 7b. Harlow – 5.7% (sister restaurant to Prasad) – $
While Prasad has a fairly basic menu with a focus on smoothies and fancy juice combinations, Harlow is more like a traditional vegetarian restaurant.
They also offer the "Mighty Bowl" mentioned above. Extra karma points! According to the website, the entire menu is gluten-free. Here are a few of the dinner options: Butternut Squash and Sage Penne – gluten-free penne pasta tossed in a rich butternut squash cream with smoky tomatoes, spinach & carrots, topped with fried sage & almond parmesan. Marrakesh plate – black lentil & vegetable Moroccan stew served over herbed polenta cakes and steamed kale, topped with tamarind date chutney, fresh mint & cilantro. Both sound good to me, and are currently $11. They also have the requisite vegetarian bowls along with salads and whatnot.
8. Sweet Hereafter – $
Last but certainly not least, the Sweet Hereafter. I like the name, so that's a good start right there. The first thing that catches my eye is that they are open late, until 2am every day. Second, they have a full liquor license, which I'm going to need, as this is serious vegi food. Some examples: Eastern Bowl – nutritional yeast breaded tofu, broccoli, and brown rice with a spicy ginger peanut sauce, topped with sesame seeds, Steve Martin – jerk marinated tofu cutlets, onion, kale slaw, pineapple and miso mayo on ciabatta roll. With chips and salsa. Pesto Provolone Grilled Cheese – Daiya Provolone with pesto, arugula, and tomatoes served on panini grilled sourdough. With chips and salsa. Yup, they have a few bowls too.