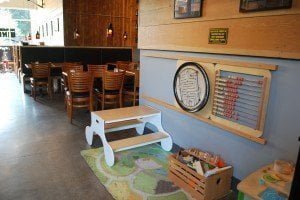 The question, what is the Most Kid Friendly Restaurant in Portland always brings lots of passionate comments. One group is firmly in the "no one should bring kids to a restaurant", and others say "I can bring my kids anywhere I want!"
The Laurelwood Public House has a little blurb that shows why they always make this list –
A lot of places say they are family friendly, but only make minor concessions towards children. All of our restaurants treat families with young kids as a major priority. Every one of our pubs has a play area designed mostly for toddlers. We let kids be kids at the Laurelwood. We are well aware that modern family life is hectic and stressful– most families have two working parents and these folks love the fact the Laurelwood lets them relax. Parents get to chill out and catch up, while the kids get to play with trains and color… Much better than being forced to sit still and be quiet! Some people think it's odd to have a brewpub be so family focused, but Laurelwood believes that craft beer, good food, and spending time with your family go hand in hand.
Good on them!
Slappy Cakes didn't get a single vote. Yes, I checked twice. Then I checked to see if they were still in business. They are; color me shocked.
540 families voted:
1. Hopworks Urban Brewery (HUB) – 16%  $-$$
"Hopworks Urban Brewery and Hopworks BikeBar are Portland's first Eco-Brewpubs. We offer handcrafted organic beers and fresh, local ingredients, all served in sustainably-built and operated buildings with a relaxed, family-friendly atmosphere. …Kids are always a welcome addition to the scene at both Hopworks locations. We have plenty of toys and books in our play areas to keep even the most active young minds engaged while you enjoy a fresh, organic beer and delicious menu items."
2944 Southeast Powell Blvd. Portland, OR 97202  Map  (503) 232-4677

3947 North Williams Ave. 

Portland, Oregon 97227  

Map

 (503) 287-6258
2. Laughing Planet Cafe – 15.28% of the vote  $
Special kids menu with a Bowl, Mini-Burrito, Taters & Cheese, etc. For the adults, the menu is all about healthy, sustainable, organic, local food. Very low-key environment. Everything on the menu is marked whether it contains nuts, is vegan, Paleo friendly or gluten-free.
3. Laurelwood Public House & Brewery – 13%  $$
See above.
6716 SE Milwaukie Ave Portland, OR 97202  Map  (503) 894-8267
5115 NE Sandy Blvd. Portland, OR 97213  Map  (503) 282-0622
7102 NE Airport Way, Portland, OR 97218  Map
3. Boke Bowl – 7.87%  $-$$
I didn't find a separate kids menu, but there are plenty of items that will please children or your inner-child. Steam buns, Rice Bowls, Ramen, etc. The Korean Fried Chicken on Thursdays is very popular. These two restaurants are very relaxed, busy environments. Vegan and Gluten-free options are marked.
1028 Southeast Water Ave. Portland, Oregon 97214  Map  (503) 719-5698
1200 Northwest 18th Ave. Portland, Oregon 97209  Map  (503) 719-5698
4a. Tin Shed Garden Cafe – 6.02%  $-$$ (4-way tie!)
I might consider Tin Shed if I ever went to breakfast for no other reason that they have a special dog menu. I was hoping to say something very snarky, but they have a kids menu too. Here is a quote from their menu –
…we believe that energy travels through food: not just caloric, but spiritual energy. Our goal is to give the food a good ride from farm, to grocer, to the Shed and to you. We pride ourselves on providing only the freshest, most wholesome products. Our beef, chicken and eggs are all free-range. Our coffee is organic, shade-grown and blended to our specifications right here in Portland. Our dairy products are packed locally using no growth-hormones, the salmon is wild… you get the picture. It's wildly popular, with frequent lines out front.
1438 Northeast Alberta St. Portland, OR 97211  Map  (503) 288-6966
4b. Lovely's Fifty Fifty – 6.02%  $-$$
Lovely's is primarily a pizza restaurant – "we use organic & locally sourced ingredients in our food & our dough is naturally leavened for good health!" Needless to say, this makes selling it to 99% of the children out there an easy task. Even better, there is a Cheese Pizza for Kids – $7. For adults, Lovely's is also one of the top choices in our Best of Portland Pizza survey.
4039 North Mississippi Ave. Portland, Oregon 97217  Map  (503) 281-4060
4c.  Grand Central Bakery – 6.02%  $
Everything is made from scratch, using local, sustainable ingredients whenever possible. You'll find a selection of breads, classic and seasonal sandwiches, salads, soups and breakfast sandwiches. The low-key atmosphere makes it easy to relax with the kids. Oh, and there are pastries. Lots of pastries. You deserve a break today. Get them a grilled cheese and have yourself a lovely chocolate something.
4d. Sunshine Tavern – 6.02%  $ – $$ (now closed)

Salads, sandwiches, burgers, pizza, fried chicken, corn dogs and more, along with soft serve ice cream. Much of it is kicked up a bit – the corn dog includes cabbage slaw, giardinara (not the intestinal bacteria; this is pickled veggies), brown mustard and fries. The hamburger is just chuck, iceberg, and thousand island dressing, but the adults can add things like pork belly, chicken liver mousse, kimchi and more.
3111 Southeast Division St. Portland, OR 97202  Map  (503) 688-1750
5. Pause Kitchen and Bar – 3.24% $ (now closed)

This family friendly restaurant features standard American fare with microbrews. Their online presence is pretty much nil, but I've always seen families here. Overall it is very popular. Large open patio.
5101 North Interstate Ave. 

Portland, OR 97217  

Map

 (971) 230-0705
6.  Lucca – 3.23%  $$
A nice neighborhood restaurant. with wood fired pizzas and Italian 'inspired' food. In the back there is a separate room with even more tables. I'm told groups with children are frequently placed here as not to interrupt diners in the front room. Doesn't seem to be a children's menu, but once again, pizza!
3449 Northeast 24th Ave. 

Portland, OR 97212  

Map

 (503) 287-7372
Comments I liked:
Lovely Fifty Fifty – Tasty and posh enough for you, and playful enough for the kiddos. Hello gelato!
If Laurelwood with their minuscule "playroom" wins like it often does, you will hear me scream!!!!
Rae's Lakeview Lounge – Not only do they have Great Food….You can even take the kids during Happy Hour !!!!! WIN WIN !!!!!!
Previous Years:
2013: Hopworks, Laurelwood, Sunshine Tavern, Slappy Cakes, Pause Kitchen & Bar, Lucca, Old Wive's Tales (closed), The Country Cat.
2012: Hopworks, Laurelwood, Pause Kitchen and Bar, Besaws, Jam on Hawthorne, Lucca
2011: Laurelwood, Pause Kitchen and Bar
2010: Laurelwood, Pause Kitchen and Bar, Hopworks, Slappy Cakes