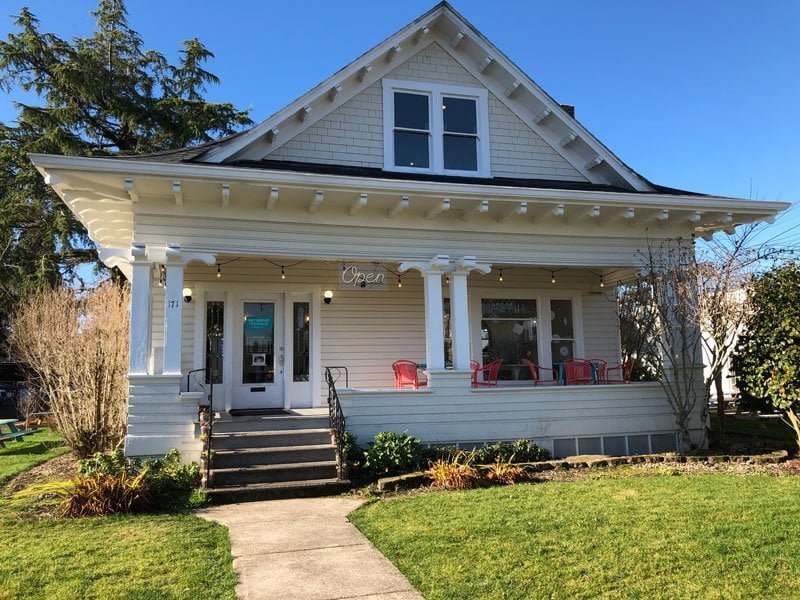 A few months ago, we were walking from the Max train to Syun Japanese Restaurant in downtown Hillsboro. Along the way, a bakery named Decadent Creations caught my eye. This was not unusual, every bakery catches my eye, and I filed this one away for a future visit. A month later I jumped on the train and returned. Now it is a regular stop for me.
You may have seen Decadent Creations at Beaverton Farmers Market. It opened in 2010 and quickly gained a following for their focus on local, natural ingredients. But it was owner Mindy Simmons' win of a 2015 episode of the television show Chopped that brought them the most attention (season 23, episode 5). She won the 'Chocolate Rush!' episode in which she prepared a three-course meal, working chocolate into every dish.
Since then the bakery which specializes in scratch-made goods has thrived. It's in an old restored house on the edge of the downtown core. The interior is bright and open with plenty of seating both up and downstairs. Even better, there are lots of picnic tables outside for warm days.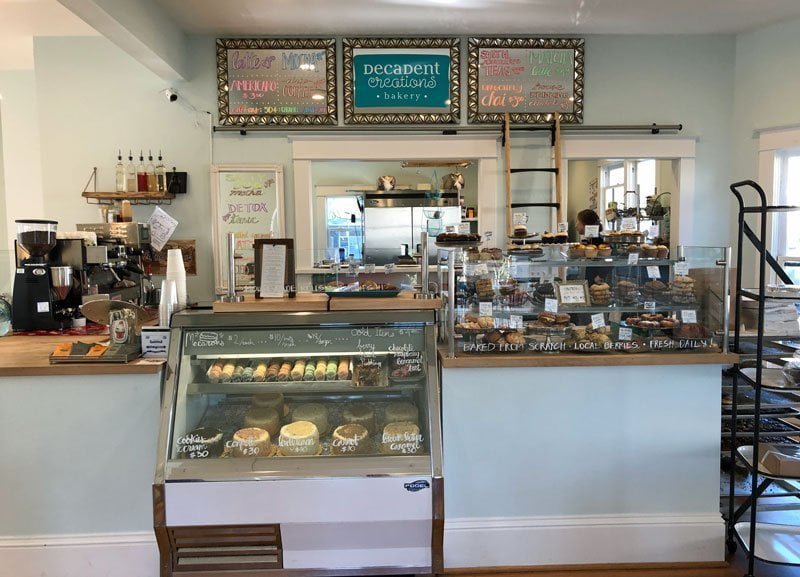 This is not a bread bakery. The focus here is on cakes, cookies, pastries, and a few pies as well as a small selection of breakfast sandwiches. I'm a sucker for anything with lemon curd and their scone, layered with a liberal dollop makes my knees weak. The same goes for the "decadent bar". I like to get off the train at Cornell road and walk to the bakery – that makes the whole trip healthy, and I frequently get something for the walk back. On a rare sunny day, the bar kept nagging me, and the bag was feeling heavy, so I decided it would be silly to wait for after dinner. As the flavors exploded across my palate I sat on the nearest bench and closed my eyes, overwhelmed with memories of my grandmother's pastries from so long ago – coconut, almonds, dark chocolate and salted caramel.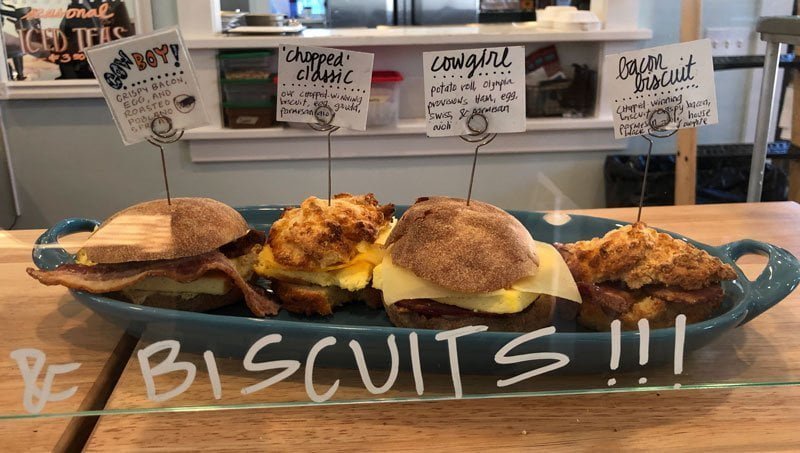 The breakfast sandwiches are as good as any I've had in Portland. Two types, one with a potato roll and another with a savory biscuit which manages to be moist and friable, yet holds together. Try them all; my favorite is the Cowboy with crispy bacon, egg, roasted poblano and good aioli.
Decadent Creations Bakery continues the trend of local ingredients throughout the menu. Coffee is by Water Avenue, tea is from Smith, and syrups are homemade – I'm not normally one for syrups, but these are far better than most. No cappuccinos but one can hope.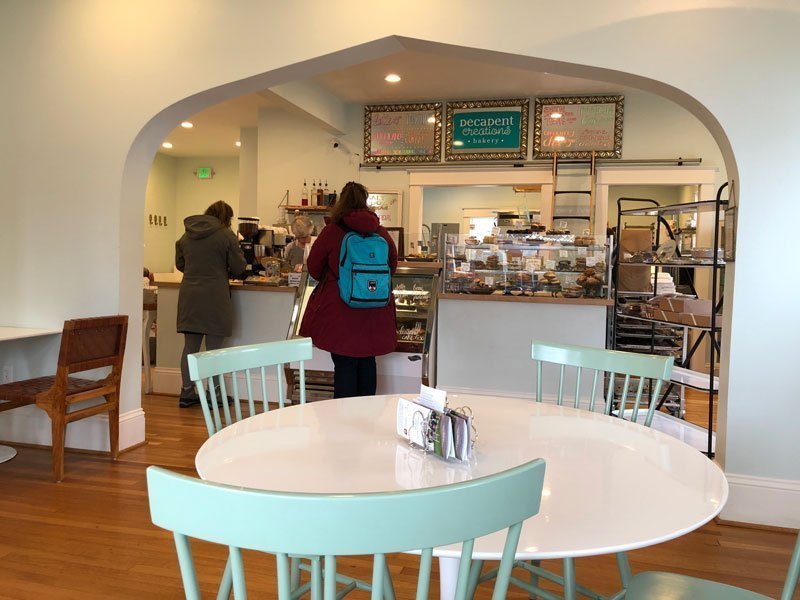 Is it worth the drive from Portland? I'd say yes, especially if you just need some time to relax and go somewhere new. Even better, take the train. Wander around the quaint old Hillsboro downtown.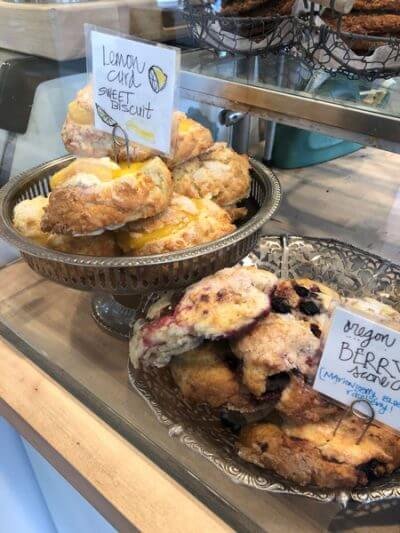 Swing by the bakery, explore the town – don't miss the hobby shop that will make you flash back to your childhood, and drop by Syun Izakaya for excellent sushi. If you drive, zip out of town through the hills and vineyards of beautiful winding Hwy 219, past Jackson Bottom Wetlands Preserve which is worth a stop on its own. The highway is a back route to Newburg and Dundee where you can offset the effect of the pastries with some healthy wine. I'd call that a perfect day.
Ratings over six visits: Consistency 83% (one visit the biscuit wasn't up to standards). Quality A. Atmosphere: A
Decadent Creations
171 NE 3rd Ave,
Hillsboro, OR. 97124 Map
(503) 430-7619
Tues-Fri 6am-6pm
Sat 8am-4pm
Sun 8am-2pm
At Beaverton Farmers Market
February- November
Saturdays 10am-1:30pm (opening 8am starting in May)