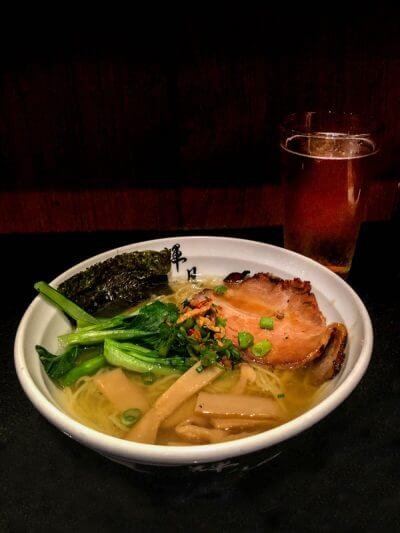 There are a few ramen places I frequent in Portland – Afuri and Marukin are my current favorites. But lately, I've been looking more on the west side. The best I've found as of this point is Kizuki ramen in Cedar Mill.
If you are meeting people there, they may be confused by the sign – while the restaurant is named Kizuki, the sign above the door says "Kukai". The host tells me the name changed in 2016 but the sign has never been updated. It is still the same restaurant as the original chain in Tokoyo, which is still called Kukai.  There are seven branches in Washington, two in Illinois, one in Indiana, and one in Portland.
Kukai is a medium-sized restaurant, mostly one large room, with a chef's counter and a small seating area near the door. The music is rather loud when it's not very crowded, and their choices are awful; a cornucopia of earworms. Even worse, it repeated on every visit. I decided years ago if I ever heard Bon Jovi's Living on a Prayer again it would be too soon. It was.
According to Kizuki PR, they are the first in the Japanese ramen industry to roast the bones before boiling them, similar to the French style of making consommé. Seems odd that no one else thought of it before, but okay, that sounds good. How is the broth?
My first trip for dinner was completely forgettable. The ramen came steaming hot with lots of chewy noodles and various accouterments to top it off, but there was a lack of finesse.
I tried the Garlic Tonkotsu, after which everyone I talked to over the rest of the evening stepped back. Labeled as "specialty extra-rich shoyu-flavored pork broth with lots of garlic", it's far from subtle, overpowered, devoid of depth, and here it comes off as gimmicky. Though it advertised as available in "limited quantity every day", it's has been available on every visit, even shortly before closing. Available or not, I don't recommend it unless you are fighting a cold.
The spicy ramen doesn't fare much better. Described as "rich pork broth flavored with a housemade blend of chilies, garlic, and spices", any subtleties are overpowered and you just end up with a bowl of slightly spicy soup. Compared to the spicy Tonkotsu Tantanmen from Afuri which is my benchmark, I was disappointed. Keep in mind, it wasn't bad and would do in a pinch, but it wasn't something I would drive for. Less you think the spice overwhelmed any subtlety, no, that wasn't the case. Frankly, it was boring and could have used more chili paste to give it depth. A warning on the menu for this dish is new to me, "*Consuming spicy foods may cause gastrointestinal irritations". Are we really this dumb? I foresee a day when the warnings will be longer than the menu.
My impression was much better on subsequent visits when I tried the Shoyu Ramen, "flavored with a slightly sweet soy sauce from Yamaguchi prefecture in Japan", the Yuzu Shio, "French sea salt, kelp, and Japanese citrus base", and my favorite, the Tonkotsu Shoyu Ramen, a concentrated pork broth with Yamaguchi soy sauce, topped with black garlic oil. All three have a very rich, almost creamy layered broth, but the citrus in the Yuzu Shio gives a nice, bright lift. The soft-boiled egg included in many of the ramens is properly cooked, the runny yolk giving the soup extra body. Thin slices of pork that adorn the side of the bowl are occasionally a bit dry.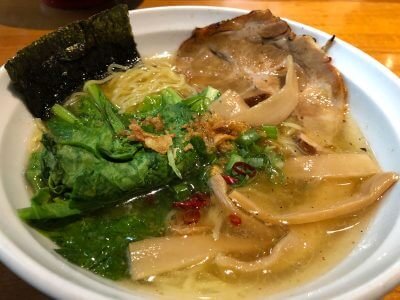 The Kizuki menu includes 12 types of ramen, including a vegetarian version and the excellent Tsukemen, where you simply get a bowl of broth along with a plate with everything else on the outside to be dipped. If I don't add the list I'll get letters, so here you go: Garlic Tonkotsu, Yuzu Shio, Shio, Shoyu, Chicken Rich, Chicken Shoyu, Spicy, Veggie, Miso, Spicy Miso, Hakata Tonkotsu, Tsukemen. Right now seasonal Gekikara Ramen is available with a blend of habanero chilies, Thai chili, garlic, and spices. Something tells me it might be the cure for the common cold.
Extras abound – nori, tofu, parch chashu, fish cake, half-boiled eggs, chicken chashu, bean sprouts, pork belly, and more. Extra noodles are available if you run out and still have broth. Thin, wavy, and flat noodles are available, and you can switch to kelp noodles if you have carbohydrate aversion. Low-sodium versions of broth are offered – I suggest that option as the others can be mouth-burningly salty, and the low salt version is just fine.
I haven't tried many of the non-ramen items on the menu, but the chicken karaage was average, a bit over breaded but moist, with a forgettable spicy mayo dipping sauce and a squeeze of lemon. The same is true with the Gyoza – just fine but nothing special. I'll stick to the ramen.
Service has been good at every visit. The staff knows the menu, is happy to make suggestions, and keeps in touch. If you are in the Hillsboro/Beaverton area and are looking for a ramen fix Kizuki has many satisfying options.
Consistency: 75%. Something was off the first visit and none of the ramens were very good.
Rating: B+ depending on what you order.
11830 NW Cedar Falls Dr #128, Portland, OR. 97229  Map
Kizuki is popular so expect a wait unless you get there early – you can visit nearby stores and they will text you when your table is ready. You won't be seated until your entire party arrives.