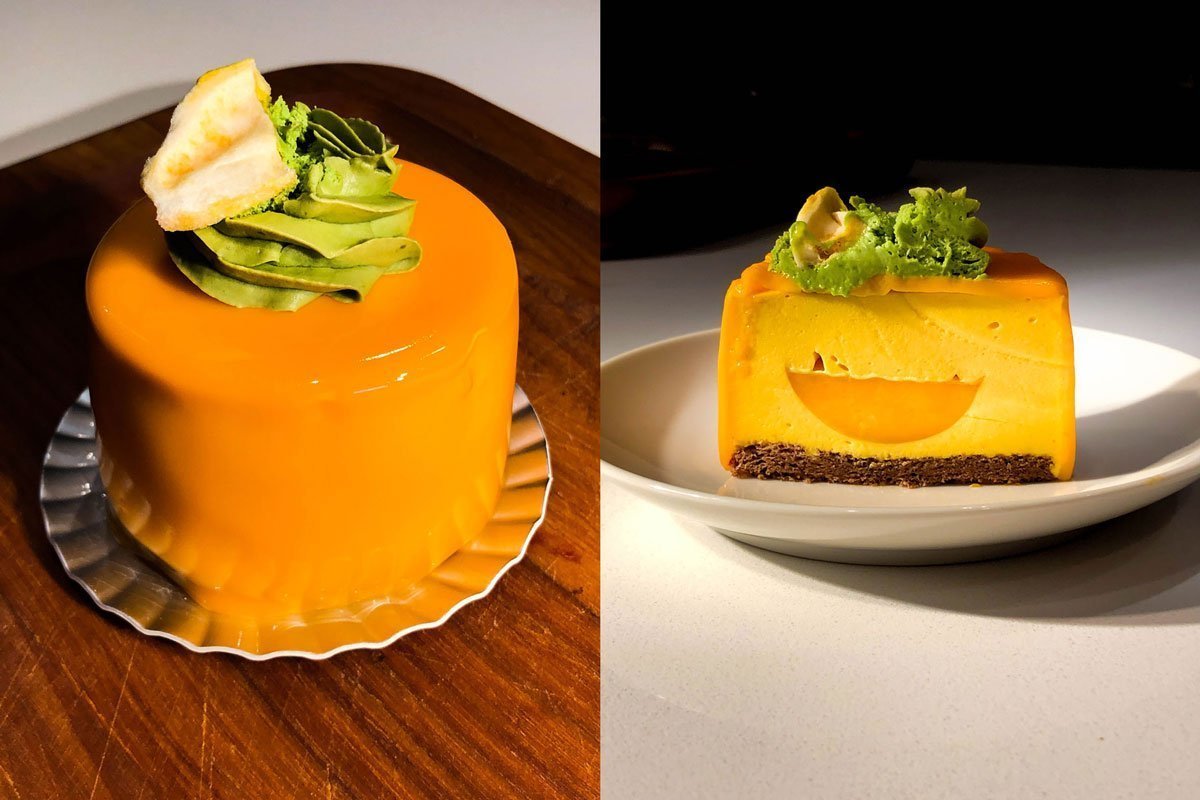 Note: La Rose was sold in 2021. I have not been since then, but it is on my list. However, I have heard from several people the quality has gone downhill, and the prices have gone up. Your experience may vary from this review.
On a recent sunny morning, I brought home a selection of pastries from La Rose Patisserie to share with friends. As I set them out on plates, the buzz of conversation stopped. People looked and marveled at the mirror finish, the perfectly airbrushed outsides, and the stack of layers that make up every cake. Then the sex noises started.
That's the thing; it's difficult to indulge in, say, the "mango-mango," without making some sort of sound that you wouldn't want your neighbors to hear.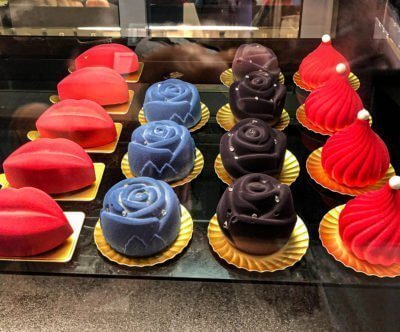 La Rose is a tiny patisserie just two blocks from the Elmonica MAX station. Squeezed in next to a Subway and a T-Mobile store, there is a very small waiting area with a tiny table. The bulk of the space is taken up by the kitchen. For those who want to eat on-site, there are some tables in the courtyard outside the door.
As I've said before, I've considered adding the line to bakery reviews, "are the pastries as good as they look?" This is the first time not only can I say yes but to most of them I'll say "the flavor combinations make them even better than you expect."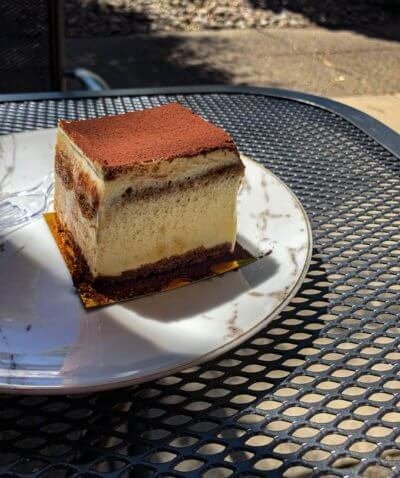 Chef Dan calls La Rose a "modern pastry shop." Outside of a few standards like delicate almond croissants, Grolet's influence shows in the carefully airbrushed pastries and jewel-like colors. A truly enthusiastic, happy baker, she uses flour, butter, and purees imported from France, matcha from Japan, and durian from Thailand. Gorgeous cakes are her specialty, one encrusted six-tier version runs $3,000, but fear not, her more standard cakes are $60 and up, though the price tag on the custom ones is high enough to stop your heart; many start at $150.
There are a few things that make La Rose stand out from other bakeries. One is the balance of flavors. Take, for example, the tiramisu. We've all had it in restaurants; usually, it has too much alcohol, too much espresso, or is teeth-shatteringly sweet. Not so the La Rose version. The dance between flavors is perfect in every bite. Secondly, nothing is overly sweet. Chef Dan mentioned several times that she always uses less sugar than normal for everything including the caramel, and it shows, but enhances rather than distracts from the overall flavors. Most of the chocolate is 70% Valhrona.
I've included a lot of photos below, but here are some of my favorite selections –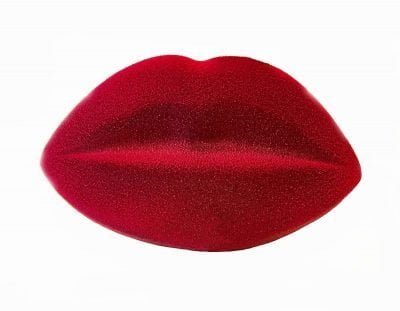 Goddess' Kiss:
Filled with dark chocolate mousse tied together with a center of sweet/sour passion fruit jelly which contrasts nicely with the slightly bitter chocolate. The result is a strong flavor, creamy, not too sweet, with slightly salty and bright, slightly sour fruit bringing everything into balance. Notice all the "slightly"? My only complaint? it's hard to get it out of the box without damaging the thin shell.
Bleu Lover:
Dark chocolate mousse balancing sweet and tart with lychee rose puree, shaped like a rose, finished with an air-brushed chocolate.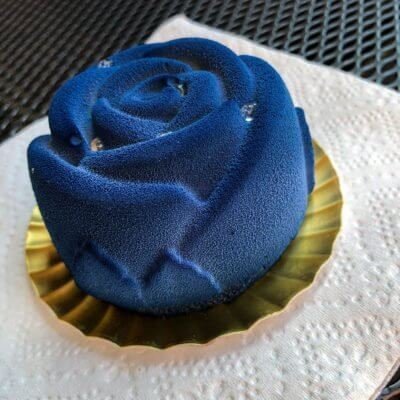 Rose lychee:
Lychee rose jelly, white chocolate mousse.
Salted Caramel Cinnamon Roll:
Hand-made dough packed with French butter, Vietnamese cinnamon, and sea salt caramel. The end result is a fluffy, light, "delicate" dough to contrast with the bold flavors of cinnamon and caramel. I've had many that were moister, but they always seem to be overloaded with so much sugar they make my teeth buzz. Not so these rolls. It held together so I could eat it as I walked to the train – a plus in my book.
Japanese Cream Bun:
I actually said, "Oh, wow." on my first bite. The cream cheese is good, light, and slightly bitter, once again offset by just the right amount of sugar in the brioche; less sweet than most of the ilk. The bread holds together well, very strong yet soft bread which I found so pillowy I had to use a bread knife to cut it. Once again in perfect balance. Better than Oyatsupan. However, I should note that on a second visit the sour flavor that contrasted so nicely was barely present.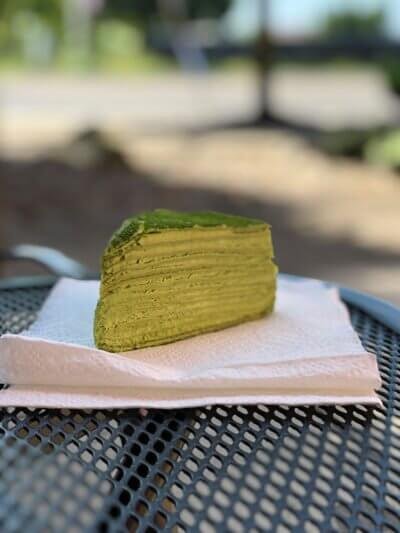 Matcha cake:
There must be 25 layers in this 2″ thick cake. The matcha is somewhat subtle; it's not as overwhelming as many restaurants make it. Refrigeration keeps the colors bright until you are ready to eat, but let it warm a bit and the flavor gets stronger.
Mango-Mango Mousse Cake:
Fresh mango jelly, enrobed in mango mousse. At first, you get a burst of mango, but then the sweet/sour jelly washes over your palate like a wave.
Sometimes a few savory items are available, most recently a pork floss cake roll. I've seen these in Japan but never tried one before. Pork floss is dried pork with a texture similar to coarse cotton. It packs a big punch of flavor, keeping everything in balance.
Overall, I highly recommend La Rose whether you just want a quick decadent moment for yourself or something over the top to share with a loved one. These are strikingly beautiful pastries that taste as good as they look. Is it worth the trip from Portland? Yes.
This slideshow requires JavaScript.
Rating: Ratings over four visits: Consistency 80%. Quality A. Atmosphere: C.
Phone: (503) 746-6735
Address: 17020 SW Whitley Way, Suite 102, Beaverton, OR 97006 (Two blocks from the Elmonica MAX station.)
Hours: Tues – Sun 7 am-7 pm (many things sell out by late afternoon).
Website: laroseoregon.com