[This review is originally from 2006, but many parts have been rewritten for 2019, including some new dishes, great photos, updated prices, etc. Nuestra Cocina is our Reader's Choice for Best Mexican Restaurant 2012, 2013, 2015 & 2017.]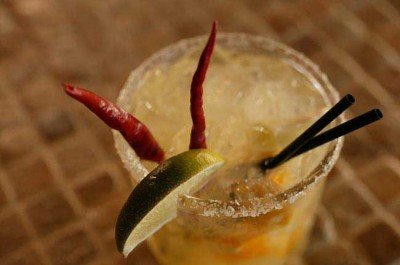 There are few places in Portland that call to me. I can only take so many steaks, so much saucy French food, so much lamb's tongue. When I want a large, comforting meal with a couple of great drinks, I tend to head to SE Division to Nuestra Cocina, or "Our Kitchen." Be forewarned, this is not your typical rice, beans, and burrito Mexican food, rather it is more likely what you would be served in central Mexico. Ingredients are top-notch and dishes are complex. You can be sure chef Benjamin Gonzales is always cooking up something interesting.
The interior is decorated in simple Mexican colors, nice mosaic tiles, comfortable wood chairs, and a wall of windows to the covered outdoor patio. On busy nights it can be a bit noisy, but you will be able to hear the rest of your table. The biggest drawback at Nuestra Cocina is there is nowhere to wait. The bar area is pretty small at about ten seats, so there isn't much room, and the doorway only holds 2-3 people. On a really busy night, you may end up standing on the sidewalk, but be patient; it's worth it. I try to go early in the week to beat the crowds. They don't take reservations; they don't need to. Even after years in business, they still draw a crowd. A chef's counter seats seven and is a marvelous place to watch the action. On a busy night, it can be a show, on a slower night, the cooks will chat a bit and answer questions. They all seem like genuinely nice people, and it is fun to watch them work.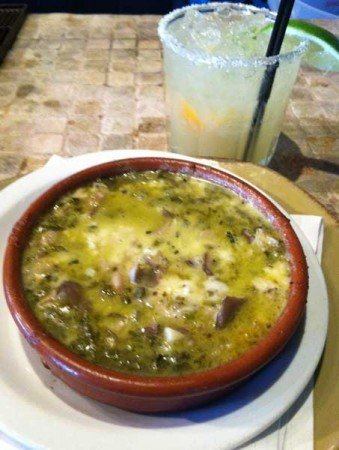 Appetizers:
Tortillas are all made to order the old-fashioned way, shaped into little balls by hand and then squeezed with a wooden tortilla press. Sit at the chef's counter and you can watch them being made The woman who makes them is in the zone, cranking them out like a machine. They are simply wonderful, addictive little gems, constantly made all evening, delivered piping hot to your table with a smoky chipotle sauce.
There are several salads, both quite large. Two people could easily split one and an appetizer for dinner. An ensalada de espinacas, or for those that don't speak Spanish, spinach salad, comes with red onions, little lardons (small cubes of pork fat), and queso fresco cheese. The chipotle vinaigrette dressing has a long, slightly spicy finish ($8.00). Also on the menu,  a salad of mixed greens, mango, jicama, avocado and pumpkin seeds with a pasilla vinaigrette. The combination of textures is a pleasant diversion, and the ingredients are crispy and fresh. The pasilla chili gives a nice earthy, slightly sharp flavor to the balanced dressing ($8)
The Ceviche – raw seafood marinated (cooked) in citrus – varies from season to season. It is a simple preparation, as it should be, of lime, chopped fish, tomato, chiles, and cilantro, surrounded by tortilla chips just out of the fryer. They rotate the fish depending on what is available. Most of the time it is pretty darn good ($9).
Albondigas means meatballs. Rather than the ubiquitous soup, Nuestra Cocina has them as albondigas en chipotle con nopales: fresh mint leaves and rice in simmering meatballs with chipotle sauce and cactus ($7). The smokiness of the chipotle, the mint making little explosions in your mouth, and moist little nuggets of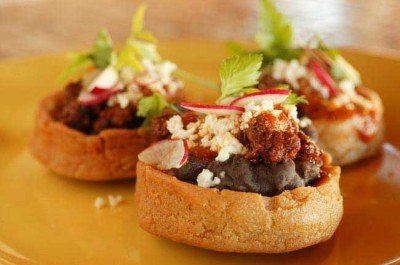 beef; all the ingredients tango together in a way that will make you wonder if you could get away with licking the plate.
A crowd favorite seems to be tacos de puerco, I get them every time. Spiced shredded pork is piled on the little freshly made tortillas, topped with a bit of cilantro and a little chopped onion. You get three to a plate for $8.00. One could easily make a meal of these and a salad.
For those who are not on diets, try the Queso Fundido. Baked Oaxacan cheese arrives bubbling hot in an earthenware dish, full of little slices of mushrooms and a slightly spicy poblano chile sauce. Scoop out the melty goodness with accompanying chips ($9).
Entrees:
We'll start with a Willamette Valley lamb shank ($23) The shank is huge, hanging over the edge of the bowl, making one feel like Fred Flintstone. Underneath is a healthy pile of perfectly cooked mixed greens. The bowl is finished with a deeply flavored tomato broth; mixed with the other ingredients it is almost like a stew. A selection of toppings come on the side, but unless you have a particular aversion to one of them, I'd suggest dumping everything into the bowl to get the most out of this dish.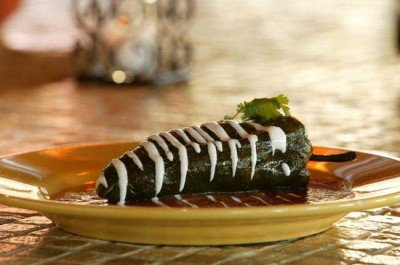 Cochinito pibil – Carlton pork with pickled red onion – comes swimming in a huge plate of wonderful black beans, simmered in beer. The pickled onion is a great counterpoint to the pork. Most nights, the pork is fork-tender, with wonderful bay leaf flavor along with little bursts of cilantro. The meat has the right amount of crusty char on the outside and has obviously been braised for a long time. A little tower of pickled red onions on top adds another layer of flavor and texture. This dish is a winner ($17.00).
I think my favorite of the entrees is puntitas de res en chile chipotle ($18.00). Picture sauteed beef tips, meaty and succulent, braised in wonderfully earthy, smoky chipotle. Plenty of sauce, thickened with a bean purée, comes on the plate, just waiting to be scooped up into those fresh tortillas. The finish is impeccable, lasting well beyond the last bite. Irresistible strips of chayote give another texture and flavor. I use this word so much it is in danger of being added to the restaurant review lexicon, but zounds! One good meal.
Desserts:
Lift your face out of the tequila and order desserts. The cinnamon ice cream is the best I have ever had. (You can also get it from the vendor at Portland Farmers Market). They do a good job with empanada de limón, a light handmade pastry, filled with lemon curd, deep-fried, and served with whipped cream and homemade caramel on the side ($6). Another crowd favorite is the crepes with cinnamon and banana – all warm and gooey ($6). During the cooler months, they often have champurrado, a spiced Mexican hot chocolate, thickened with cornflour. This is a very traditional drink, usually served with Christmas tamales. Here it comes with a hot cinnamon churro on the side; a must for any hot chocolate lover.
The bar does great business and uses quality ingredients. Of course, they specialize in tequilas, with 16 available from the Sauza Hornitos to the more high-end types like Añejo Tres Generaciones. The menu goes as far as to break them down by type: plata (silver or white) – the purest form, Reposado, which are aged for at least two months, or Añejo which are really easy to sip. Ten beers are available – nine by the bottle, two on tap, and 11 wines by the glass or bottle at a reasonable markup. We aren't talking fantastic wines here, but they are certainly an unusual and interesting list. It doesn't matter to me, I'm going for the margaritas, and have eight different ones to choose from, all fresh juices and muddled fruit. They range from $9 for the most basic to $10.50 for the top-shelf. There is also a list of "Tequila Martinis" for $10, mango and habanero, sangria, mojito's, etc. On a warm afternoon, a pitcher of sangria can be just the thing and is only $18. Wait… you wanted some too?
Besides the food, one of the reasons I like Nuestra Cocina is everyone genuinely seems glad to be working here. You can tell they are like a family, happy being together. For me, that seals the deal. They will always be on my list for a good meal.
Phone: (503) 232-2135
Address: 2135 SE Division st., Portland, OR. 97202 Map
Hours: Tues-Sat: 5:00pm-10:00pm. No reservations – get there early to beat the rush.
Website: Nuestra-Cocina.com