Note: Paley's Place is permanently closing November 28, 2021.
Now and then I'm so inspired by a meal, I want to write about it. This is one of those times. But it is also a goodbye to my mother who died a few months ago. If you'd like you can skip directly to the review by clicking here.
I have an immigrant friend whose life has been a long journey over a short time. It has toughened him, and he's not the type of person who is prone to being overly emotional. I saw him moved to tears on a warm night in June, when he took a few bites of a Smoked Pork Porterhouse at Paley's Place, chewed for a moment, and hid his face behind a napkin. After he composed himself, he said, "I never knew food could be so good that it could affect me this way."
To be fair, this was one in a parade of plates that were so well composed, I was unable to find a flaw in any of them, and I too was feeling a bit off-balance. Paley's was mom's favorite Portland restaurant, and I was there to remember her and toast to her memory.
My mother was a complicated person. She loved kids but wasn't close to her own. Instead, she focused all of her time on her students, teaching at a run-down public school in Watts, Los Angeles, before and after the riots of 1965. This was a very rough part of town, and at the time, she was one of two Caucasians in the entire area. Mom had the credentials to work anywhere, and it was years before I realized she was trying to give those kids a sense of normalcy that might seem foreign or elusive. She was a small woman, yet had a commanding presence. Occasionally she'd find guns and drugs hidden in her classroom, and more than once a body would await her when she walked onto the playground in the morning. But she always stayed strong and true to her students. They were her life, and she received grateful cards from them for many years after she retired.
Mom had three other passions: music, travel, and food. It was pretty much de rigueur for everyone in the family to play an instrument. Between the five of us, we played 11. Having summers off, she pursued her interests with vigor. I had a hard time keeping up with where she was from month to month as she pursued the roads less traveled; hiking mountains in Czechoslovakia, visiting galleries in Cuba, hiking around Alice Springs in Australia, or exploring ruins in the Yucatan. She was also an excellent cook, never afraid to push the boundaries or to try a new recipe. Every time I make a souffle, I remember her whispering to me, "Don't slam the door… my souffle will fall!" Dad and I would go diving and bring back lobster, abalone, and a variety of other sea life, and between them, my parents would put together an amazing meal. They were my instructors and influencers, teaching me as I developed a love of food and wine.
In 2010, mom came to Portland and I took her to Paley's Place for dinner. Kimberly Paley came by at one point, heard my mom was from out-of-town, and had Chef Vitaly Paley drop by the table to chat. The food was excellent, and Mom never forgot that night; she talked about it frequently.
In 2018 she developed dementia. Though for half of my life we didn't have much of a relationship, watching her fall away from her living self, I realized that I had the choice of excising all the hurt and anger of childhood. If I set down my heavy baggage and started my memories from those later years, I could be fully there for her.
As she faded, I found there were only a few ways I could get her to respond to me. One of them was through food. I'd bring her a good burger and fries, and as she took a bite, for a few moments light would come back into her eyes. But towards the end, she couldn't eat, and I couldn't get her to respond, no matter what I tried. On my final visit, floundering for something to say, I mentioned our dinner at Paley's Place. She suddenly sat straight up in bed and in a clear strong voice said, "One of the best meals of my life! I love you!" It scared the crap out of me. She fell back, the light in her eyes faded once again and it was the last thing I'd ever hear her say. She died a few weeks later.
So when I returned to Paley's Place in late June, I was not having an easy time. I was thinking about mom and all of our meals together, and when my companion got choked up, I did too. Of course, that was when the server stopped to check on us. I could only imagine the conversation in the kitchen, "table 12 says they like the food, but they both seem to be tearing up." I claim pollen as the culprit.
Paley's Place Review: 2021
A restaurant meal is like an art piece. Every element is a brushstroke – the way you are greeted, your dining companions, the smells from the kitchen, the feel of the menu in your hands, the chair, the lighting, music, sounds, service, and, of course, the food. It all works together to paint a picture you will carry with you at the end of the evening. Sometimes you end up with garage sale art, but when everything goes perfectly you leave with a beautiful painting. Like any art piece, you have to pay attention. Don't just talk and eat, think about the brush strokes that make up each bite. Our dinner at Paley's Place was like walking into a great painting; astonishing as they have just reopened after the pandemic. I can honestly say that I have never experienced a better meal in Portland.
Like most restaurants, Paley's Place is a bit of a moving target right now as they figure out what they want to do going forward. One menu section is devoted to prix fixe meals, and another to "greatest hits" – The Burger, Wagyu Tartare, Steak Frites, George's Gathered Greens, Charcuterie, and more. The current prix fixe consists of a selection of choices from three-course menus, ranging from $75-$85. The portions are large enough for orts the next day.
We started with a few glasses of champagne while browsing the wine list. There are so many good choices I had trouble deciding. Many are available by the glass, and more by the half-bottle. After some consideration, I went with a favorite, a 2016 Soter, Mineral Springs Pinot. The markup was restaurant average.
Now, the food. We began with Steak Tartare. Vitaly uses the Wagyu Coulotte from Snake River Farms. It is hand-chopped to order and comes with all the expected accompaniments. Mix them into the meat – finely diced chives, onions, capers, and a stunningly yellow egg yolk dusted with crystalline flakes of sea salt. Another star of the plate is the toasted rye bread. According to Vitaly, he gets it from Ken's Artisan Bakery. It was the perfect, crunchy vehicle for moving the meat to my mouth. I wouldn't change anything. It stirred memories of Sunday afternoons when I was very young; I'd sit on the little kitchen stool and watch while dad made tartare or caviar just for the two of us.
Next, was that evening's Charcuterie Selection. The portions were large enough to share between three people, the presentation was terrific, and the flavors reminded me of lazy summer afternoons in Italy. Currently, the selection changes as menus rotate. Chef Paley says "the focaccia is made from a starter at The Crown that we kept feeding all through Covid. Now that we have permanently closed all our downtown spots it lives and thrives at Paley's Place." I'm glad they went to the trouble; it's one of the best I've had. The meat selection began with an earthy chicken liver mousse. Alongside, paper-thin smoked coppa lied alluringly across the plate, and duck rillette provided a grounding counterpoint. They serve it with crispy house pickles and a ramekin of fruit mustard which is sweet and savory at the same time.
On previous visits, I have indulged in an equally good braised lamb terrine, rich and flavorful, a mosaic of textures. On another night, a terrine combining pork tenderloin, chicken liver, and porcini with prosciutto Cotto was draped across the plate. It was mild in flavor, smooth, and almost creamy, with a dusting of finely chopped hazelnuts. If you want an introduction to Paley's Place, get a table on the veranda and have charcuterie and Champagne. I've done that many times and have never been disappointed.
Ever the optimists when it comes to our stomachs, we plunged on, ordering two prix fixe meals. We picked one of three selections from each category. Summer Clam Chowder, redolent of the sea, pepper, and lovely whole crustaceans, had it all – an ocean of scents in a bowl with a long, lingering finish. Oyster crackers made in-house by pastry chef Tim Washburn add another layer of texture. Once again, I wouldn't change a thing. Vitaly tells me the chowder is by Luis Cabanas, who has been with the restaurant for 23 years.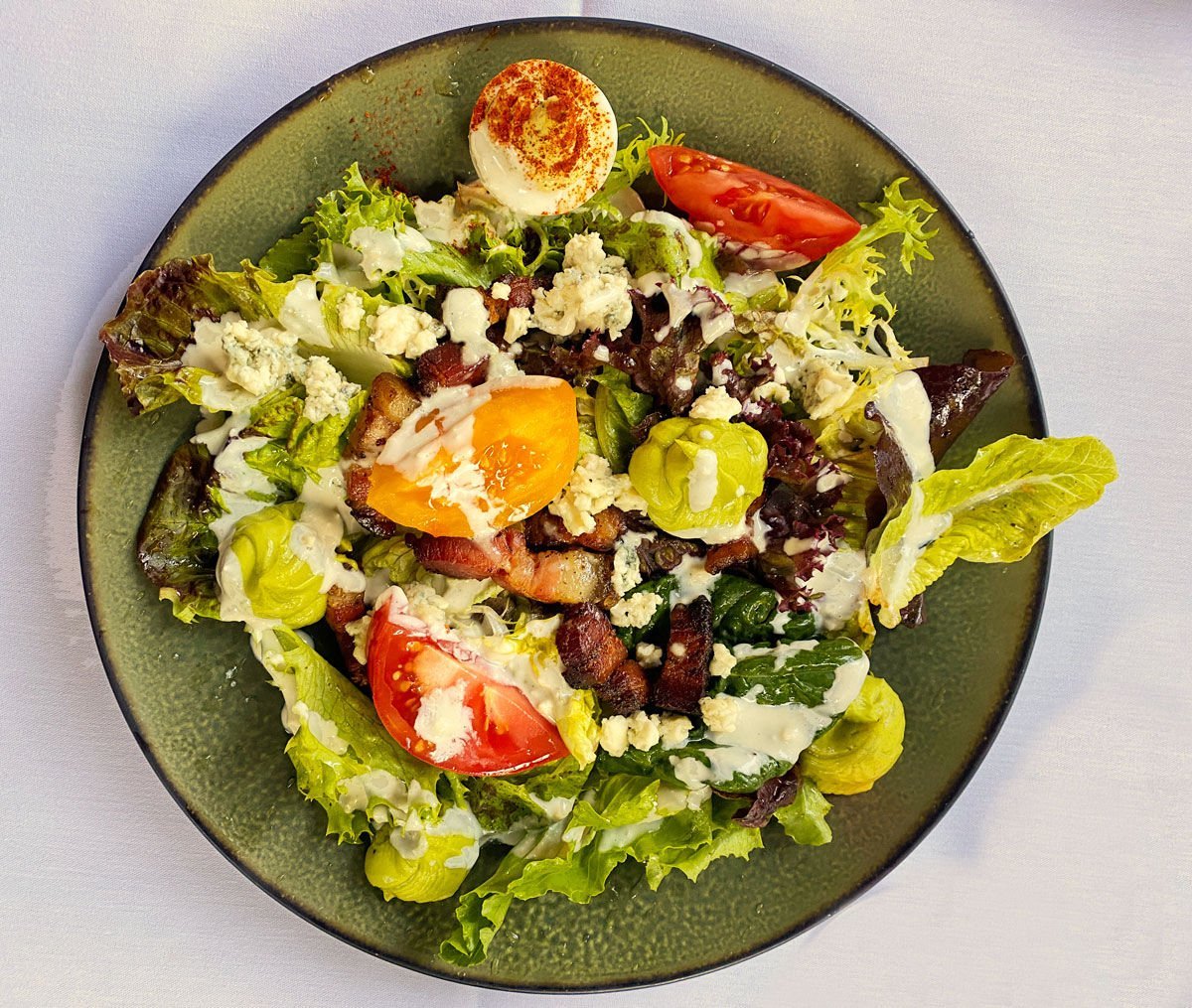 A Cobb Salad isn't something I order very often. Usually, they are a mess of competing flavors all trying to hog the limelight. Not so Paley's version; there was a lot going on, yet the ingredients stayed in balance. Every little detail was thought through, each ingredient first-rate. George's Greens sing of Spring and subtle peppery spice. Dave's Blue adds smokey, salty notes, Stan's* cured bacon brings more smokey texture, while a lovely, creamy avocado mousse adds color and richness – each ingredient adding to the painting. Even the accompanying stuffed eggs made me sit up and take notice; if I could order a side of them, I would. *Stan, Paley's sous chef for 10 years, was responsible for making all the charcuterie.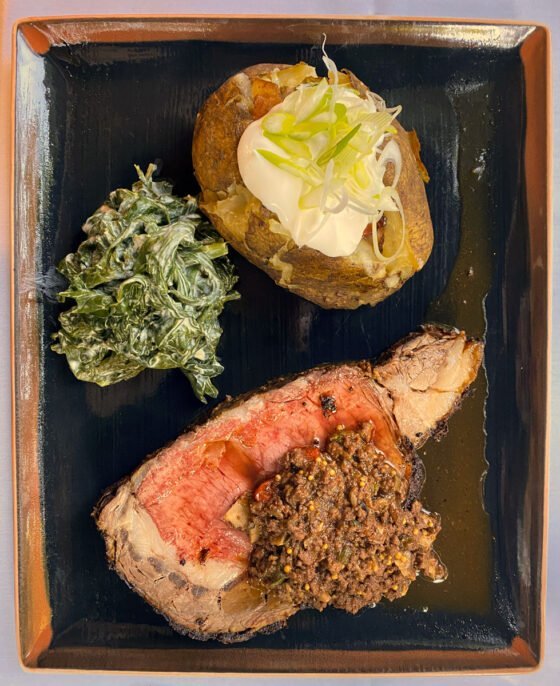 We followed the appetizers with "The Beef", a 10-oz dry-aged, pepper-crusted prime rib with baked potato, creamed greens, "sloppy Joe", and mushroom gravy. As I stared down, I have to admit to feeling a bit daunted. It's a large plate, and I thought to myself, "I'll ignore the baked potato. It seemed so unlike Paley's. How good could they be?" In the end, curiosity got the best of me and I tried the potato. Little chunks of house-made bacon added texture and salty goodness. When I pushed with my fork, melted cheese oozed from deep within, giving me pause as I wondered how I was going to eat all of this. One taste and I didn't care. Yes, it was just a baked potato but I haven't had one in years and it's a step far above most.
The best creamed greens I've ever had were at Greens restaurant in San Francisco. Paley's are of similar quality, simple and singing of Spring but elevated by the star of the plate, the beef. Medium rare and packed with meaty flavor, it lay in a warm pool of mushroom gravy. On top, a flavor-packed "Sloppy Joe mixture" evocative of a forest floor. I had to ask about the ingredients: ground beef, all kinds of mushrooms from Columbia Mushroom Company, the usual aromatics like herbs and vegetables, grated fresh tomato, veal stock, and apple cider vinegar.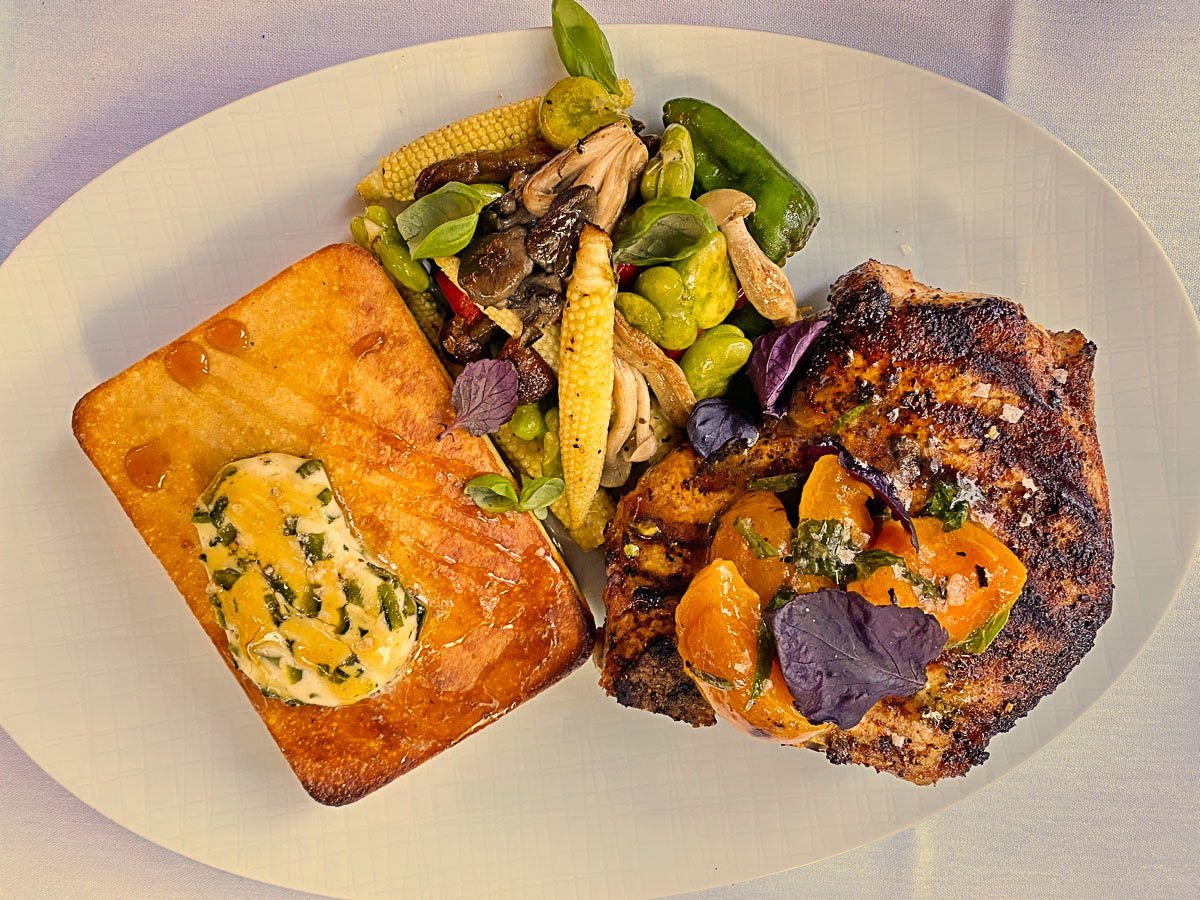 We also ordered the Smoked Pork Porterhouse entree. Cornbread featuring Three Sisters Heirloom Hominy Grits glistened with pasilla butter and honey. I'm not normally a fan but their version showed the difference between a good chef and one obsessed with details. An accompanying salad made of baby corn, mushrooms, and fava succotash was loaded with flavors of a waning Spring. It nestled against the pork and grilled stone fruits giving the plate a bridge across the seasons. It was wonderful, the best pork dish I've had in ages. Juicy meat, piggy flavor, everything on the plate taken into careful consideration, all waltzing together.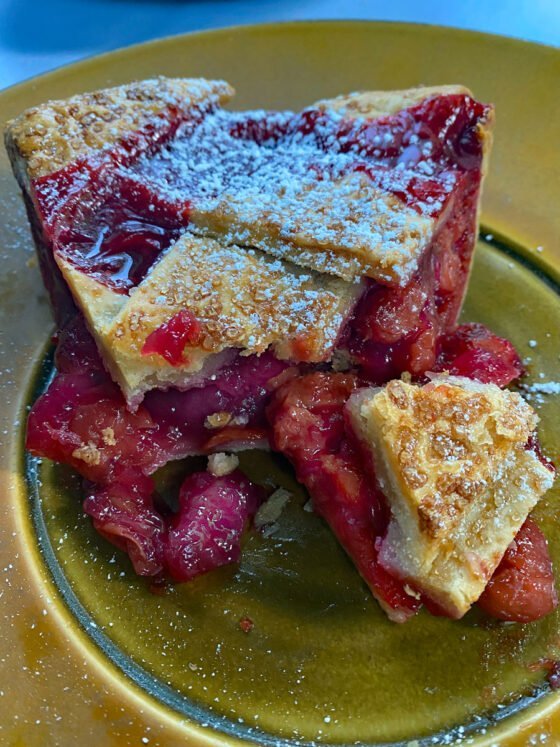 We finished with two desserts that were included in the prix fixe. When they arrived we looked at each other and agreed, "There is no way I can eat this… I'll just have a taste." Then we cleaned our plates.
Classic chocolate soufflé is cliché and frequently leaden. This version is airy, lightweight, and loaded with deep chocolate flavor. But for me, the showstopper was the cherry pie, an anthem to summer. The crust was perfect, holding together but giving easily under a fork. The slightly sour cherries were like a firework, an unexpected explosion of flavors. I don't remember the last time I had cherry pie that good. He could sell them out of the trunk of his car and I'd wait in line.
I can't end this review without talking about the service. Though we were outside in front of the hair salon, the waitstaff was exceptional. They were there when we needed them but never hovering or making us feel rushed. They were professional, personable, and seemed happy to be back at work. Every question was answered quickly. It is rare to find such a good waitstaff in our area.
When I contacted Vitaly to check a few ingredients, he said, "What kept us going all this time is a renewed sense of go-for-broke creativity, local ingredients from our farmers, our circle of loyal customers and friends who rain or shine kept coming in for take-out and groceries every week, sometimes twice a week, undying dedication to our craft and hospitality from all of our long time staff that worked tirelessly daily, and stayed focused while safely navigating the daily covid minefields."
Yes, Paley's Place is, for most of us, a special occasion restaurant. If you haven't gone lately find a reason; it's the best it's been in years. Meals like this flood my heart with hope for our restaurant community. With our help and their determination, our food scene is rising again. I'll be back at Paley's very soon.
Phone: (503) 243-2403
Address: 1204 NW 21st Ave, Portland 97209. Map
Hours: Check the website for the latest update.
Website: Paley'sPlace.net