A Review of St. Jack Restaurant by Roger Porter
Liberté, Egalité, Gastromie! The French Revolution has come to town, and the only guillotine in sight is a chef's cleaver hacking at a pig. Within a month of each other two French bistros have opened in Portland—Little Bird downtown and St. Jack, in the Hosford-Abernethy neighborhood, across the street from Vindaloo. Gabe Rucker's not so petit prince, the scion of Le Pigeon, has snagged most of the P.R., and is the hot watering hole for city planners, lawyers, graphic artists, and other happy hustlers—a Gallic heir to the crowd that used to fill the old Veritable Quandry. But St. Jack–that's not Saint Jacques, bud, but "Jack," as in "hit the road . . ."–is the real sleeper and an absolutely fabulous place. It's a simple looking, utterly unprepossessing building from the outside, but once through the door you could not find yourself in a more Parisian bistro—or perhaps make that Lyon, since the cooking owes more to the bouchons of that fabled city, those dusky Lyonnais cafés that serve hearty, meaty dishes to a clientele even whose cardiologists would no more disdain plump sausages, pork belly and ears, lipid-laden rillettes, and gelatinous veal feet than move to Mississippi.
Let me say it flat out: St. Jack is the best restaurant to open in Portland in the past year. Its kitchen is turning out dish after dish with wonderful care and intelligence. Once outside the door, you will glimpse nothing that could make you think of France, but inside you will get the best Franco-culinary education at any restaurant table in town.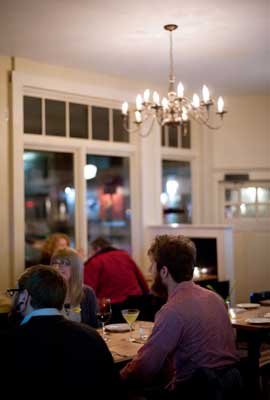 There are three dining areas, one a transitional space between a more private back room and a larger front room with a long zinc bar. The floor throughout is a brightly old-fashioned affair made from those little white hexagonal tiles that say fin de siècle, and I mean the one over a century ago. True to bistro form there are several blackboards, one of which bears a seemingly permanent statement by the French singer Serge Gainsbourg: "If I were any better looking I'd be exhausted!" Analyzing that remark could keep a table of four occupied for the evening. The light is at the perfect flattering level, and the music is just right, a mix of Piaf, Jacques Brel, and Georges Brassens, as well as up-to-the-minute avant-garde French hip-hop, played at soothing volumes.
The team that created this informal restaurant is headed by Aaron Barnett who grew up with French-Canadian cooking and has worked in a number of serious kitchens, including Gary Danko in San Francisco and 23 Hoyt in Portland. Since for many hours a day the restaurant turns into a charming patisserie, it's worth knowing that Alissa Rozos runs that side of things with great skill. Somewhere she figured out how to make an extraordinarily delicate madeleine, and you can get a dozen for only four dollars. I just finished teaching Proust, and while Rozos' little fluted, fan-shaped cakes didn't flood me with remembrance of things past as they affected Marcel in Swann's Way, they were perhaps the best madeleines I've ever tasted, and that includes numerous versions in Paris. Kyle Webster is turning out marvelous drinks behind the zinc bar, and he's especially proud, as he should be, of his lineup of digestives, including hard-to-find eaux-de-vie, Italian bitter drinks, several styles of Calvados, and many cognacs.
St. Jack serves a sweet, modest lunch. The other day I had a bowl of ethereal, velveteen cauliflower soup topped with a sprinkling of caramelized shallots, raisins, and capers—just the thing for the dreary weather. I also ordered a plate of tiny gougères, the little Burgundian cheese puffs that steam your mouth and are the best snack this side of the Alps. There's a croque monsieur, that French version of a grilled cheese and ham sandwich, here served on brioche bread for an extra-buttery taste. The few luncheon items are listed on a blackboard, and you pick up your order from the counter, but that gives you a chance to scan the pastries upon it. You won't want to miss the éclair, the ebony chocolate icing of which is as rich in flavor as in color, filled with bracingly fresh-made whipped cream; nor pass on the macaroons in a rainbow assortment of hues; nor ignore the cannelés, little molded, column-shaped pastries with a soft interior and a deep mahogany-hued caramelized crispy outside.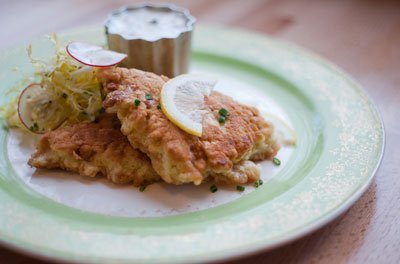 The glory of St. Jack has to be its pungent, deeply flavorful meats. The restaurant is heavily invested in organ meats, but even the timid may agree that the adventure is well worth the risk. A "petit plat" of fried tripe is for sure a tad fatty, but it's the kind that's addictive and utterly delicious. The French call it tablier de sapeur, or "fireman's apron." Basically the tripe is breaded and sautéed and slathered with a sauce of capers, red onion, and homemade mayonnaise, it has both crunch and lusciousness. Then there's a salad of leeks and mixed greens topped with crispy bits from a pig's head, a tantalizing mix of health and hedonism, just enough of the latter to give extra interest to the vegetables. It's become almost de rigueur these days for restaurants to offer a charcuterie platter, and like several other places in town St. Jack cures its own meats. There's a particularly ambrosial chicken liver mousse and a chunky terrine of pork studded with nuggets of pistachio—mix and match. Frog legs often seem disappointing for the skimpiness of the meat on the bones, but St. Jack must have a source of Schwarzeneggerian amphibians, whose legs are plump, juicy, and almost satiating. They're done with parsley, white wine, garlic, and lemon, rolled in fresh herbs and lightly sautéed, with just that intriguing frog leg taste representing a mélange of barnyard and stream.
A beautifully cooked boudin noir is one of the great treats of a St. Jack dinner. This classic staple of any French bistro is sometimes called blood pudding and is made of pork, pig's blood, breadcrumbs, and suet, flavored with nutmeg and other spices. You can't get much earthier than this dish unless you're a troglodyte. The heady flavor perfectly complements the accompanying ethereal puréed potatoes and the wonderfully appropriate chunks of sautéed apples; the plate offers a complex blend of sweetness, gossamer comfort, and rich, creamy-density, the sausage a bit more severe than many, and dark as a Nubian night.
One night I ordered a special dish that promises to make it onto the regular menu; it's worth the price of admission. Pieds de cochon or pig's trotters have been deboned and stuffed with veal sweetbreads! (It turns out that the front legs are the more tender since they support less weight!) Easily fit for two, this immense and formidably good piece of meat feels like a cross between something a caveman would have brought home from the hunt crossed with something the great chef Escoffier would have invented to win himself a Croix d'Honneur. The leg crackles with crispy fat, while inside the unctuous sweetbreads lend an almost buttery softness and sweetness. Mounded on a flotilla of white beans, the ensemble is delectably tender and soul-satisfying.
After this porcine madness, what forgiveness? Well, there's fowl afoot in the form of coq à la bière instead of coq au vin. It's a lighter dish than its more common cousin, drenched in sparkling farmhouse ale and not in the wine that stains the bird a blood-red, while pearl onions, wild mushrooms, and bacon give the chicken a pungent taste of the earth. But for those who really need a break from meat, one heavenly fish makes its appearance. Boned trout, a giant beauty curls in a semi-circle as if following the rim of the plate, bedded in a warm lentil salad. The trout is soft, moist, and as fresh as you'd wish for.
How often have you had a promised chocolate mousse only to discover a heart-sinking dish of cocoa pudding? St. Jack presents an intense, death-by-chocolate version of the real thing, chunky with tiny bits shot through like prized pieces of gold; and a wafer-thin disk of deep dark chocolate sliced into the mousse. There's also a cumulous cloud-light coconut cake with a layer of lemon spread through and a cluster of mandarins poached in orange liqueur assembled on the surface. The ice cream is made in-house, and you'll inevitably find a welcoming unfamiliar flavor, such as green apple. And then there are those madeleines, that arrive piping hot and may, just maybe not only memorable but the cause of memory.
St. Jack is hearty and joyful; it's as Rabelaisian as a bistro ought to be—appetitive and lusty, a celebration of abundance, fragrance, and sumptuousness, unpretentious but dedicated to good food as a sign of the good life. Chef Barnett is both a classicist and an experimenter, but mostly he has a knack for getting it exactly right without fussiness or extravagance. The cooking of Lyons has never been modest, but if you want to taste the glories of rustic cuisine from this town or from the neighboring region of Burgundy this is precisely where you'd head–for snails, mushrooms, hazelnuts, pinot noir, pears–in short, for many of the ingredients with which you'd feel right at home, but done in ways that turn them into new forms of gastronomic bliss. St. Jack is an unassuming place, and that is what makes it such a fetching discovery. It's as if the real thing suddenly fetched up in southeast Portland with the spirit of Brillat-Savarin–who proclaimed that "the discovery of a new dish confers more happiness on humanity than the discovery of a new star"–hovering by the stove.
______________________________________________________
Food: A
Service:  A
Ambiance: B
Address: 1610 NW 23rd Ave., Portland OR 97210  Map
Phone: 503-360-1281
Website: StJackpdx.com
Hours: Patisserie: 7 days a week 7am-4pm. Restaurant – Mon-Sat.  Dinner: Mon – Thurs 5pm, – 9:30pm, Fri & Sat 5pm – 10:30pm
Happy Hour: daily, 4pm-5:00
Noise level: Contented buzz in the rooms.