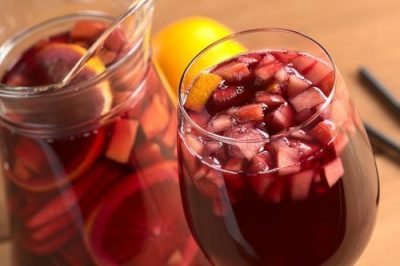 Long before I moved to Portland, I was known for my sangria recipe. I suspected that I was invited to many parties because they knew I would bring a batch.
One year my friend Patrick invited me to his birthday party in Healdsburg, California. It was going to be outdoors, looked like it was going to be a hot day, and I got a last-minute phone call saying, "Oh, could you bring a batch of your sangria?"
Judging by the number of people invited, I figured I would need two gallons of the stuff, but the problem is, sangria sneaks up on people. I didn't want it to turn into a party of wild abandon, so  I decided to pre-portion equal amounts for each person. I spent an entire afternoon going from store to store looking for those plastic sports bottles that were so popular in those days – the kind with the built-in straws – classy! Twenty-two bottles later, I was ready to begin.
Patrick's birthday parties were hardly legendary. Mostly staid affairs, we'd sit around a picnic table in the backyard, being incredibly polite. He had a varied group of friends, and since some were in their 80's and some were in their pre-teens, it was necessary to be rather… controlled.
Then came the year I walked in with those two milk crates of sangria, and all hell broke loose.
First of all, Patrick had failed to tell me, that some of the people invited couldn't make it, so I had brought way too much. Second, it was a hot September day in the vineyards, and as it was an outdoor party, the sangria flowed like water. I guarded those bottles like an alcoholic bartender, but every time I turned my back, another would go missing. This was one of those parties that would be remembered, the kind some self-titled food writer would reminisce about 20 years later.
It started slowly; innocently. It was a lovely day, sitting in the shade of the veranda. One of the guests was a well-known flamenco guitar player, another a singer, and what goes better with a little Spanish music than sangria? I knew there might be trouble when it seemed like everyone was starting to tap their feet under the table. This type of thing just didn't happen at Patrick's parties. Soon, Jamie was singing, someone else was teaching palmas, and as the music heated up, his normally conservative and elderly Japanese mother started showing someone how to do the jitterbug… to flamenco. Over the evening the music inexplicably changed from flamenco to old Blood Sweat and Tears songs, which we all sang at the top of our voices. If it weren't for Patrick's status in the community, I'm sure the neighbors would have called the police.
More happened that night, but it's all rather foggy in my mind. I have quite a few slightly blurry pictures, but they don't make a lot of sense to me.
The point is, sangria can be dangerous; treat it like a bomb. Don't make it for anyone you might regret doing anything with later. Even more importantly, don't allow cameras.
Although many in Spain would claim that sangria is just a tourist drink, it is native to Iberia, which includes Spain, and Portugal. It normally consists of a combination of red wine, fruit, sugar, and spirits. If you stick to those basic ingredients, there isn't a "wrong" way to mix up a batch. If it tastes good, that's all that matters.
If you let the longer sangria sit for a while before drinking, it will become smooth and mellow. A full day is best, but if that's impossible, give it a minimum of two hours to meld. Use large, heavy, juicy oranges and lemons for the best flavor. Doubling or tripling the recipe is fine.
My old sangria recipe was lost in a move, but this one is excellent – though in the interest in the survival of our species, minus the cognac I used to add.
The Recipe: How to make sangria
2 large oranges, one sliced, one juiced
1 large lemon, sliced
¼ cup sugar
¼ cup Triple Sec +-
¼ cup brandy
1 bottle inexpensive fruity red wine. I generally go with a Spanish red, such as a Tempranillo
Club soda
Add sliced orange and lemon and sugar to large pitcher; mash gently with a wooden spoon until fruit releases some juice, but is not totally crushed, and sugar dissolves. If you crush it too much, your sangria will taste pithy.
Stir in orange juice, Triple Sec, and wine; refrigerate for at least 2, and up to 36, hours.
Before serving, add 6 to 8 ice cubes and stir briskly, and add a splash of club soda to give a bit of effervescence. Serve immediately.
A couple of things to keep in mind. As I mentioned, flavors will meld over time, so adjust the sugar just before serving. Also, be careful to taste as you are adding the triple sec as that can also over-sweeten.
Anya von Bremzen wrote one of my most used cookbooks, The New Spanish Table. She includes three sangria recipes, including this one:
Rose-Raspberry Sangria
2 cups raspberries
1 bottle inexpensive Spanish Rosé wine
½ cup triple sec
1 cup fresh orange juice
3/4 cup POM pomegranate juice
2 tablespoon fresh lemon juice, or more if needed
3 tablespoons simple syrup (or to taste)
1 ½ cups diced strawberries and think-skinned lemons (diced with their peels)
Ice cubes.
Place the raspberries in a blender and pulse to purée. Place a fine-mesh sieve over a medium-size pitcher and pour it into the sieve, straining to remove the seeds.
Add the wine, triple sec, orange juice, POM, lemon juice, simple syrup, and fruit to the pitcher and mix. Refrigerate for 4 to 6 hours. When ready to serve, add the ice, taste, and add more lemon juice or syrup, as necessary.
This is a pretty amazing recipe, the dry pomegranate balanced against the other ingredients.
Note: there may be more grammatical errors than usual in this post. My editor decided to make up a batch herself, and I haven't heard from her since – apologies in advance.