Note: since Bluestar opened more stores, the quality has gone down. I no longer stand by this review.
When I was in college, I had a passion for bear claws. Working nights, I had an hour to kill before my next job, which happened to take me past Venice Beach and its line of donut shops. Over the course of a year, I tried every bear claw in the area and got to know exactly what time they would be coming out of the fryer at each shop. I was cooking at the time and made friends with most of the owners, and we'd debate subtleties as they experimented with recipes and oil temperatures. Actually, that passion almost got me killed when, after dawdling too long over a maple bar, I took a shortcut through a bad part of town and, though a regrettable turn of events, ended up in the hospital – but that's a story for another day.
Eventually, I burned out, and I haven't had a bear claw since,  but still have good memories of those warm pillows of dough keeping my lap warm as I drove through the city and up 101 to Pepperdine University.
To me, donuts are more about the experience than the treat. They are about getting up before dawn when the city is still sleeping. They are about the childlike grin one gets as they bite into a favorite for the first time in years, and the memories of grandmother making them in hot oil on the stove.
I thought about these things as I pulled up to Blue Star this morning. Oddly enough, my car doors refused to lock (seriously – see the previous post), but since the new donut shop is getting so much interest,  I threw caution to the wind and left it open. Here are a few first impressions.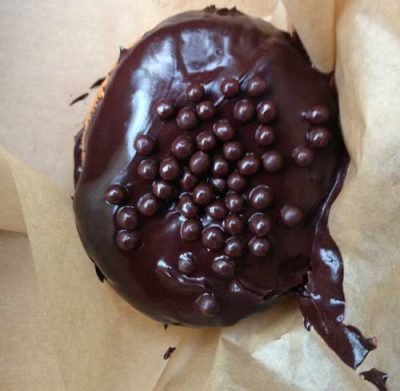 First up, Valhorona chocolate (which, interestingly, Google spell-checks to "hormonal"). Really deep, dark chocolate flavor. I'm not a huge chocolate fan, but I'm pretty sure the eyes rolled back in my companion's head. She called me an hour later saying she was still thinking about it. Those 'pearls' on top are Valhorona. A creamy, not too sweet filling awaits inside.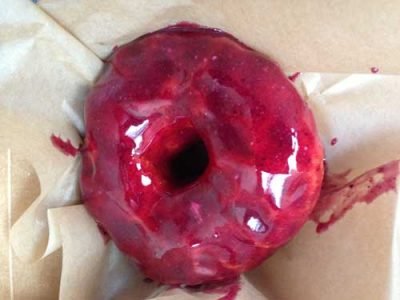 Next, blueberry, bourbon, and basil. I've had a lot of bad blueberry toppings in the past and didn't expect much from this, but the strength of the blueberry flavor was quite a surprise. Even better, we could pick out all of the other components; a match made in heaven. Pretty darn good.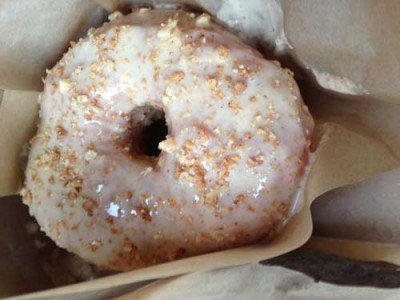 Above, dulce de leche & almonds. I got some of this topping on my fingers as I was taking the photos. It was the best thing to happen to me all day. Damn! I don't think it could be any better.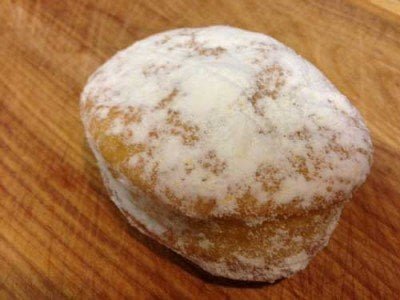 Finally, Meyer lemon and key lime curd.
Now then. I'm sure you are wanting to know about the texture of the donuts. They are of the yeast variety but don't immediately jump to "oh, these are like Krispy Kreme", the vapid blonds of the donut world. No, these are a classic brioche, and have a bit more weight and texture to them, giving with a slight crunch. Flour is organic Shepard's Grain, cage-free eggs, all organic, etc.
They are best eaten at the shop; between the two of us, we couldn't finish more than two. The leftover wasn't as good later. One thing to be aware of is the price; you've probably never spent $3 on a donut, but they all run between $2.50 – $3 here.
Donuts are a personal thing, built on memories of childhood, rainy morning coffees, and for me, watching the sun rise. Everyone has their own idea of what characteristics make the best ones. I'll only say that, for a shop that has only been open for two days, these have my vote.
1236 SW Washington St
Portland, OR 97205. Map
Mon-Fri 7 am – 7 pm, Sat-Sun 8 am – 7 pm