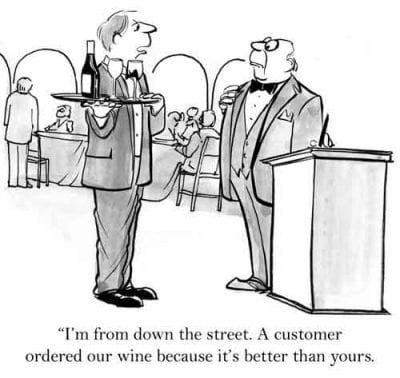 ["PDXMan" saw the comment below, and decided to fill me in. I thought his response was so good, it deserved publishing. I appreciate the time he took crafting his response.]
"Many times imports are a much better bargain then domestics. It drives me crazy that heavy bottles can be shipped half way across the world and still be cheaper then local wines." Food Dude, October 25, 2005 https://portlandfoodanddrink.com/?p=188#comments
Imagine coming home from a long day at work and finding a letter from your favorite Oregon winery in your mailbox. The letter announces the availability of the winery's latest releases, and invites you to place an order. As you select your favorite wines on the enclosed form, you mark the delivery date on your calendar. At the appointed time, a truck from the winery shows up at your house to deliver a load of wine. Good as this already is, it gets even better: paying for your shipment doesn't deplete your bank account. Most of the wines cost no more than six dollars, and the most expensive bottles are only ten dollars. It almost seems too good to be true…
In October of this year I was in Europe on vacation. While there I spent a few days with a friend in Krefeld, Germany. Having corresponded about wines for a number of months preceding the trip, he had promised to put together a wine tasting for me when I visited. In one of his last e-mails before I left Portland, he mentioned that he would soon receive a new shipment of wine from his supplier, and that the delivery would be made by the winemaker himself. That announcement took me by surprise. Once in Krefeld, our conversation soon turned to this shipment of wine. My friend has purchased his wines from the same German winery since 1976. Three times a year the winemaker sends out a letter to his customers in which he describes which of the fourteen (!) types of wines he makes is available. The winemaker then drives a truck up from southern Germany and personally delivers each customer's shipment. And by American standards, the prices of his wines are astonishingly low.
So why don't Americans don't get such deals when we buy wine? It's a long story, and a very complex one. I certainly do not possess the requisite knowledge to explain all of the reasons for high booze prices in America. (Disclaimer: I'm not a lawyer and I'm not in the alcohol business. I just imbibe.) But I can try to shine a little light on a major cause of our current state of affairs: the three tier system of alcoholic beverage distribution.
Before passage of the 18th Amendment ushered in the era of Prohibition in 1919, alcoholic beverages were sold in a free-market system that consisted of two tiers: suppliers and retailers. Suppliers served small geographic areas and often owned their own retail outlets, which in turn usually served only the brands of the suppliers. This system gave rise to many problems, including intimidation and corruption on the part of suppliers seeking to control retailers.
America's "Noble Experiment" was, of course, a failure. Prohibition was repealed on December 5th, 1933, when Utah, the final state needed for a three quarters majority, ratified the 21st Amendment. But Prohibition brought with it a mandatory system that regulated the distribution and sales of liquor. Section 2 of the Amendment gave states authority to regulate the production, importation, distribution, retail sale, and consumption of alcoholic beverages within their borders. Laws implementing this authority were passed in each state. The result was what has become known as the "three tier system."
In the most basic terms, the three tier system means that licensed producers of wine, beer, and spirits must sell their products to licensed distributors, who in turn resell these beverages to licensed retailers. Consumers must go to these retailers to put their hands on a bottle of booze. To prevent collusion and anticompetitive behavior, each tier is supposed to be entirely separate and independent of the others. To achieve this goal, complex regulatory schemes, including pricing requirements and franchise protections, have evolved over time. These tiers, and all of the associated regulatory overhead, are expensive. Each tier also adds its own markup to the product. All of these costs are passed on to the consumer of alcoholic beverages.
The three tier system has evolved to become increasingly monopolistic. It is common practice for producers to give to a distributor the exclusive rights to market their products within a geographical area. This prevents multiple distributors in one area from needing to compete with each other. There are exceptions to this rule; a brewpub is an example of a business that is simultaneously a producer and a retailer. Some states, including Oregon, also permit interstate shipments of wine directly from the producer to the consumer. It is important to note, however, that wineries still charge retail prices when shipping directly to consumers. Price competition with distributors or retailers would poison these all-important relationships.
The three tier system has definite benefits for the government, as it ensures the collection of billions of tax dollars for federal, state, and local governments. In fact, it has been claimed that the three tier system is the world's most cost effective system of revenue collection and alcoholic beverage control. The State of Oregon recently published a summary that explains why it supports the three tier system:
"The purposes of the three-tier regulation of beer and wine distribution, including the tied-house laws, are: promoting temperance by reducing economic incentives to promote alcohol consumption; insuring collection of state taxes on alcohol; keeping organized criminal elements out of the alcohol industry; and protecting the statewide beer and wine market to ensure appropriate, legal availability for beer and wine in all areas of the state."
This summary was published as part of a "Brief of Amicus Curiae" filed by the state in the case of Costco Wholesale Corp. vs. Hoen. This lawsuit resulted in a landmark ruling with implications for the future of the three tier system. Judge Marsha Pechman ruled that the Washington state-mandated wholesaler monopoly was not shielded by the 21st Amendment and was in violation of the Sherman Antitrust Act. Put in simple English, she ruled that states could not discriminate between in-state and out-of-state wineries.
It is far too soon to know whether this ruling will stand; legal appeals will take years to work their ways through the courts. But the ruling gave hope to many that the three tier system is on its way out, with lower prices for consumers as the result, particularly for consumers of wine. Other legal challenges to the system have also met with initial success.
In an analysis of the effects of legal challenges to current laws, Sara Schorske and Alex Heckathorn wrote, "Small wineries and wine lovers have won significant legal victories in their challenges to the three tier system." Even the Federal Trade Commission has concluded that the three tier system limits consumer options and increases the price of alcoholic beverages. Ultimately, these lawsuits may demonstrate that the 21st Amendment did not cast the three tier system in stone. In Schorske's and Heckathorn's words: "In recent direct shipping cases, the courts have consistently overturned parts of the three tier system that anti-competitively discriminate in favor of local economic interests."
The three tier system is also under attack from outside the United States. The European Union (EU) has requested the United States to liberalize its alcoholic beverage distribution system. In Europe, wine has multiple distribution channels. Suppliers can sell directly to retail chains; they can also use wholesalers to service smaller outlets. EU negotiators are careful to state that they are willing to recognize the rights of American states to have alcohol beverage commissions, but the negotiators do not want states to control access to markets. What the negotiators want, plainly put, is the liberalization of markets.
Such liberalization is precisely what is specified by the international free trade treaties that American politicians have been so eager to ratify. These ratifications may, however, eventually contribute to the weakening of America's three tier system. The World Trade Organization has been granted the power to dictate what member states can do in terms of legislation, regulations, and procedures. Despite the protection afforded to the American three tier system by our local domestic legal system, America's international obligations inherent to the free trade treaties ratified by our government may ultimately prevail over the protectionist aspects of our three tier system.
It is far too soon to predict what the eventual outcome of these legal struggles will be. But there is some hope that the absolute control of the three tier system over the distribution of alcoholic beverages in America may be weakened. Wineries may be the biggest beneficiaries of any changes, since they may be able to ship directly to customers in any state. In practice, the most probable outcome is that wineries would ship directly to large retailers (such as Costco) without going through a distributor. This could reduce retail wine prices. Home deliveries of wine at lower prices are less likely, even if they prove to be legally feasible.