Portland Farmers Market begins new dining series
Portland Farmers Market is kicking off its Taste of 25 Seasons Dining Series on June 23 with a multi-course, Israeli-themed dinner at Lincoln Restaurant.
The series is a celebration of the market's 25th season and the release of the Portland Farmers Market Cookbook. It includes six events hosted at Portland's top restaurants and two farm dinners. Each of the participating chefs contributed a recipe to the cookbook and most recently, featured in The Oregonian's best restaurants of 2016.
Tickets include gratuity and a donation to Portland Farmers Market so they can continue to fulfill their mission by enabling local farmers and food producers to prosper by creating local marketplaces for their products.
The dining series is a great way to celebrate a special occasion, woo a client or just enjoy a night out while also supporting local farms and food producers.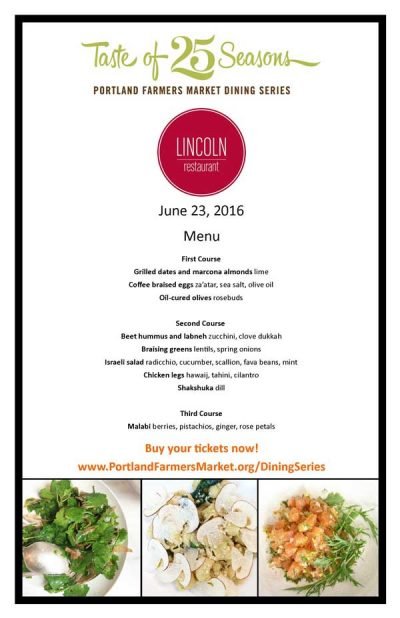 But don't wait too long – the events have limited seats and a the October event at Park Kitchen is sold out.
For more details and to buy tickets, please visit [adrotate banner="74″]
• Thursday, June 23 – Chef Jenn Louis, Lincoln Restaurant
• Tuesday, July 19 – Chef Jason French, Elder Hall
• Friday, August 5 Besaw's, Country Cat and Ellen Jackson, Farm Dinner at Sun Gold Farm – hosted by Plate & Pitchfork.
• Saturday, August 20 – Chef Joshua McFadden of Ava Gene's, Farm Dinner at Our Table Cooperative
• Monday, August 29 – Chef Timothy Wastell, Sweedeedee
• Thursday, September 29 – Chef Kelly Myers, Xico
• Thursday, October 20 – Chef David Sapp, Chef/Owner Scott Dolich, Park Kitchen
• Sunday, November 13 – Chef Cathy Whims, Nostrana