In the mid-1990s, I was living in Sonoma County California. The AIDS crisis was in full fury, and I spent time working in a hospice – counseling patients, walking their dogs, cooking, cleaning their houses, arranging memorials… whatever I could do. It was a fulfilling yet mentally exhausting job sharing the last days with patients, many of whom became my friends during their short time with me.
On a rare night off I met an actor at a party who was spending the summer in the area, taking care of his daughter while his ex-wife was working on a movie. He was well known in Canada and frequently jetted back and forth to a television studio there, but was rarely recognized in Sonoma. Hanging out together was a mutual escape from our stressful lives. He liked that I couldn't care less that he was well-known, and I was glad to have another friend with enough disposable income to join me for dinner. We both had a passion for food and wine and soon became fast friends.
One afternoon after a particularly difficult shift at the hospice, I came home, opened a bottle of wine, and got myself smashed. I still remember – it was a big jeroboam of 1980 Lemmon Chabot Cabernet; old velvet in a glass, a parting gift from someone who had died that day. As I sank further into the couch, my friend called. He was driving up from the airport and wanted to take me to dinner so that I could meet someone. I said thank you but I had just finished a long, difficult shift, and was working on a very sentimental bottle of wine. All I really wanted to do was mourn myself into a dreamless sleep.
He insisted that I would regret it for the rest of my life if I didn't meet "her". That piqued my interest. Her? With him? It didn't compute – let's just say that women no longer played a big part in his life. I caved and agreed to join them as long as I could bring my bottle of wine. He said they'd pick me up in about an hour, and that I should think of somewhere to go for dinner that was quiet and out of the way.
45 minutes later, I opened the front door to find a dark limousine. This was a nice surprise, as I was expecting to have to squeeze the three of us plus my jeroboam into his sports car (a jeroboam is four times the size of a regular wine bottle, and could easily fill a child's car seat). Realizing I may have miscalculated on my choice of a t-shirt and shorts as evening wear, I threw on some real clothes before I staggered out to the car.
Climbing inside, I said hi to my friend who turned and gestured dramatically to the other passenger. "This is Lauren". I was clueless. "Hello", I said. "I think we should put a seat-belt around my wine. Are there any glasses in here?" She laughed, deep and throaty, and steadied me as the car pulled away, saying over my shoulder, "You were right; I like him already", and to me, "call me Betty".
We headed south on Old Redwood Highway from Healdsburg, discussing dinner options. "She wants to go somewhere where we won't be recognized", he said. In the US he wasn't recognized very often, but I was happy to play to his vanity since he was obviously trying to impress his mother.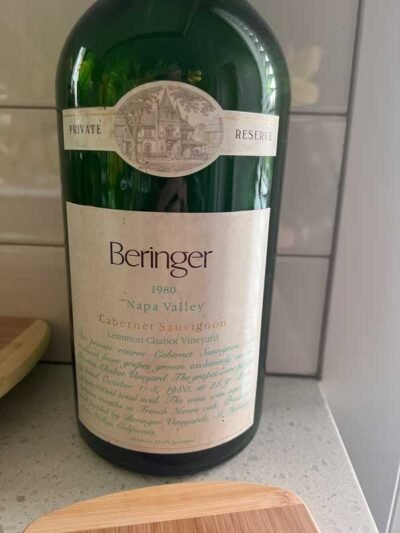 We decided that a Sonoma institution, the old Mark West Springs Lodge would be a good place to eat. The food wasn't great, but it was a nice quiet restaurant along the creek; just a bump on the road halfway over the Mayacamas Mountains between the Sonoma and Napa Valleys. Pouring a few glasses of wine, we settled into an easy conversation. I loved the valley and frequently played tour guide so there was no shortage of topics.
The restaurant was well known for a large grape arbor that reached all the way over the road, giving passing cars a moment of shade. I disentangled my wine and was out the door first where I stood struck by the leggy, statuesque woman who unfolded herself from our limo. The waiter, an older gentleman in a black bow tie caught his breath when we walked in and rushed us to a back corner even though the restaurant was practically empty. I had a second hint that something was up when I noticed the restaurant staff peeking through the kitchen doors. Later I realized that I may have made a further miscalculation about my companions when the restaurant was ready to close the kitchen. Our waiter came over holding his wife's hand, shyly asking if she could meet Mrs. Bacall. I may have been a bit slow, but dammit, the name Lauren Bacall sounded familiar. There were three of us at the table that night, and I was pretty sure I was the only one who wasn't being gawked at, so I said, "Wait a minute… aren't you famous?" She laughed again and said, "I was married to someone who was, that's all".
In my defense, when I was growing up television was not allowed in our house, and my interest in movies was limited. Instead, my nose was always in a book, and at the time I had watched a few old films. Further confusing things I have a condition called prosopagnosia which makes me unable to recognize faces. It wasn't until I mentioned her to friends the next day that I found out who she was.
When the plates were taken away, we had barely made a dent in the bottle of wine, which, for lack of room, had been placed on a nearby table. Betty pointed, laughed, and said, "Do you bring this everywhere you go? It could put everyone here on the floor." I didn't say anything, just paused for a while, and then told her about a friend, Alex, who had died that day. He was a movie producer. I shared a story about the time I had been introduced to him, a Christmas party at his home, where not only was a lighted tree glowing in every room of his mansion, but one was even floating – lighted – in his pool. Bette laughed and then put a hand to her throat. "Oh, I know who you are talking about. I know him too."
We all laughed when I recalled his propensity to hold dinner parties made from whatever he happened to find in his kitchen, and about one night in particular. Most of us were in a rather altered state, but we were still surprised by the odd ingredient that evening – tonic water, which he used in every dish: beans & tonic, asparagus & tonic, pasta & tonic, chicken & tonic. Thank god there wasn't dessert. I'll never forget Alex or that night. I told her how completely different we had been, and yet how much his friendship had meant to me, and how, when his friends started to drop from AIDS, he would light a candle for each one on his hallway table, and by the time he was diagnosed himself, it was completely covered by sad stubs of melted wax.
Betty reached out and took my hand. "You look so empty… haunted." My shoulders shook, and I pushed back my chair. "Death is my life," I said and made for the patio. The sun had set, and as I stood there in a chorus of crickets, fighting an endless battle to keep it together, Betty came quietly to my side. "So many gone", she said. "So many candles burned too fast. It's like our hearts will never be healed. I know you didn't want to be here with us tonight, but I'm so glad you shared your evening, and I'm so glad I found out about his death from you instead of from the newspaper, I'm so glad to have met you."
Later, my facade restored, I sat at the bar with my friend and Betty. There was an easy warm feeling and many quiet contemplative breaks in the conversation, all of us thinking of others who had passed. So comfortable together nothing needed to be said, we sat and watched the firelight flicker up the walls and across the old windowpanes.
I have since lost touch with my friend. He became famous and famously battled many demons. Though I promised Betty I would get in touch the next time I was in Los Angeles, I decided I didn't need a second ending, and never saw her again.
The empty bottle of wine still sits in my kitchen, dusty, a reminder of a difficult time of so many lives lost, friendship, and a Sunday dinner with Lauren Bacall.