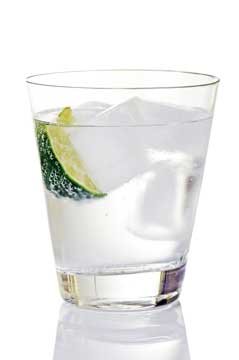 I've been having a great time in the Big Easy and enjoying all the events at Tales of the Cocktail. My liver is reeling. Between all the samples handed out at tastings and presentations, and the freely-flowing cocktails at the official events, I'm glad this event is coming to an end.
More highlights:
I've been on the quest for the best Sazerac in the city. I've had to try several (for research purposes only of course.) Napoleon House makes a great one, as does The Fairmont, Muriel's, and Library bar at the Ritz, but truth be told, I haven't found one that is better than I can get at Ten01 in Portland.
Had a darn good meal at Cochon. Updated versions of down-home Southern dining with an emphasis on pork, of course. Excellently fried rabbit livers with pepper jelly toast, pork cheeks with cornbread bean cake & mustard cream, and ham hock with lima bean hoppin' John & mustard onion jus. Even the side dishes like creamy grits and eggplant shrimp dressing were outstanding.  Keep your eye on this place, it's quite popular with the locals and the wait for a table can be long but it's worth it.
I attended a "Farm to Glass" event, to promote local farmers and ingredients, at the Swizzle Stick Bar located at the Cafe Adelaide. Under the guidance of Bartender Todd Thrasher of PX in Washington, DC, these cocktails were unforgettable. This was the perfect cocktail party. The "Dr. Who" featured Jicama celery soda, Todd's own celery bitters, and Machu Pisco. The "Millions of Peaches" cocktail featured fragrant Sauterne peaches, pickled peach foam, Todd's peach bitters, and Ginger Peach SurReal Vodka. The most surprising cocktail was the BLT – Bacon infused vodka, tomato water, and lettuce juice ice cubes. Sounds nasty I know, but it was oddly refreshing and did smell just like a freshly made BLT.
Too many other events to describe. I heard a rumor that there was a bartending contest held on the roof of some hotel, using nothing but ingredients from the swag bag given to Tales attendees. Bartenders were Jeff Morgenthaler from Eugene, a bartender from the Slanted Door in San Francisco and Daniel Shoemaker, one of the owners of Teardrop Lounge here in Portland. Apparently, Daniel won.
It's not all fun and games. I've been attending many of the educational sessions, including one on sensory taste perception, one on scent in cocktails, another on regional trends in cocktails, and one on using spice in cocktails. For someone who's not a huge cocktail drinker, I've really thrown myself into this. One of the most interesting things I've experienced is the interaction between various libations and food. You can get a glimpse of this at a few places in Portland like The Cleaners events, and to a lesser extent, Teardrop Lounge, and Ten01, but most places don't make any effort at all. It's too bad because when you make a cocktail to match with food, the effect can be just as strong as a careful matching of food and wine. Once again I find myself looking forward to Beaker & Flask, as I have a feeling they will do this better than anyone else in town.