I went to a whiskey tasting at 10:30 this morning, this after spending too much time at last night at The Carousel Bar in the Monteleone. It's one of those slowly revolving places, which can get a bit disorienting at times; especially late at night, if you are standing next to friends who are actually sitting. Sip, take a short step to the right, sip, step, sip, step. It's like dancing and drinking at the same time in slow-motion. It helps that the cocktails are pretty good, even if they do keep running out of the proper glasses.
There is a large Portland contingent here. Jeffrey Morganthaler (technically Eugene), some of the teardrop guys, and a bunch of other people I've seen around town but don't know their names.
The "swag bag" is huge; filled with little bottles of booze. I had to keep switching it from one side to another so that I don't walk with a limp for the next few months. I'm saving it for further research when I get home. Anyone want the T-Shirts?
I've been attending a few interesting tastings and seminars. One interesting seminar yesterday was How to Develop Aroma in Your Cocktails with Audrey Sanders. Fascinating. Knowing how to play with bitters and different ingredients to develop cocktails with subtle but complex aromas is both an art and a science. I also went to "Making your own Spirits – A look into modern Nano-Distilling," attended a moonshine tasting, and did a loop at the official "cocktail hour" where several dozen bartenders made inventive cocktails based on chosen liquors at Tales. Lots of rum drinks, but my favorite was the simple Improved Whiskey Cocktail, with Bulliet Bourbon, bitters, rock candy syrup, Luxardo Marachino Liquer and a dash of absinthe. The Mother's Ruin Punch created by legendary Phil Ward was also terrific – Tanqueray gin, Vermouth, Champagne, club soda, with grapefruit and lemon juices. In lesser hands this could have been a sticky mess. In Ward's hands it was excellent.
Now then; I really have to stop typing and get to more of these seminars. You wouldn't want me to miss one! In the meanwhile, below is Kevin Allman's excellent coverage from 2007 – nothing's really changed, just a bunch of people getting drunk in the name of education. Once again, Throwing Myself on a Grenade for you.
Hi from New Orleans. I'm down here covering the 5th annual Tales of the Cocktail, a five-day drinks convention where thousands of chefs, bartenders, spirits writers, and drink geeks come to gorge on seminars and tastings. Convention organizers estimated 12,000 people were braving July humidity to attend 75 panels, seminars, and dinners. And Oregon is mos def in the house – represented by people from Karen Foley of Imbibe magazine to Dewey Weddington of the Saké One Sakéry in Forest Grove to Mint/820 mixologist Lucy Brennan. The place to find Portland was at "Saké to Me," one of the convention's most popular panels, where Weddington was pouring samples for the crowd, while Brennan was behind the bar, shaking up batches of one of her signature "sakétinis." Weddington poured samples. We sipped. We swished. We made notes on a tasting/scoring sheet (at least, other people did; I was totally at sea). And then the very enthusiastic Beau Timken, owner of San Francisco's True Saké, America's first all-saké store, took the mike to take us newbies to saké school.

"I am a saké savant; I am a saké freaker," he said emphatically, and then we were off on an entertaining tour of saké history, as Waddington just kept circulating and pouring. Son of a gun; after the third sip, I began to taste subtle differences in Weddington's Oregon-brewed Japanese wine, a product which ranged from near-clear to amberish to a cloudy, rice-watery fluid.
Among Timken's other notable quotes:
"The saké flavors we've tasted in Japanese restaurants has been heinous. We're used to crappy saké that gets overheated as a masking agent."
"The saké industry in Japan is going down the toilet – young Japanese drinkers see it as their grandfather's beverage. In America, this is not a trend. Saké is not the Macarena! Saké is not a cigar bar!"
"Pairing saké with Western cuisine represents the future of the beverage outside of Japan."
And then we got to the Momakawa Diamond sampling, which was a revelation that made me realize that I rather liked saké. Still, I couldn't tell the difference between several of them, which was probably due to a combination of my uneducated palate and the fact that we were sitting in a conference room at 11 in the morning.
But my taste buds woke up when Lucy Brennan took up a shaker and began mixing one of her signature cocktails, the "G sling." According to Brennan, one advantage of saké cocktails is that they can be made from less spendy bottles: "I make sangría, too, but I don't use my best Bordeaux," she pointed out. Her G-sling sounded less-than-appetizing on the recipe card (saké and Cruzan banana rum?), but turned out to be both delicate and seriously delicious, with all the taste of the tropics but no Hawaiian Punch sicky-sweetness.
Then came the saké pairings, overseen by Dina Cheney, a writer and professional "food pairer." Out came some carefully chosen nibbles to complement the drinks: a ramekin of rich turkey-andouille gumbo, one raw P&J oyster, and a single perfect Michel Cluizel chocolate. (Chocolate, it turns out, pairs marvelously with saké; as a confirmed non-chocoholic, I found myself finishing the dense little square when there was saké to wash it down.)
Also on hand was Ryan Magarian of Portland's Aviation Gin, who conducted a panel on the "distologist" trend – cocktail experts who are becoming spirits makers – and another on how chain restaurants are moving toward top-quality drinks ingredients. Surprisingly, there were no Portlanders on "From Farm to Glass," a red-hot panel discussion about using sustainable, organic, and local ingredients in cocktails, which was sponsored by Square One organic vodka and Whole Foods Markets. (The sips at this one were organic milks, along with a New Orleans delicacy: organic Creole cream cheese.)
Tales of the Cocktail also included dozens of "spirited dinners," where some of the city's best chefs paired with master mixologists to create some extremely reasonable multi-course grandes bouffes. I ate at the Rib Room (panko- and porcini-crusted redfish over bitter greens and truffled whipped potatoes!), where each course was paired with 19th-century cocktails prepared by bar chefs from the New York mixology school Milk & Honey.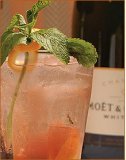 To answer a question I've been asked (a lot): The restaurant scene in New Orleans has rebounded faster than most of the rest of the city, though every restaurateur with whom I spoke stressed a need for experienced servers; there are good jobs to be had here. I had gumbo, grilled drum, and lemon icebox pie at Mr. B's, the last of the old-line restaurants to reopen (just a few weeks ago), as well as the traditional rich, cocktail-laden breakfast at Brennan's, a public institution in New Orleans. On the casual side was a huge brunch at one of New Orleans' fine Vietnamese restaurants, Nine Roses, and endless java and Wi-Fi at the city's many locally-owned coffeehouses (Starbucks still hasn't made many inroads in this most European of American cities).
Tourism as a whole os another story; major conventions have yet to recommit to New Orleans, which is great news for individuals, particularly in the budget-busting 2007 travel season. In downtown New Orleans, there are still bargains galore, leaving you more to spend on food and drink. I spent one night in the Hotel Ste. Marie, a small French Quarter inn; for a Motel 6 price ($62), I had a private courtyard with fountain and an antique-filled room with 14-foot ceilings. At the other end of the scale is the completely refurbished Windsor Court, the grande dame of the city's luxury hotels, which feels like the Queen Elizabeth, down to personal assistants, chandeliers in the elevators, and a club lounge with round-the-clock food and drinks served by uniformed butlers. (At the moment, rooms are only $229, with a fourth night thrown in free, which comes out to $171/night, and has got to be the best hotel deal, in one of the best hotels, that I've ever experienced.)
The next Tales of the Cocktail won't be until July 2008, but don't wait. New Orleans has always been a great food and drink destination, but the hospitality industry there still needs help; why not do your part for the recovery effort by taking advantage of the flood-sale hotel prices in the Crescent City and support some locally-owned businesses? It's got to be the easiest relief money you'll ever spend.
— Kevin Allman is a writer who relocated to Portland from New Orleans after Hurricane Katrina. His website is www.kevinallman.com.
LUCY BRENNAN'S G-SLING
2 oz. G saké (from Saké One in Forest Grove)
1 oz. Cruzan banana rum
1 oz. fresh lemon or lime juice
1 oz. fresh simple syrup
Shake over ice in a large cocktail shaker. Strain and serve with a lime slice and tropical flower garnish.