Why can't restaurants get wine temperature right?
I'm mad as hell and I'm not going to take it anymore! "What's causing this frustration?" you ask. No, it's not the national debt, not the high price of gas, I get the big bucks for talking about wine. And if the Food Dude can rant and rave about restaurants, then I can too. So, for any restaurateurs who may be listening: WHY CAN'T YOU SERVE YOUR WINES AT THE PROPER TEMPERATURE?
I've eaten at a good number of restaurants in Portland, and the simple fact is that less than 10% of them serve wines at the proper temperature. The other 90% generally serve their white wines icy cold and their red wines too warm, and there's no reason for wines to be served too far above or below the proper serving temperature. For those who don't know, here's a rough guide: Champagne and other sparkling wines should be served around 45-50 degrees depending on age, complexity and intensity. Lighter whites should be served around 50-52 degrees, with the temperature going up to 55-56 or so as the wines become more intense, more complex, or sweeter. Lighter to medium bodied reds (like many OR Pinots or the Beaujolais I talked about last column) should really be served with a slight chill, right around 60-62 degrees, with Burgundies and other medium bodied, complex reds being in the 63-64 range and the highest range of 65-68 saved for the more structured, intense wines like Bordeaux, the Nebbiolo-based wines of Piedmont, or red dessert wines like Port. Simply put, nothing should be served to the table at over 68 degrees.
I can already hear the cries now "But what about serving red wine at room temperature…we've heard that repeated for years?" Yes, you have heard that for years. It's been repeated for years…hundreds of years to be exact. And it's been passed down through the years with little consideration to the fact that it was started when British and European homes were made of stone, had little insulation or heating, and their room temperature was somewhere around 60 degrees, not the low 70s common in today's homes or restaurants.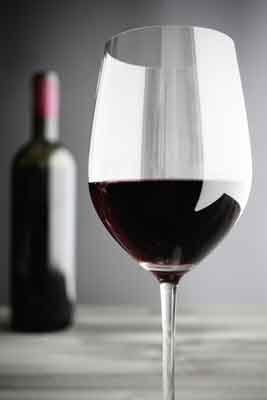 When wines get too warm, they tend to be much less showy, with the fruit seeming flatter, the acid seeming less noticeable and the alcohol becoming more prominent. And when wines are served too cold, the opposite happens. The fruit seems tight, the acid seems too prominent, and the wines show little body or complexity. The key is finding a serving temperature that both complements the wine and that keeps its balance intact. I've been drinking wine for years, and I can tell you if a bottle is close to the proper temperature just by feeling the bottle. The 2001 Joseph Drouhin Chablis I'm drinking now (It's okay, but not worth a repurchase even at the $14 sale price) felt just about right to me awhile ago, and after guessing a 53 degree temperature after feeling the bottle and tasting the wine, I used a thermometer to test it. It was exactly 54 degrees, a temperature that seemed just right for this wine.
"Okay, so what is the concerned restaurateur to do?" First, the hard facts…most restaurants probably won't care. They're happy to take their 200% mark up, and offer little value added other than opening the wine and pouring the first glass for you, often in sub-standard glassware that actually diminishes the wine instead of improving it. These places simply won't bother; they just look at wine as simply a large margin item. But there are restaurants that do care about their wine program, yet even many of these places still serve wine too cold or too warm, and it's really not that much of a headache to serve the wines at the proper temperature if they want to do it correctly.
First, I don't expect restaurants to serve all wines right at the exact temperatures I mentioned above. That would require too much attention and be tough to do logistically. But after dealing with improper temperatures for years, I'd be happy to see restaurants at least try to serve the wines in three ranges: 45 degrees for sparkling wines, 53 degrees for whites, and 65 degrees for reds. That way any bottle would be within 5 degrees of its proper temperature, and could be quickly adjusted with a few minutes on the counter/table or in an ice bucket or wrapped in a chiller sleeve. Depending on the restaurant, their facilities and their budget, there are numerous ways to take care of this. The first, and most obvious is to never store your wine at room temperature. It's much easier to cool bottles to 53 if they're starting out at a 65-degree basement temperature than a 73-degree room temperature. There are also numerous wine storage cabinets available that offer 2 or 3 different temperature ranges. These only run a few thousand dollars, and can be set to keep different sections of the unit at different temperatures, either for long-term storage or for short-term temperature maintenance. Another solution is to design storage when the restaurant is being built. One can easily build a 10×10 room as a dedicated wine cellar for under $8,000 (I've done it twice). If you can spend $20,000 on designer drapes, you can afford the $8K for a wine cellar that will last for years and provide you not only with good short-term consistent temperatures, but a good opportunity to age wine instead of relying simply on new releases.
Even if the restaurant can't afford these things, they can still get pretty close to ideal serving temperatures just by paying attention, keeping the wines stored at a reasonable temperature, and spending a few bucks on ice buckets and chiller sleeves. Yes, those gel-filled sleeves work wonders, and can chill a bottle of white from room temp to 53 degrees in 15 minutes or so. And you can often find them at Marshall's, Ross, or Tuesday Morning discount stores for $6. Keep a stock of them in your freezer and you can decrease or maintain temperatures easily (these also work great at home…with 3 sleeves you can easily keep 8-10 bottles at the proper temperature for a long dinner party by rotating them among the bottles at consistent intervals). Just pay attention to the temperature and make sure they aren't served too cold. The same goes for ice buckets. A quick dip in an ice bucket will chill a bottle fairly slowly if there's only ice involved, but if you add water to the ice, it will chill very quickly and can get overly cold.
So, why can't restaurants keep the wines at the proper serving temperatures? Some of it is attention to detail, some is ignorance, some is monetary, but most restaurants simply don't care. And they won't unless people speak up and make it known that the wines they're often buying at 2-3 times retail aren't being enhanced by the restaurant; they're being handicapped by it.
And to those restaurateurs who continue to serve their wines too warm…please tell your employees not to look at me funny when I ask for an ice bucket to go along with the 72 degree Burgundy I just ordered.