The Best Laid Plans – How a Single Spider Ruined a Thai Meal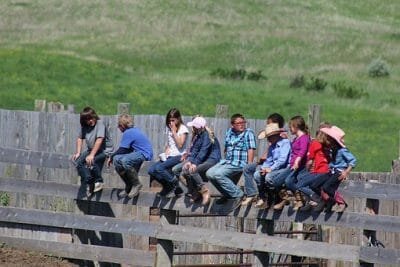 I have a confession to make. This is sure to change everyone's idea of me. I'm supposed to be this masculine type of guy: climbing rocks, scuba diving, mountain biking, skydiving; it's all child's play to me. But I'm stalling. The truth is, I'm, um, afraid of spiders.
When I was about ten my parents wanted to head off to Europe, and being practical types decided they would have much more fun without me. I was sent off to Camp Spiderwonda in the forests of Southern California (yes, there are such things as forests in California; you just have to look a little).
Things were going along just fine. I made those little plastic woven key chains, strangely colored ceramic ashtrays for my parents who didn't smoke, and sang Kumbaya around the campfire – everything was a picture of camping tranquility. Then came one warm August night that would change the rest of my life: "The Polar Bear Swim".
I like to think this was not the idea of some pedophile, but rather a well-meaning camp counselor who thought young boys should get used to the idea of being naked around each other, but the whole thing bugged me from the start. I clearly remember having to take off all of our clothes, shower, and stand in line for 'inspection' by the also naked counselors (who were much more mature than we were, something that left me scarred for years). So here I am, standing in a nervous line of naked boys when one of the counselors grabbed me and said: "You have a big spider in your ear!"
I remember that moment like it was yesterday, suddenly forgetting I was naked and jumping around screaming "Get it out, get it out". The counselors all laughed and one of them said, "I bet it has laid eggs in your ear and the babies will eat your brain". Little did he know that comment would scar me for life.
Fast-forward to college. I spent a summer fighting forest fires. Forests are full of spiders. When a fire gets hot, they tend to panic and drop from the trees on silken parachutes. Frequently covered with small spiders, I could deal with it because I was wearing a mask over my face and a heavy layer of fire-retardant clothing. I'm not saying they didn't bother me, but caught up in the moment, adrenaline pumping, one tends not to notice such things. However, my nonchalance doesn't carry over to home. Let's jump to a recent warm July evening.
I was feeling particularly proud of myself. I had taken a hard mountain bike ride through loose gravel and mud for over 30 miles. Not only that, I pushed it hard, working off my stress for the week. I decided I needed a reward and stopped for takeout food on the way home. Not just average Thai food, but from an out-of-the-way place that sells some of the best in town. I knew it would be worth the extra drive, and there was a video store next door. I've always had a tradition of renting a movie every time I get food to go.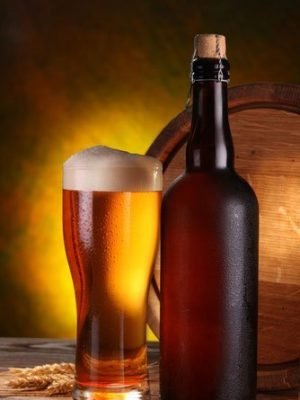 When I got home I laid out a whole spread. Rice, a couple of curries, an appetizer; everything was set. The only thing needed was a cold beer to wash it down. Digging in the back of my refrigerator, I found a cold Delirium Tremens. I carried it back to my carefully arranged table and ceremoniously popped the top. A Vesuvian geyser of foam shot from the bottle, arching over my plate and into the bowls of curry. The almost empty bottle clunked mysteriously. It seemed the bit remaining in the center was frozen.
I sat and looked at the rice floating on a layer of cold beer, considering for a moment that I may have stumbled upon a culinary masterpiece the likes of which the world has not known since the invention of the peanut butter cup. With a shaking hand, I dipped out a small spoonful and rolled it around my tongue. Cool, nutty, and a bit watery; would it sell in Ohio? I spit it out and glowered at the pool of foam dripping off the dining room table and onto the wood floor. At the same time, the DVD player mysteriously ejected my movie before the opening credits rolled. God obviously didn't want me celebrating tonight.
Most people would have rolled over at this point. Looking back I realize that this would have been the only reasonable option for me. My food was ruined, all the beer was frozen – I briefly considered microwaving a couple on defrost but fortunately decided against it – and my movie wouldn't play. Unfortunately, I am stupidly bull-headed. Fighting back the urge to bang my head against the wall, I browsed my wine collection looking for a bottle that called out to me. A sexy little Italian number caught my eye and even though it was an expensive bottle, I knew God wanted me to have it, as there was a little label reminding me to drink it by 2005.
Once again I sat down at the dining table, this time with a sad frozen pizza, and carefully, oh so carefully, opened my wine. It gurgled lovingly into the glassware but filled the base with a brownish hue. The wine tasted somewhere between a cross of sulfur mine and decaying road kill.
I'm not as stupid as I sound. Knowing I was beaten, I did the only thing I could think of doing and went to the bathroom. After two mostly-frozen beers and a few sips of bad wine, nature was calling in a loud voice. So there I was, standing doing my thing when the biggest spider I have ever seen outside of the Deep South ran up my bare leg and into my boxer shorts. A yellow trail marked my leap from the bathroom and out of the front door. Once again I was jumping around screaming to myself, "Get it out, get it out", and swatting at my shorts. It was like I was at camp all over again, and I wondered how quickly (and where) it might be laying eggs.
It took me a few minutes to realize that it had jumped off during my mad dash to the front door. Why I ran outside still isn't clear to me, though I do have this rule that I don't kill things unless extremely provoked. All I knew was the spider was inside the house, and the door had swung shut and locked behind me during my flight. Something was out of balance in the universe tonight. I had become the spider.
Fortunately, I wasn't wearing some kind of embarrassing underwear. Nothing with big hearts or silly sayings, but still I scuttled along the wall toward my patio where I had hidden a spare key. Of course, that was the moment a large passenger van full of high school kids pulled up and stopped hard, its headlights glaring at me in the darkness. They were just back from a rally of some sort, "Go Beavers" and such painted on the side windows. There was nothing but stunned silence from the vehicle. I sucked in my gut and tried to look nonchalant, retrieving my key and acting like I always walk around outside in my underwear, before turning the corner and going back into the spider's den.
I feel very vulnerable. Did Frodo have pants on when he fought the great spider Shelob in Lord of the Rings? Two hours later and I'm still wearing boots, jeans, socks tucked over my pant legs, a long sleeve shirt with a Stihl hat pulled tightly over my ears, and a rolled newspaper at my side. The spider so far eludes me, no doubt waiting for the next time nature calls. I sit here typing away, constantly feeling things running up my legs. I refuse to drink liquids – nothing will bring me back to the bathroom tonight. All because of a smart-ass teenage camp counselor.