"Everyone's Lives Would Be So Much Better If They Just Used The Right Salt."
Mark Bitterman, Local Selmelier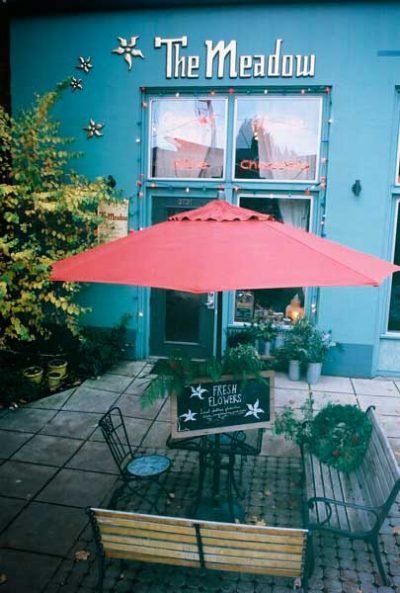 A wonderful thing about Portland is our growing community of small specialty food purveyors. Many of these are based on single obsessions: the perfect latte with foam so pretty and detailed that pictures of it could be framed and hung in a gallery, tiny sophisticated graphic chocolates that are handled more like fine jewels than simple candy store confections, or a pizzeria where if you dare even mutter the words "I'd like Canadian Bacon and Pineapple on that," you will be given a look so cold it could turn a fresh and hot bubbling pie into a frozen one. Each of these places shares an almost religious fervor for what they make, often have a cult following in places both near and far, and refuse to compromise on ingredients, production, or presentation.
Portland has another specialty food in our shared pantry: gourmet finishing salts.
The Meadow opened in 2006, a little shop nestled into the vibrant fabric of N. Mississippi Ave. Tucked away between an array of other businesses, you may notice it only for the bright colors of the flowers for sale in front. But besides the flora, The Meadow carries one of the largest selections of bean-to-bar chocolate makers in the country – they have in the neighborhood of 300 different bars. They also carry an amazing 140 plus types of bitters, up from a dozen when the store first opened. With the craft bartending craze and its obsession with looking back to lost tradition, and a compulsion for creative innovation, the demand for them has never been higher. Gourmet syrups are another addition, with fifteen currently available. Mark is like a poet when he describes them –
"Bitterments Orange Cream Citrate – Five types of orange with citric acid in a nouvelle soda-shop style preparation. Cream citrrates are to cocktails as phosphates were to soda jerks in the 50's. Our orange is a childhood summer memory doled out in drops."
Exotic names like "Nikolaihof Elder Flower Syrup" had me standing in the isle, wondering what I could them with. The Meadow also carries salt and pepper grinders, some carefully chosen wines, and a few other needful things for home decor and cuisine.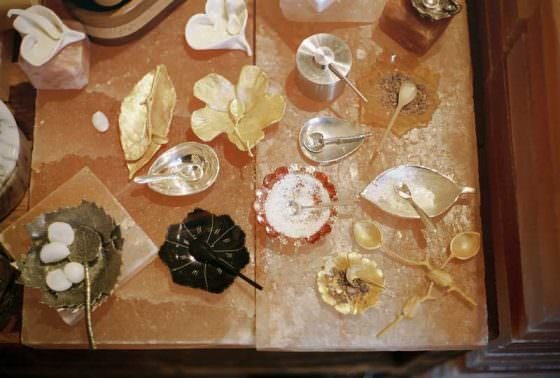 But what sets The Meadow apart, is their selection of salt. With over 120 types on the shelves and in their back stock, it is the largest single selection of salt anywhere in Oregon.
Pity the poor Portlander that still knows only three kinds of salt: table, kosher, and sea salt. Sigh. There is so much more to it than that.
Mark Bitterman, along with his wife Jennifer, is the owner of The Meadow and is by all accounts a salt evangelist. A self-proclaimed "Selmelier," in 2011, Mark received the honor of a James Beard reference and scholarship award for his book, "Salted: A Manifesto on the World's Most Essential Mineral with Recipes". He has written a manifesto of sorts:
"Gourmet finishing salts are the crystals through which our world can be seen in all its variegated and changing beauty. I believe a strong relationship with gourmet salt safeguards against the stagnation and turpitude that overtakes us as money, children, and slackening metabolism slowly suck the juice from our bones…I have settled in Portland Oregon to advance the mission of the International Selmelier's Association and its North American chapter, the Selmelier's Association of America."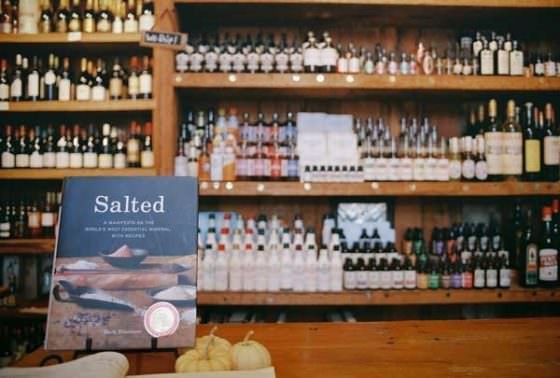 By any other person's public relations spin this might come across as wildly eccentric, or at least somewhat silly. "The Selmelier's Association of America," is this for real? But Mark Bitterman lives what he writes, and once you have seen and tasted his world up close, you too might become a believer.
When you visit The Meadow, be ready to learn more about salt than you ever thought possible, and be prepared to be wowed. I went in as a skeptic and came out a convert, albeit a thirsty one. Mark Bitterman, like all good preachers, is also a very good salesman, and spending time with him, you can't help being influenced his passion.
Communion in the Church of Salt
Guiding the uninitiated through The Meadow's shrine like salt displays, Mark talks fast, pausing only to let you get the full taste and impact of the various little crystals he offers straight from his hand. His eyes light up when he sees your delighted and surprised reactions, and he goes into detail in explaining the different groupings, scents, harvesting techniques, regions of origin, history, special qualities, and suggested uses. There is a massive amount of information to process, and a lot of tasting involved.
One afternoon at the Meadow I was given an in-depth tasting of their specialty salts, starting with what is probably the most well-known, the Fleur de Sel family. This group of hand harvested salts are formed from lace like film on the top of salt beds only under certain weather conditions, and often take on a slight taste of their surroundings, including violets from the northwest coast of France and lavender in Provence. These salts include the widely exported Fleur de Sels from the Carmague, those from the Guérande in Breton ("made in the same manner developed by the Celts some 1,000 years ago"), and the Belamandil Flor de Sal from the Algarve region in Portugal.
After a short pause for a glass of water to cleanse my already overwhelmed palate, we sampled other salts, including the Maldon from England's backwater river estuary whose large white flakes Mark accurately describes as, "a parchment fine snap of pure balanced saltiness." Then there is the Murray Darling from the basin of the snowmelt in the Australian Alps that tastes miraculously sweet and surprisingly un-salty.
There are others of course. These include the glittering pink and orange-colored crystals of the Andes Mountain Rose from Bolivia, Himalayan Lake salt, carried by yaks for world export to China, and the deep black Hiwa Kai from the pristine island of Molokai, Hawaii that is super moist and has an almost slippery texture. The Meadow also sells some interesting flavored and infused salts, such as the Tahitian Taha'a Vanilla Flake and Tartufo Nero (Italian Black Summer Truffle), that they say is delicious sprinkled on quality pomme frites.
Oh, and let us not forget the smoked salts. Salt, for various chemical reasons I cannot explain (but trust me, Mark Bitterman can and will be happy to do so if you wish) is the perfect culinary medium for preserving smoky tastes both subtle and bold. The Meadow carries a dozen, including a regional variety called Red Alder Smoked finishing salt from the Pacific shores of Washington State, which has an intense campfire smokiness, and would go well paired with dark game meats such as venison, duck, or pheasant. There are mesquite, hickory, and applewood smoked salts from various coasts and countries, all clearly retaining the smells and flavors of the woods that they are smoked with. These are mild enough for cheeses, poultry, and even salads. There is also the Barrique Chardonnay, a variety smoked with oak chips from retired used wine casks, and is a wondrous mix that has both a subtle oakiness and undertones of fine wine flavor and scent.
The most memorable offering however, is the Halen Môn Gold from the Welsh coast. This salt is so intriguing that I am almost haunted by it. This is a complex salt with a remarkably flaky texture and a scent that is more fresh-cut wood than fire. The Halen Môn Gold is a trickster that changes on the tongue, going from clean mineral, to smoky-sweet, to dozens of other sensory combinations. Apparently I'm not the only one mesmerized by this salt, as it is now being used in some of the best restaurants in the world and has been discovered by many famous artisan candy makers for its oddly perfect enhancement of chocolate, and especially caramel.
Yet in a display of grand showmanship, Mark saved the best tasting for last. The Shinkai Deep Sea is harvested in the clear ocean waters far off the coast of Japan. The Shinkai is whiter than white, quite wet, and looks like a scoop of freshly powdered snow. Then there is the taste. Nothing prepared me for this. We tried it solo, we tried it with bread, and then we had it with both dark and milk chocolate, and all were terrific. When the Shinkai first hit my tongue, it knocked me back with its bracing ocean taste, then it melted into something fruity, then flowery, and suddenly it didn't even taste like salt. It is an amazing sensation.
A Salt Epiphany
We are all familiar with the five basic tastes: sweet, sour, bitter, umami, and salty. But for the most part, it seems we take these tastes for granted. When was the last time we slowed down enough in our lives to just stop and experience, and really think about what we are putting in our mouths? It's salty, ho-hum, pass the water. Salt is such an abused seasoning. Americans pour the sad chemically produced and iodine-laden stuff on everything, and dump it in all our processed foods, from colas to canned fruit. We build up a tolerance to the point where we can't even taste salt anymore, much less anything else. Many restaurants have become so immune to the subtleties of salt that often, and sadly, it is the only thing you will taste when dining out.
At one point during our "salt flight," Mark Bitterman refuses to let me try a particular sample saying, "no, it's too old, it won't be good," casting it aside while telling me he thinks bad salt is a crime against good ingredients. He states that he started The Meadow in part out of rage; a response to fine restaurants that ruin their otherwise carefully prepared food and quality ingredients by cooking with, and offering shakers of the harsh and abrasive Morton's type table salt. Mark wants to see the development of a common salt vocabulary and standards, and a shared knowledge and acceptance that salt is as equally important to food (if not more so) as are other ingredients such as good wines, good produce, and good breads. I don't think I've ever seen this kind of passion in one person for a single ingredient. The man is a missionary, although I was still a bit taken aback by his vision. I mean really, is there such a thing as a Selmelier anyway?
"Well," Mark laughs, "there is now."
Mark Bitterman is certainly a salt expert, and may very well deserve the title of Selmelier, even if it is still a mostly undocumented endeavor. But I do believe he is on to something big. Visiting The Meadow was a reawakening of my jaded palate and an epiphany. I tasted salt in a way that made me think I had never really tasted food before, and I'll never taste salt, think about it, or cook with it the same way again. Salt is not merely salty, it can be sweet or musky or fruity or smoky or subtle, and the tastes can morph while being consumed. The right salt can absolutely transform food and make it even better. It was a complete ah-ha moment, and I finally understood what Mark had said all along. It reminded me of something I had read on The Meadow's website, but initially had dismissed as mere blind romanticism:
"Salt sates the Alchemist's desire, transmuting food to fantasy."
One of my favorite foods exemplifies this magic. A simple slice of fresh bread, slathered with locally produced unsalted butter, and a sprinkling of quality choice sea salt. I might add a bit of sliced summer tomato, or mild radish, or even chocolate (don't laugh, it's good), whatever is on hand really. But it is the salt that makes the dish. It's the salt that takes these humble ingredients and elevates them into a coherent and balanced whole. The salt makes this into something special to savor and remember. The right salt makes life good.
Amen.
The Meadow also carries a wide choice of accoutrements such as salt holders and pepper mills, as well as sample packs and gift boxes of various salts, and interesting black pepper varieties. In 2010, they opened a branch in New York City, which is quickly gaining acclaim.
Phone: 503-288-4633 or toll-free at 1-888-388-4633
Address: 3731 North Mississippi Avenue, Portland, OR 97227  Map
Address: 805 Northwest 23rd Ave, Portland, OR 97210  Map

Website

: TheMeadow.com
There is a third Meadow store in New York:
Phone: 212-645-4633
Address: 523 Hudson Street, New York, NY 10014
Hours: Wednesday – Saturday 11am – 9pm, Sunday-Tuesday until 8pm.
Note: this article was written in 2006. It was updated by Food Dude in November 2017, with information on new products, and photographs by Tim Roth.