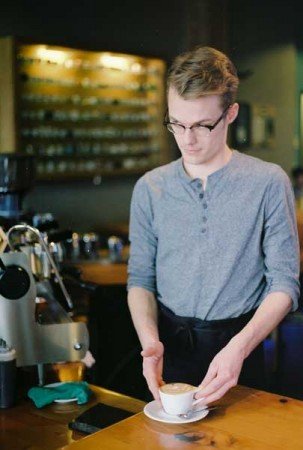 This is good news. I always enjoy Water Avenue Coffee, even though I bang my head on the bottom of their china cabinet every time I'm there. It has a comfortable vibe, good coffee and pie holes. What more could you want? The dog likes it too, because it means he's walking the waterfront loop.
Water Avenue Coffee, now 5 years old, has signed a lease on a 4000+ sq. ft. roasting facility in order to expand production and wholesale business. The warehouse is located at SE 8th & Main, just blocks from their flagship location and will allow Water Ave. to continue to grow and serve the Portland market. The new building previously housed Portland brand Poler, and is adjacent to Sizzle Pie's offices, Rolling River Spirits and White Owl Social Club. The current cafe and roastery (on the corner of Water Ave. and SE Taylor) will also be expanding and will undergo a remodel in the near future.

"We are very pleased to have grown sustainably over the past 5 years, and we will have soon outgrown our current roasting facility. A new facility will allow us to continue to support our beloved wholesale customers by adding additional roasting equipment, a new training lab, work benches for our tech department and more room to stretch our legs." says Matt Milletto, who owns Water Avenue Coffee with his father Bruce Milletto.

The build out on the new facility is underway and the Water Avenue team is targeting to be up and running by May or June of 2015.