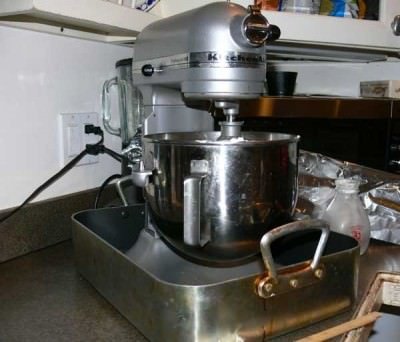 I have always been the baker; I baked jam tarts for my dollies; I baked cookies for my brother and his friends when they were teenagers and had the munchies; I bake everyone their birthday cake and was given a plaque from my daughter's grade school for baking every month for seven years.
You might surmise this is compulsion is borne of generosity; perhaps, but it is also selfishness, for when you are the baker, you are beloved. You also always know what to bring. Years ago, when entering a party with a friend, I mentioned I felt uncomfortable.
"That's 'cuz you're not carrying a pie," she cracked. Ah, dessert as emissary: even if I were dull, my cherry cobbler would not be.
And so when I met my husband, eight years ago, I assumed he, like all the men before him, would be wowed by my sweets. Had I been proposed to by not one but two men after feeding them warm slabs of apple-sour cream walnut-crunch pie? I had.
"It's good," said Din, working through a slice of pecan. "Except the crust."
What did he mean? What was wrong with my crust?
"Well, it's not flaky like my grandmother's," he said, whereupon I proceeded to get the recipe from his mother, a "neither human hands nor machine this crust shall touch!" production, a wreckage of Crisco and flour that turned the kitchen to nuclear winter and went into the pan, when it went in at all, in 699 shreds. Yeah, it was flaky; and yes, my atavistic wife gene bid me keep making it, until this year, when I said, you know what? It's not that good, and went back to my old crust.
What I do make for Din is his favorite cookie, another family recipe, for pecan balls.
"As you can see," his mom wrote on the recipe card, "these require great skill!" They're actually a counterbalance to the crust, idiotically easy, and seem to be an especial hit with men: several Christmases ago, our best buddy Dario, in the midst of gorging, shouted, "I can't stop eating these white balls!" Hence, the name
White Balls
1 cup butter
1/4 cup white sugar
2 teaspoons vanilla
2 cups flour
2 1/2 cups pecans, rough chopped
Confectioner's sugar (for rolling)
Preheat oven to 300 degrees. Mix butter and white sugar in electric mixer, add vanilla, then flour and pecans, taking care not to break up nuts too much. Press into balls about the size of an egg yolk. Bake 40 minutes, or until they have just taken on a hint of color. Remove cookies from pan, and roll in confectioner's sugar while still hot.