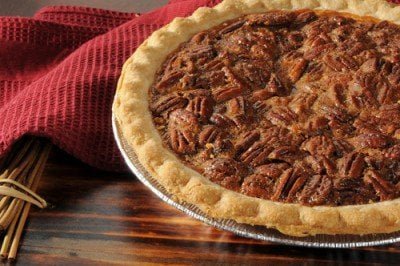 If you have ever been to Nancy Rommelmann's house, you will have had many baked goods pressed into your hands, some of which are the best darn chocolate chip cookies, pies, truffles I've had. Her kitchen is like a bakery where the proprietress has plenty of time to chat and offer sage advice with a warm slice of pie. FD
Why You Don't Want the Pie
I recently walked into a restaurant, where right inside the door was a farmhouse table, on which there sat a fruit crumble, and a pie. The crumble was in an oblong ironstone dish; there was a good deal of purple fruit beneath, and on top, a pebbly streusel. It was the sort of homey dessert that, at its best, is pulled hot from the oven with sticky juice over-spilling the sides and bubbling through the crumbs, a warm scoop of lusciousness that cries out to be topped with vanilla ice cream until the two melt and meld and become a sweet goopy mess. This was not that crumble. In this crumble, the stolid layer of fruit and pale crumbs were kept as separate as the sexes at Brigham Young University, there would be no commingling, and one suspected any adding of ice cream would be coolly redundant.
People say baking is hard; there's all that measuring, so much timing. But I suspect that more than this people are put off by the abundance. All that butter, so much sugar, wagons of nuts and schooners of chocolate. Baking is an embarrassment of riches, it makes us feel excessive; we tell ourselves we don't really need it; that we are more virtuous if we do without.
To which I say, have a cookie, and offer this: at my husband Din's new coffee roastery and café, the coffee drinks are served with a tiny shortbread cookie, half of which is dipped in good dark chocolate. We named these tiny treats, which come gratis, Winnie's Pennies, after Din's great aunt whose recipe I use, and because of their size. The reactions these cookies elicit are astonishing; grown men gaze upon them as if they were the face of their newborns, women pick them up and giddily say, "Oh, look… a cookie!" And never, ever do the cookies go uneaten, my theory being that one some corporeal level, even a diehard dieter understands that the gift of a cookie can never be bad.
That is, if it's the right cookie, which it often is not. I also bake the chocolate chip cookies for the café, and while doing so the other day, I mused on the huge multinational corporation that might offer to buy out Din, and the first thing they'd want is to cut costs, whereupon some moneymen would hover over my shoulder asking, "Why not margarine instead of butter?" and "So much vanilla?" and then, when I would not desist from tossing in handfuls of chips and walnuts rather than measuring, would bar me altogether from the kitchen, until I was forced to stand in front of our ever-diminishing-in-goodness café and shout, "Those are not my cookies!"
But back to why you don't want that restaurant pie: It was one of my favorites, pecan, but right away I knew it was inferior. Why? Because the nuts on top had been chopped. This meant that many pecan bits would have sunk, making the filling opaque and stiff. Unlike a crumble, where you want some mixing of the layers, the pecans of a pecan pie should form a brittle roof over the glistening, translucent goo of a filling. Also, I could tell from the pie's wan color, that white sugar had been used instead of dark brown, and that there was not enough if any butter…
"But let's order it anyway," my friend insisted, after an utterly lackluster dinner of a pork chop so dry he said he felt all his saliva had been leeched, and a steak au poivre so overly encrusted with black pepper Din suggested it be scoured with a Brillo pad before eating. [Yes, Nancy knows what this dish should taste like. FD]
Alas, the pie was stiff, and cold, and tasted of vending machine candy. I closed my eyes, and imagined an invisible me grabbing the baker's wrist and making him add a double-shot of vanilla, an extra knob of butter; of whispering in his ear the pie should be pulled from the oven ten minutes earlier, and that when it comes to dessert, judiciousness is no virtue.