Penne all'Arrabbiata
This great wine piece by Darryl Joannides includes a recipe for Penne all'Arrabbiata.
It was late January 1997 and a particularly dark, wet, and dreary winter's day. We were on the back end of a 3-week trip driving all over the Italian peninsula and beginning to get that type of weary that sets in when you've been away a long time and constantly on the move. That day we found ourselves in Tuscany, meandering on the long and winding road from Siena to Gaiole, navigating harrowing switchbacks one after another, and trying to see the road through the pouring rain as our wipers struggled to keep up. We turned off at a large stone entry building with a tiny sign that let us know we'd reached our destination.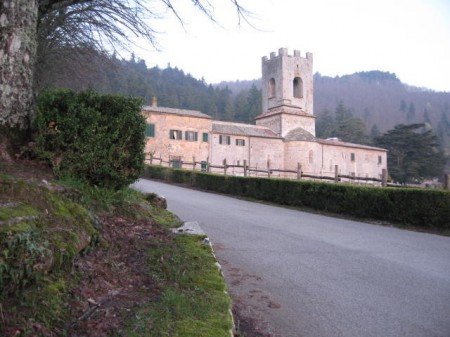 Getting out of the car, we stood before a 1000-year-old abbey, the chill of the freezing temperature outside quickly seeping into our clothes. We ran through the rain to what we thought was the front door of the building. It turned out to be the entry to the attached church, and we retreated until finding a gate that took us into a private piazza surrounded by three structures, each built in a different century hundreds of years ago.
A voice greeted us and we made our way into the kitchen, where a pot sat bubbling over an open hearth. We were introduced to Emanuela Stucchi Prinetti, who runs the family's winery – Badia a Coltibuono. At this point, my nerves were on high alert, as Emanuela wasn't just another younger generation helping out at her parents' winery, she was a descendant of nobility. Her mother, Lorenza, had made an impression on me during my young professional cooking career, as the author of a cookbook called Italy the Beautiful. In addition to its glorious pictures of the Italian countryside and its cuisine, the book was packed with simple, well-written, almost foolproof recipes of Italian classics that I had worked my way through in my journey to become a chef. I later discovered the master works of Marcella Hazan and studied baking with Carol Field, but Lorenza di Medici predated them all in my collection of English-language tomes on Italian Cooking. She was my Larousse, my Escoffier, and she also happens to come from the Medici family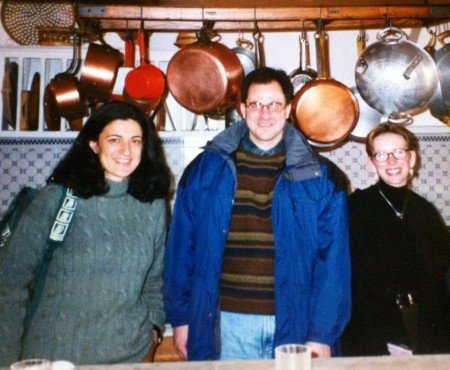 that had ruled the countryside outside of Florence for centuries. (Yes – that Medici). Now I was in her house, in her kitchen in fact, and her daughter was cooking me lunch! My memory of what we discussed that day escapes me, but emblazoned on my mind is the absolutely perfect bowl of Penne all'Arrabbiata that Emanuela served to us, and how it enhanced the experience of meeting her, tasting her wines and learning about this storied estate. The cold, wet and dreary day faded to the back of our minds and the warmth and hospitality lives on in our memory today.
I wanted to share this story because just as the impression of meeting Emanuela and tasting that Penne all'Arrabiata has stayed with me forever, so have my first tasting experiences with many wines. A bottle of 1978 Produttori Rio Sordo drunk when Aldo Vacca and I were both still young, a bottle of Montpeyroux from Domaine D'Aupilhac that inspired my first wine trip to France, the evolution in my glass of Huber-Verdereau Volnay that helped me realize the potential of Burgundy . . . the list goes on.
Wine is and should be a journey. How you get there is really up to you. What those of us who have chosen to make this our profession can do is share our own stories, experiences and, hopefully, a discerning palate, to point you in directions both familiar and new in the hopes of satisfying you, educating you, perhaps inspiring you to seek out your own wine roads and life experiences that will make the enjoyment of wine an enriching part of your daily routine.
I didn't want to focus on trying to sell anything in this post, as I already do that regularly in our cork newsletter, which you are welcome to sign up for on our website. Whether you follow the wines I am reviewing, those of Michael at Storyteller, Bruce at Vino or choose a wine off the shelf at New Seasons Market that Toni has helped select, I hope you'll take some time to discover the stories behind the wines you enjoy, as it can truly enhance your experience.
It is because of my own experience and several more visits since that I enjoy selling the wines of Badia a Coltibuono. It is somehow reassuring to know the people behind the product you are drinking, and that might just make the drinking itself more pleasurable as well. You can seek out the wines from Badia at any local wine shop or grocery, or they can order them for you through Galaxy Distributing.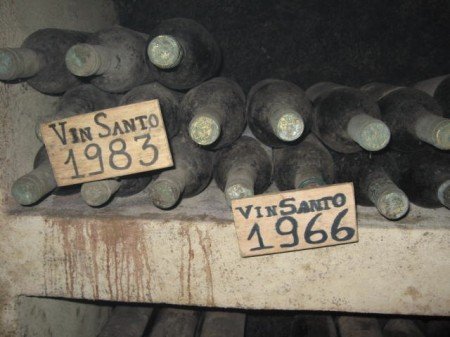 One particularly special bottle to hunt for is the 2004 Vin Santo – a Tuscan dessert wine, made from trebbiano and malvasia grapes that are dried on straw mats, which has a seductive caramel toffee flavor profile that reminds me of Mary Jane candies. It's a wine that, when served with biscotti on the patio after a late summer meal, can transport your mind to a faraway place and time.
Instead of going on at length about Badia's other wines, I leave you with my recipe for Penne all'Arrabbiata and wish you well on your own wine journey. Salute!
Recipe: Penne all'Arrabbiata
3 cloves garlic, finely minced
2 T. olive oil
1 t. red chili flakes
28 oz. can whole peeled plum tomatoes (Muir Glen Fire-Roasted preferred)
1 t. sea salt (and adjust to taste as needed)
1/2 t. freshly ground black pepper
1 t. dried oregano
1/4 C. dry red wine
1 lb. quality dried Italian penne rigate (Martelli, Rustichella or similar)
To prepare tomato sauce: Sauté the garlic in the olive oil over medium heat. To really infuse the spicy bite of Arrabbiata sauce, add the red chili flakes to the oil just before you add the tomatoes, being careful not to burn them. Add the canned tomatoes and squeeze/crush each tomato to break apart. Add the other seasonings and stir to combine. Add the wine and turn heat to low and allow to simmer for 20-30 minutes until reduced to a sauce. To prepare the pasta: Add one pound of dried penne rigate to a pot of abundant, well-salted water. Cook until al dente (meaning it still has a little bite left to it). Drain and immediately toss with the pasta sauce. Serve piping hot with Parmigiano-Reggiano to grate over the top. Perhaps with a glass of Badia a Coltibuono Chianti Classico.