The winner of our 1998 contest is Granny Moon for this terrific story: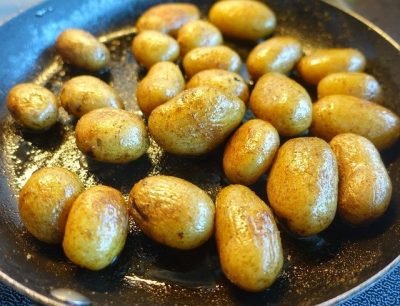 Breakfast, when I was a kid, was a weekend event – cold cereal before school didn't count. And every weekend it was pretty much the same thing. Daddy would get out his cast iron skillet, place it on the gas stove and start frying. Always eggs. Sometimes bacon, occasionally ham – and if it were fishing season there would be freshly caught rainbow trout from his 4 am jaunt on the lake.
But the thing I remember most was his fried potatoes. If I were really lucky he would grate them, then dump them in the hot grease and make them oh so crispy on the outside and soft on the inside. I've tried forever to duplicate that. 4 out of 5 times I almost get it. That 5th time is heaven. Makes my arteries harden just to think about it…
Daddy grew older and ended up having a triple bypass. But he never lost his love of fried potatoes. When he reached the age of 88, I moved to Tucson and lived with him and my stepmom. Over the course of 16 months, I perfected the fried potato. Not the grated wonder that my dad turned out; but a thin sliced, perfect circle of crispness. With a soft center that melted in your mouth.
I would get up at 6 am when Daddy came out of his bedroom to get the newspaper, and we would have a cup of coffee together while I peeled a couple of small potatoes. Then I would slice and fry them up – using that same cast iron skillet and a gas stove. When I served them to him in his recliner, he would eat them with his fingers – savoring every bite.
My stepmom always said that I was spoiling him. But I like to think that I was feeding his spirit – transferring the love that he gave his baby girl right back to him, by way of a fried potato.