A complete list of distilleries open to the public in the Portland area.
Updated 9/22 – Added Aviation Gin. Updated 503 Distillery, Trail Distilling award, added Branch Point Distillery, Hood River Distillers, remove Big Bottom Distillery (closed), remove Eastside Distilling (closed tasting rooms) updated map, misc. updates. Keep in mind that due to Covid-19, hours/tours/tastings/etc. may have changed. Check before you go.

Portland is a mecca for micro-brews, artisan coffee roasting, chocolatiers, pizza, bread, pastries, and more. Oregon also has an established wine industry and an agrarian economy for ingredients that are just meant to be distilled. There are plenty of local fresh fruits for brandies, grains for whiskey and vodkas, and nuts and herbs for seasonings. Along with a booming restaurant and bar scene, including several nationally leading bartenders committed to crafting quality cocktails, it makes sense that Portland has a growing handcrafted, small-batch distillery scene as well. Oregon boasts a dozen distilleries, with at least eight in Portland.  Some are new and tiny, only producing a few cases of any spirit at a time, while others are internationally known and distributed.
We even have our own "Distillery Row", a small area of Southeast where many of them are located. This makes it easy to jump from one tasting room to another to compare different products. Just make sure to bring a designated driver.
Hunting these small-batch beverages by the glass or bottle can be a chore. Most provide "where to find" sections on their websites, and the Oregon Liquor Control Commission (OLCC) has a handy search feature on their website: OregonLiquorSearch.com. You'll find a map to all the distilleries at the bottom of this post.
---
503 Distilling is a small artisanal distillery located in Southeast Portland's Brooklyn neighborhood.  Founded in 2017 by three local, long-time beverage industry professionals, their mission is to "deliver unique spirit-based cocktails in a can and handcrafted traditional spirits to the world."
The distiller makes a full line of craft canned cocktails as well as spirits, including the 503 Rum that serves as the base for Peppermint La Vida Mocha. The Blanco rum is made from grade A sugar cane and twice distilled for a smooth, full-bodied flavor. They offer more than cans, though, with a selection of liquor including vodka, whiskey, pear brandy, gin, rum, and more. In 2022, the distiller opened a cocktail lounge in the Iron Fireman Collective building in Oregon City, and now offers a full menu and full-size cocktails, as well as their canned cocktails by draft. Canned cocktails and bottled spirits are available to go.
(503) 975-5669
Cocktail lounge – 3 to 9 p.m., Thurs. – Sat., and 1 to 7 p.m. at 4784 SE 17th Avenue, Suite 150, Portland 97202  Map
---
Aria Portland Dry Gin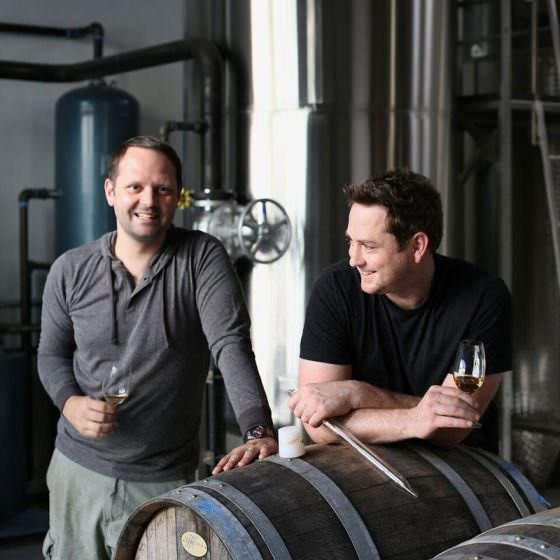 Aria Portland Dry Gin is distilled by hand using traditional British ingredients and distillation techniques. It is true to the London dry style. The list of ingredients is impressive: juniper, coriander, angelica root, orange peel, lemon peel, cassia bark, cardamom, grains of paradise, orris root (iris) and cubeb berry. I hadn't heard of it either, so –
"Also known as Cubeb, Tailed Pepper, and False Pepper. The cubeb plant originally comes from Indonesia, but is now grown in many parts of Asia. The cubeb plant is a perennial that grows tall—up to 20 feet high. It grows well in the shade and is often found near coffee bushes where it can be protected from the sun. The leaves are oval-shaped and green in color. The fruit is brown and round and grows from the small flowers of the plant. Its spicy, peppery flavor makes it a popular additive to Asian food and gin."
Aria Dry Gin is full-bodied and boldly aromatic. Juniper is upfront—obvious on the first nosing and initially on the palate. Underneath the juniper, layers of bright citrus, earthy undertones, floral highlights and subtle spicy notes reveal themselves, both on the nose and palate, though none are overpowering. All of the layers of flavor are balanced. The pristine Bull Run water used to cut Aria after distillation provides a rich, creamy mouthfeel. The finish is long and soft. This is my go-to for gin & tonic on a hot day.
Martin Ryan Distilling – 2304 NW Savier St., Portland OR. 97210  Map

Tasting room: Daily 12 pm – 6 pm.
---
Aviation Gin
(Originally House Spirits) The new Aviation Gin NW Portland location opened in September, 2022. All they make is Gin. They start with cardamom, coriander, French lavender, anise seed, sarsaparilla, juniper, and two kinds of orange peel. The botanicals are suspended in a pure, neutral grain spirit for 18 hours in macerating tanks before it is distilled and blended.
On site you'll find a cocktail bar, retail shop and a tasting room. Tours and gin tasting take about one hour and start at $28.00
2075 Northwest Wilson Street, Portland, OR  97209 Map
Thursday – Sunday: 12 pm – 7 pm.
---
Branch Point Distillery
Opened in 2016, Branch Point is a small, independent whiskey distillery. It breaks the mold by being located away from Distillery Row, instead, opening in the middle of Oregon wine country. They use locally-grown grains, supporting area farmers and agriculture. After distillation, the spent grain is given to farmers as a nutritious supplement to their animal feed.
They have a full tasting room with a covered, heated patio. Visit for a whiskey or mini-cocktail flight and a view of the vineyards. You can book your visit online via Tock. Visits require a $10 deposit per person as of this writing.
The distillery features whiskey clubs, cocktail classes, whiskey flights, and more.
15800 NE McDougall Rd., ​Dayton, OR 97114  Map
Open Saturday 12 PM – 6 PM, Sunday 12 PM – 5 PM (book on Tock)

(503) 915-2130
---
Bull Run Distilling Co.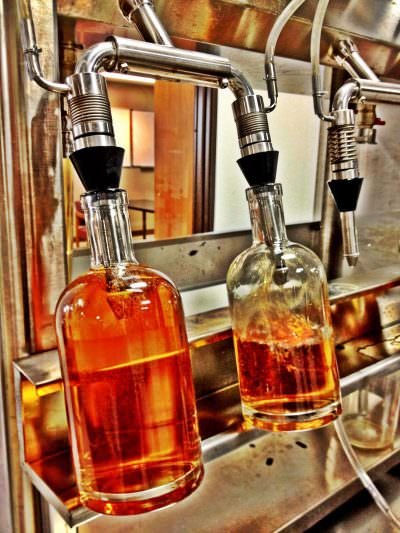 Bull Run Distilling Company was founded by acclaimed Portland distiller, Lee Medoff, and business partner Patrick Bernards in the spring of 2010. What began as a "what if" conversation over cocktails a few years ago evolved into a full-on crusade in 2010.
So what's next? "It's time for us to roll up our sleeves a little higher and get to work making distinctive provenance-based rums and whiskey – and a lot of it," says Co-founder and Head Distiller Lee Medoff, referring to the goal of producing 3,000 bottles a week of high quality, craft spirits. And Mr. Medoff has wasted no time as Bull Run's distillery is now producing a range of spirits.  The company's Medoyeff Vodka was designed for sipping and retains that velvety full mouthfeel and slightly sweet undertones found in many small-batch Russian vodkas. Other products include Bull Run's "Temperance Trader Straight Bourbon Whiskeys", Pacific Rum, Aria Portland Dry Gin, and, arriving in 2015, Bull Run's Very Own Straight "Oregon" Whiskey, meaning distilled using local water and grains, aged in the unique Oregon climate.
A great destination to taste terrific spirits, Bull Run Distillery is located at 2259 NW Quimby Street adjacent to Portland's popular Northwest 23rd Avenue, with a plethora of great shopping, restaurants, and bars where you can sample Bull Run spirits. They are open Wednesday – Sunday 12 pm – 6 pm (21 and older only).
2259 NW Quimby St, Portland OR. 97210 Map.
Wednesday – Sunday: 12pm – 6pm. See restrictions on website.

(503) 224-3483
---
Clear Creek Distillery

One of the oldest and best known of the Portland artisan distilleries, Clear Creek has a reputation for outstanding, high-quality Eau de vies, grappas, brandy, and fruit liquors for the simple reason that they do not compromise on ingredients, production or taste. Founder Steve McCarthy started Clear Creek 31 years ago as a way to showcase our region's bounty of fruit. Hood River Distillery purchased Clear Creek from McCarthy in 2014.
In 1991, The New York Times caught on, stating this was the best fruit brandy being produced in the U.S., with the writer Eric Asimov echoing the same sentiments again in 2007. Clear Creek is probably best known for its award-winning Poir Williams pear brandy, including the flashy pear-in-a-bottle. Yet, their other liquors, such as Framboise, "we aren't allowed to call it Calvados" apple, and Kirschwasser is equally wonderful. Clear Creek's Blue Plum brandy is really that Eastern-Euro firewater known as Slivovitz, minus the hangover inducing impurities usually found in the cheaper imported stuff (Editor's note: Food Dude's first experience with alcohol was Slivovitz. I was 17 – it was two years before I drank any more alcohol). The unusual and unusually complex Douglas Fir Eau de Vie may sound like a Pacific NW drunken camping trip gone haywire, but it is actually based on an ancient Alsatian liquor named Eau de Vie Bourgeons de Sapin. As of this writing, Clear Creek also offers not one, but six different Grappas, from those found in Italy, to an Alsatian style Marc, and an Oregon Pinot Noir Grappa. Other items include local fruit liquors ranging from Blackberry to Pear and even Cassis made from black currants grown in nearby Scio. Don't miss their McCarthy's Oregon Single Malt Whiskey. It has a deep smokiness with savory notes of smoked meats and leather, but its balance of oak and vanilla brings me back. "Made from peat-malted barley brought in from Scotland; our whiskey would be a single malt Scotch if Oregon were Scotland". It's very good and I buy a bottle every year.
In 2016, Clear Creek Pear Brandy was awarded double-gold at the Denver International Spirits Competition.
The tasting room in NW Portland moved to Hood River when they sold to Hood River Distillers in 2014. You can read more by reading the HRD section below.
304 Oak St., Hood River, OR 97031  Map
(541) 386-1588 ext. 234
Hours: Thursday-Sunday 12:00 pm-6:00 pm
---
Dogwood Distilling

You can't drive to Forest Grove and visit them (just yet) but Dogwood's award-winning craft spirits Union Gin, Branch Raw Honey Rye, Haint Absinthe, and DL Franklin Vodka deserve a mention for their commitment to quality. Founded in 2010, their Haint Absinthe was the gold medal winner in the 2015 San Francisco World Spirits Competition. Owner and distiller Matt Hottenroth came to Forest Grove based on the city's reputation for pure water – a distinction that other Forest Grove beverage manufacturers such as SakeOne claim makes a huge difference in the purity and taste of their products. Hottenroth might be new to distilling but he's no stranger to the Oregon liquor industry. He was a saké brewer at SakeOne, later opening the Cornerstone Bar and Grill, and later, opening the Concordia Ale House, assisting with the Green Dragon, and the now-defunct Integrity Spirits.  Dogwood is available in many Oregon liquor stores and online national retailers, and the distillery has frequent events and off-site tastings.
1835 19th Ave, Forest Grove, OR 97116 Map

No Tasting Room. Check the Dogwood Facebook page for events and off-site tastings.
---
Drop Shop Distillery
Drop Shop in Hillsboro is all about limoncello. They offer the classic lemon version along with Orange and limoncello. Additionally, you'll find wheat vodka and pumpkin spice liquor. There is a tasting room just off of Cornelius Pass Rd: Hours Thursday 4 pm-7 pm, Fri 2 pm-6 pm, Saturday – 2:30 pm to 6 pm. You'll also find them along with other distilleries at the Saturday Beaverton Farmers Market.
7940 NE Nicholas Ct, Suite F, Hillsboro, OR 97124  Map

(971) 267-5555
---
Flooded Fox Den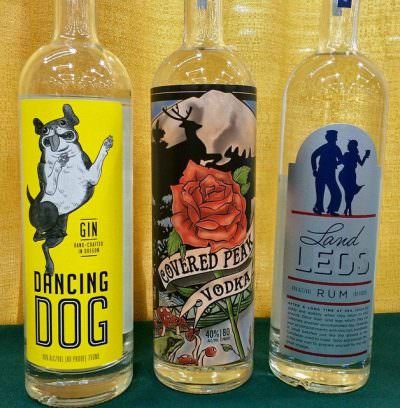 Busqueda Aged Rum, Covered Peak Vodka, Dancing Dog Gin, and Land Legs Rum make up the offerings at Flooded Fox Den. This family-owned and operated distillery in Forest Grove is small, and its products are often hard to locate in stores and bars. However, they are worth tracking down. Everything is made in single, small batches with no-holds-barred commitment to achieving the best in quality. From the Flood Fox Den website, "Each batch uses only the finest, natural ingredients.  We refuse to use artificial flavors, coloring, fillers, or artificial sweeteners in our products." As for the name? "When founder Scot Lester first moved to Portland, he discovered a small hole in a steep slope in his backyard. A small fox decided this hole would make a perfect den to raise her future family. Then the rains, that Portland is famous for, came. It turned out the small hole was actually part of the drainage system of the house and would fill the hole with rainwater. It was heartbreaking to see the small, wet, dripping fox sitting outside the hole every rain shower waiting for the water to subside. But after every rain, the fox happily moved back into the damp den." That story alone made me want to track them down.  As of May 2016, Flooded Fox Den donates 50 cents to the Oregon Humane Society for every bottle of Dancing Dog Gin that is sold.
2331 23rd Ave, Forest Grove, OR 97116  Map. You'll also find them at Beaverton Farmers Market during the summer season.

(503) 308-9050
Flooded Fox Den holds frequent tastings throughout the area including Beaverton Farmers Market. Call for the latest events. (website is broken)

---
Freeland Spirits
"Freeland Spirits is one of the very few women-owned and run distilleries in history. Molly Troupe was born wearing a pair of chemist goggles and never took them off. With a background in biochemistry and a Masters Degree in Distillation from Heriot-Watt in Scotland, Molly commands perfection with every spirit she orchestrates."
Freeland Gin which was first launched in 2017 is handcrafted in a traditional copper pot. In 2018 Freeland Bourbon was added to the list.
Tours and tastings are offered every day of the week. "Come for a Tour and Tasting and treat yourself to a unique gin and whiskey experience in our production room and beautiful tasting room."
Freeland Spirits was founded by Jill Kuehler in 2017 and takes its name from Kuehler's grandmother, a personal role model whom she calls Meemaw, who (somewhat ironically) was a lifelong nondrinker but taught her women can be whatever they want to be. Freeland Spirits has a "grain-to-glass" philosophy and creates superior spirits that celebrate all the Northwest has to offer. Master Distiller Molly Troupe has a background in biochemistry and a Masters Degree in Distillation from Heriot-Watt University in Scotland. The Freeland Spirits portfolio includes gin, bourbon,Genever-inspired Geneva and Freeland rye whiskey is slated for release in 2022.
2671 NW Vaughn St, Portland, OR 97210  Map

310 N State St Suite #108, Lake Oswego, OR 97034  Map
(971) 279-5692
Hours – Lake Oswego: Wed – Sunday: 12 pm-6 pm.
Hours – Portland: Daily 12 pm-6 pm
---
Hood River Distillers
This distillery was founded in 1934 in Hood River. They are the largest and oldest importer, distiller, producer of distilled spirits in the Northwest. They've been at their current facility since 1969.
Look for their award-winning spirits such as Big Gin, Trail's End Whiskey, Timberline Vodka, and Batanga Tequila.
"Join us at our Tasting Room in downtown Hood River and learn about the exciting 86-year history of Hood River Distillers. While here, you can sample through our portfolio of products, enjoy mini cocktails, and shop our selection of cocktail necessities and branded swag!"
304 Oak Street, Suite #3, Hood River, OR 97031  Map
(541) 716-5276
Open daily, 12 pm-6 pm.
---
McMenamins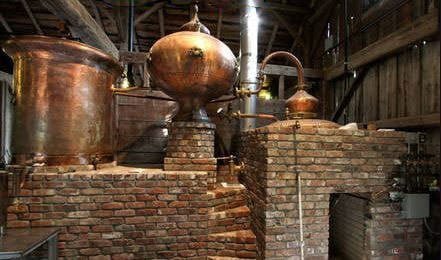 Love 'em or loathe them, McMenamins is a unique Oregon institution and empire. Most known for their historic renovations of buildings like music and film theaters, county workhouses, funeral parlors, hotels, and brewpubs, McMenamins has been distilling whiskey, brandy, and gin since 1998. Their Edgefield Distillery is located just outside of Portland at their sprawling Edgefield Hotel near the airport. It is one of the most accessible of the region's distilleries for show and tell. From the Edgefield website, "With a glass in hand while standing behind a wall of ornate etched glass, visitors can watch our 12-foot-high, gleaming copper-and-stainless-steel still in full swing. It resembles a hybrid of a 19th-century diving suit and oversized coffee urn, a design made famous by Holstein of Germany." Their Hogshead Whiskey is neither a straight Scotch, Bourbon or Irish Whiskey style, but a signature hybrid of their own. It is a smoky amber whiskey with a fair wallop of barley. Their Penney's Gin is English-style flavors such as juniper berry, citrus, and cardamom, while Professor's Gin is more spicy and herbal in nature. Brandies include Pear, an aged oak Edgefield, and their Longshot Brandy made with the estate's own Syrah grapes. Edgefield is also making Three Rocks Rum from molasses-rich sugar, fermented and double-distilled before being aged for two years in used Hogshead Whiskey and port barrels. Even a coffee Liqueur is in the lineup, made from house-roasted beans. If you are on the west side, try the Cornelius Pass Roadhouse Distillery.  "Explore the former granary barn constructed by the Imbrie family in the 1850s, and known today as one of two McMenamins' distilleries. Its crowning glory is a century-old, 160-gallon Alambic Charentais pot still. It once sat in an old barn in Cognac, France, and came here in 2011. This copper beauty sits atop bricks recycled from Edgefield, Kennedy School, and the Crystal Hotel."
The distillery is open to the public, and their spirits can be purchased at Edgefield by the bottle or other select McMenamins locations. Tours Monday – Sunday at 2 p.m.
2126 S.W. Halsey St., Troutdale, OR 97060 Map
(503) 669-8610
---
New Deal Distillery
Another company that launched in 2004, New Deal makes two products: vodkas and their Loft brand liquors. New Deal Vodka is extremely smooth and clean, while their Portland 88 is described as, "like New Deal Vodka's younger cousin with a mustache and a Camaro. Its 88-proof recipe delivers a swift kick for those who like to taste the drink in their drink. Refreshing and crisp, it holds up to bold mixers, but it's perfectly at home straight over ice with a twist of lemon – albeit a big, manly, behemoth twist of lemon." Witty. Other spirits include the Portland 88, Hot Monkey Mud Puddle, Mudpuddle Vodka, Gin No. 1, Portland Dry Gin, Recipe 33, Ginger Liqueur, Cascadia American Bitter Liqueur, and Coffee Liqueur. For Tom and Matthew of New Deal, craft distilling is about creating unique spirits and getting to know their fans one drink at a time.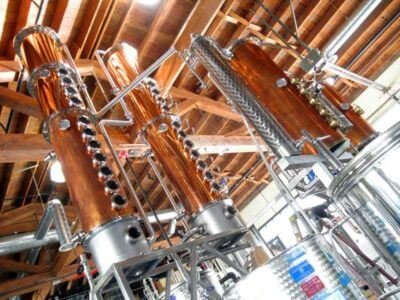 To top it all off, New Deal offers a "Distiller's Workshop Series", a small-batch, limited release line where you'll find small-batch rums, white dogs, moonshine and other specialty craft spirits. All New Deal spirits, including seasonal and limited-run products, are available for tastings and purchase at the tasting room.
"Our production facility is in the same large open space as the tasting room— you'll likely be surprised at how easy it is to see the distillation equipment from the tasting room. If you'd like a closer look, ask your Spirit Guide and (time, space, and safety permitting) they can walk you back to the still and show you more of our process."
New Deal occasionally offers cocktail classes for those wanting to learn how to stir and shake behind their home bar. The two-hour classes cover cocktail balance basics as well as the proper techniques and equipment for making the perfect cocktail. Once again, the distillery is teaming up with Melaney Schmidt of beverage catering company Public Provisions to instruct the classes. Schmidt has an extensive background creating cocktail menus with fresh, delicious ingredients, and New Deal is excited for her to share her talent with the class again.
New Deal Distillery Tasting Room & Store is open Wednesday through Sunday from 12 pm to 6 pm. Check the website for holiday hours.
900 SE Salmon St., Portland 97214., Portland, OR 97214 Map
(503) 234-2513
---
Ransom Wine Co. & Distillery
Ransom Wine Co. & Distillery started planting their own barley in 2008. It is located in the foothills of the coastal mountain range and was certified organic in 2011. "We distill our spirits in a hand-hammered, direct-fired French alembic pot still, making all of the selective cuts by taste and smell, without the use of computers or robots. This labor-intensive, traditional method of distillation retains greater aromatic intensity and body from the raw materials we select with such great care. We mash and ferment our base wort on-site weekly in small batches, sourcing local and organic grains where possible and incorporating barley grown on our own farm. Our gins include the finest natural botanicals, many of which are Organically grown in Oregon." "This labor-intensive, traditional method of distillation retains greater aromatic intensity and body from the raw materials we select with such great care. We mash and ferment our base wort on-site weekly in small batches, sourcing local and organic grains where possible and incorporating barley grown on our own farm. Our gins include the finest natural botanicals, many of which are Organically grown in Oregon." Check out their vermouth, which is considered by many to be one of the best in the nation, and their Emerald 1865 Straight American Whiskey received double gold at the San Francisco World Spirits Competition.
You can't tour the distillery itself, but you can visit the tasting room in McMinnville.
525 NE Third Street, McMinnville OR.  Map

The tasting room in McMinnville is open Thurs – Sunday, 11 am – 7 pm.
(503) 472-2493
---
Rogue Spirits Distillery

These micro brewmasters might be best known for their Dead Guy Ale and Shakespeare Stout, but they've produced spirits since 2003. While their original distillery is on the rocky coast of Newport, Oregon, their Portland micro-micro distillery is the first in the state to produce rums.  Varieties include White, Dark, and Hazelnut Spice. Many have won silver and gold awards at world liquor competitions. Their dark rum is a favorite and described accurately by Rogue as a deep amber color with toffee, stemmy oak, and nutmeg aromas…. finishes with a nutty, spicy fade and peppery alcohol." Branching out from rums, the company also produces Dead Guy Whiskey, an Oregon Single Malt Whiskey, and two types of gin: Pink Gin is highly flavored. Aging in Oregon Pinot Noir barrels gives it hue and fruity quality, along with a bounty of flavors including spruce, cucumber, orange peel, angelica, coriander, orris root, juniper berries, and several other ingredients. The Spruce Gin contains 14 different ingredients as well, but spruce dominates.
The Portland Distillery, located inside their Portland Flanders St. Pub, was where they first started tinkering with spirits in 2003. It is also the first rum distillery in the State of Oregon.  The distillery produces Dark and Hazelnut Spice rums from 100% Hawaiian Cane Sugar. Tours are given daily at 5:00 pm.
The Rogue House of Spirits in Newport, Oregon opened for business on June 10th, 2006.  Additionally, House of Spirits on the Oregon coast is one of the first distillery pubs in America producing award-winning Rums, Gin, Vodka, and Whiskey. Spectacular views of the Yaquina Bay marina, bridge, and the Pacific Ocean are showcased from our Newport distillery. A full selection of Rogue's award-winning spirits is available in cocktails and bottles to go. House of spirits has a limited food menu, as well as wine, ales, porters, stouts, and lagers. Tours are available daily at 4:00 pm.
2122 Marine Science Drive, Newport, Ore. 97365  Map
(541) 867-3673
Friday – Sunday: 12pm – 8pm
---
Rolling River Spirits
"Rolling River Spirits is a Portland, Oregon-based family-owned and operated business producing handcrafted organic spirits from still to bottle since 2011. We use the freshest organic ingredients such as wheat in our vodka and will do the same when crafting our future production of whiskey. We are currently working on our organic certification." Rolling River is quickly making a name for itself with three flavors of Aquavit: Ole Bjørkevoll with fresh dill, dill seed, fennel, caraway, and juniper, the second Bjørkevoll's Holiday featuring caraway, fennel, cardamom, allspice and cinnamon, and Stilar Limited Series Aquavit #1 Caraway.
In addition, master distiller Tim Rickard has worked with Portland Coava Coffee Roasters to create a coffee distilled spirit. Finally, Habañero Vodka, Trinidad Scorpion Vodka pure grain Vodka, gin, and whiskey round out the list. In 2017, Sunset Magazine called Rolling River Spirits one of the 14 best distilleries in the west.
Tasting Room Hours: Friday – Sunday 12 p.m. – 5 p.m. Weekdays by appointment
1215 SE 8th Ave suite H, Portland OR 97214  Map
(503) 236-3912
---
Rose City Distilling

Don't let its upscale suburban shopping mall location fool you, Rose City Distilling is serious about its craft. Award-winning Gin, Vodkas, Whiskeys, Rums, and Liqueurs. One of the "pioneers" of the craft distilling movement in Oregon, Rose City Distilling began in 2004 through the foresight and vision of John Ufford, Chairman, and CEO. In 2005 Rose City Distilling brought on Robert G. Turner, a well-seasoned spirits industry pro, and introduced their Silver Vodka including Marionberry and Lemongrass-Lime Vodkas. In 2006 the company branched out, partnering with the Snake River Stampede Rodeo, to release Snake River Stampede Canadian Whiskey.  Since that time they have created a variety of offerings such as Cricket Club gin, and three different rums including a black spiced rum. Rose City has earned more awards than any other distillery in the state of Oregon.
7272 SW Durham Rd #100, Portland, OR 97224  Map

Phone: (503) 620-0313
Hours: Thu 3:00 pm – 8:00 pm, Fri 2:00 pm – 7:00 pm, Sat 2:00 pm – 7:00 pm, Sun 12:00 pm – 4:00 pm
---
Shine Distillery & Grill
Shine Distillery & Grill is located in the heart of the historic Williams district in Portland, Oregon. At the restaurant we offer Pacific Northwest cuisine inspired by the hand crafted spirits we produce in-house. Our signature cocktails and seasonal restaurant menu embrace a distinctly support local philosophy. In addition to our own small batch offerings, you'll find a carefully curated selection of the region's best craft spirits, Northwest grown wines and a rotating tap selection of local brews.

Shine Spirits LLC produces a diverse portfolio of small batch spirits including Straight Bourbon Whiskey, Batch One Gin, Northwesty Vodka, Cascadian Blue Agave and cask-aged Cascadian Gold Agave. In addition to our standard portfolio, we offer limited runs of spirits such as our Pink Gin; a hibiscus forward colorful pink gin, our green Minty Vodka and our summer favorite, our YAS Peach Vodka. All produced with natural ingredients and no added colors. You can purchase our spirits online through our website for pick-up by the bottle at the Distillery, and find them at various liquor stores throughout the state of Oregon.
4532 N Williams Ave., Portland, OR 97217  Map

Phone: (503) 825-1010
Hours: Mon-Thurs, Sun 11:30 am-10 pm, Fri-Sat 11:30 am-11 pm
---
Stein Distillery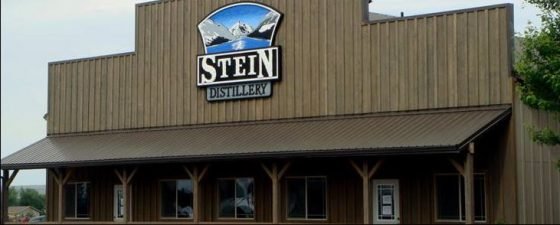 Stein Distillery is a micro-distillery from a small town called Joseph, Oregon. We have been distilling for over 11 years now with a product lineup of 18 spirits. We are unique in the sense that we work with the process of making our spirits from beginning to end. We grow most of our own ingredients for our spirits on our family farm in Joseph, distill everything we do in-house and spend tons of time hand-labeling. We say " from our grain to your glass" or farm to table.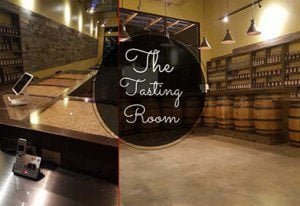 Stein Distillery spirits include a very unique rye vodka, seven devils rum unaged and aged in bourbon barrels, our straight bull bourbon 2yr and 5yr, straight ram rye whiskey 2yr and 5yr, 3 straight blended whiskeys (blended with a straight bourbon, straight rye whiskey, and single malt whiskey, our newest 7 yr. straight cougar corn whiskey and for dessert 4 cordials, rhubarb, raspberry, huckleberry, and blackberry.
Because of our increasing growth, we decided to open up our first tasting room in the Portland area. We want people to try our fine spirits, a spirit 100% made in Oregon. The fact that Joseph is about 7 hours away from Portland, it's a bit easier for us to get more recognition in the city as appose to get people out there. The tasting room offers flights of 4 samples and mini-cocktails.
160 A Ave., Lake Oswego, OR 97034  Map

(541) 432-2009
Tuesday, Wednesday, Thursday 1 pm -7 pm, Friday and Saturday 1 pm – 10 pm. Call to set private tastings during closed times.
---
Stone Barn Brandyworks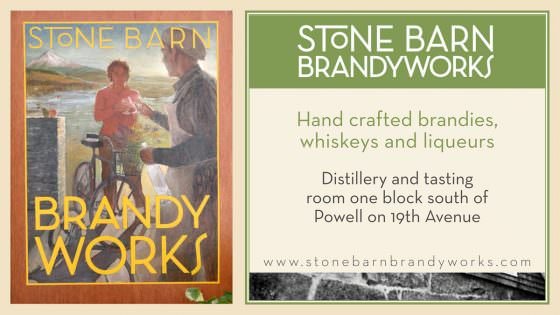 Founded by Sebastian and Erika Degens, Stone Barn Brandyworks makes hand-crafted brandies, whiskeys, and liqueurs from Oregon and Pacific Northwest fruits and grains that are both characteristic of their origin and distinctive to their variety, grower, or vintner. They are working to produce both traditional and uniquely creative products, with a commitment to excellence and a direct connection to their community of customers & suppliers. Stone Barn offers a wide variety of spirits, including the classic Bartlett (Williams) Pear Brandy, Nocino (green walnut liqueur) Quince Liqueur (my favorite) Oregon Blush Rhubarb Liqueur, Comice Pear Brandy from EZ Orchards, Biggs Junction Apricot Liqueur, their own port, Red Wing Coffee Liqueur, Cranberry Liqueur, and other seasonal favorites. Their barrel-aged whiskey line extends from Straight Rye to 100% Oat, with some releases featuring spelt, dark roasted barley malt, and wheat. They also have an Oregon-grown Bourbon aging in their barrel room which should be ready in 2017.
Stone Barn's tasting room is open Friday – Monday from 10 am – 6 pm with other days and evenings by appointment with tours and an active still on most days. Please check their website for specific hours. If you have a group of five or more, please call ahead. Some Stone Barn products are also now available online and can be mailed to most states! Additionally, you can find them at many Portland Farmers Markets – check their website for upcoming events.
3315 SE 19th, Suite B, Portland, OR. 97202 Map
(503) 341-2227
---
Straightaway Cocktails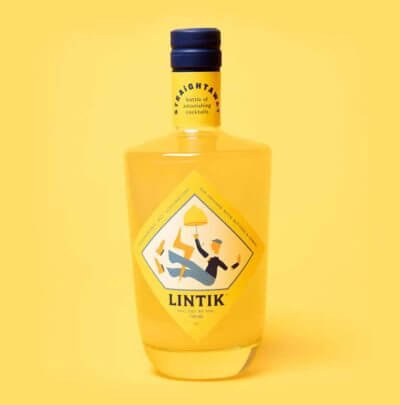 Straightaway is a premade cocktail company featuring four spritzers and six cocktails ranging from Negroni, Oregon Old Fashioned, Martinis, The Lintik (to which, author of The Gentleman's Companion, Charles H. Baker said, "The Linktik is a sort of liquid triple threat originated for reasons strictly dishonorable, but electrifying."), and more. I haven't tried any of them yet, but if nothing else, the bottle labels are fabulous and make me want to stop by the tasting room!
Tasting Room: Monday-Wednesday: Noon-6 pm Thursday: Noon-7 pm, Friday-Saturday: Noon-8 pm, Sunday: Noon-5 pm
901 SE Hawthorne Ave., Portland, OR 97214  Map

(971) 255-1627
---
Trail Distilling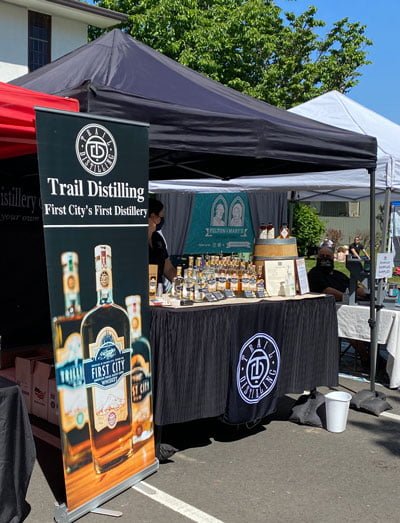 Trail Distilling is the first distillery in the first city west of the Mississippi River. Spirits are hand-crafted, beginning with clear Cascadian glacial water and naturally harvested grains. The distillery has a large private event space, distills by contract, offers WSET classes, and has tours (currently on hold due to Covid-19). The tasting room is currently open Wed-Sun 2 pm-6 pm. You can frequently find and taste their spirits at the Saturday Beaverton Farmers Market. In 2021 they received a platinum award for Trillium Pink Pinot Gin in the ASCOT awards, and in 2022, it won double gold at the TAG Spirits Awards. They also have a small gift selection with glassware, flasks, trail toddys, tonics, bitters, etc.
Trail Distilling is able to produce vodka, gin, whiskey and rum as well as fortification of wine and ciders. We will help navigate you through the process from the beginning to the end so that you truly have your spirit made just for you. Barrel brokering, supply ordering, regulatory requirements and storage, we are here to assist you.

Join us for a mixology class where we will create and learn about cocktails and spirits history. Enjoy tastings of your cocktail creations, and take home the recipes!
503-479-0003
1553 S HWY 213, Oregon City, OR 97045  Map
---
Vinn Distillery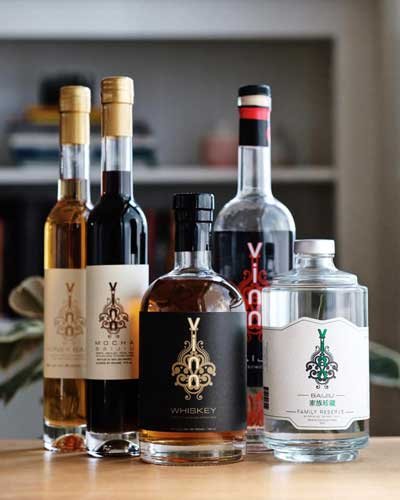 Vinn Distillery is a family-owned company located just south of Portland in Wilsonville. They recently opened a Tasting Room in Distillery Row. Vinn exclusively produces and bottles rice-based spirits from recipes that have been passed down for over seven generations.
All of their spirits are handcrafted in small batches – the way their ancestors taught them. The meaning of Vinn is "infinite" and is the shared middle name of the five Ly children. Since their products are made entirely from rice, they have the added benefit of being gluten-free. They are currently producing Vinn Baijiu, Baijiu Family Reserve, Vinn Vodka, Vinn Whiskey, Blackberry Liqueur, Strawberry Liqueur, Mocha Baijiu, and Honey Baijiu (Seasonal – through March).
The tasting room is open Saturdays: 1:00 pm – 6:00 pm.
222 SE 8th Ave., Portland, 97214  Map
(503) 807-3826
---
Westward Whiskey
I am waiting for some updated information from Westward; most of this profile is from the previous owner, House Spirits Distillery.
Each and every drop of Westward American Single Malt whiskey is brewed, distilled, matured, and bottled at the Westward distillery. Book a tour and meet the talented people behind our whiskey, learn about our pioneering spirit, and walk the distillery floor to see first-hand how our unique production techniques – and our passion – make Westward the highest-rated American Single Malt whiskey. All tours wrap up in our tasting room for an exploration of distillery exclusives that are not available anywhere else in the world.
Now 12 years old, House Spirits' ambition in the micro-distillery world has launched the company into worldwide fame with several features in magazines like GQ and Bon Appetit. What sets them apart from other manufacturers is their commitment to artisan distilling alongside a jet-set cocktail culture mentality; the cocktails at House Spirits often seem to have equal footing with the other items they are made with. Thus, you'll find House Spirits hosting special cocktail pairing dinners at some of Portland's finer restaurants, or you may run into them in places as far-flung as New Orleans, New York, or Australia, spreading the word about their unique Northwest/Old World style spirits. As of this writing, House Spirits makes four different varieties, along with limited release lines. Aviation Gin is probably their best known. Created in the "Dutch Gin" style, they describe it as "a botanical democracy of Juniper, Cardamom, Coriander, Lavender, Anise Seed, Sarsaparilla and dried Sweet Orange Peel". Aquavit is a love it or hate-it kind of firewater, but the Krogstad Aquavit is more balanced than most, with Star Anise and Caraway. While House Spirits' releases might be limited to several bottles, it is certainly not limited in variety. Their seasonally released spirits range in production from a few cases to a few pallets. These rare releases are available in Portland, Oregon at the House Spirits Tasting Room. So, the next time you're on SE Washington St., drop by to see which of these select experiments is on the shelves.
For both out-of-town visitors and Portland locals, a Westward Whiskey tasting room visit will give a unique opportunity to experience part of Oregon's dynamic artisan community. All spirits are available for purchase at the Tasting Room.
Open Sunday – Thursday from 12 p.m. – 7 p.m, Friday – Saturday from 12 to 8 p.m. The cost of a tour is $30 per head, which includes a full tasting of our award-winning spirits. Reservations are encouraged but not required. Please make a reservation or call ahead if your party is larger than 6 people.
Westward Whiskey makes its spirits from scratch using natural ingredients. You'll find a tasting room, cocktail workshops, and a whiskey masterclass at the distillery. Check their website for the latest details.
Of course, the focus is whiskey, for which they won a double-Gold at San Francisco World Spirits Competition. It's also the highest-rated American Single Malt.
Tours are offered Sunday, Monday, and Thursday at 3 pm and 5 pm, and Friday and Saturday at 1 pm, 3 pm, and 6 pm. Flat, closed-toed shoes are required. Schedule a tour on Tok here. You'll also see their shops at PDX Airport Concourse C and an Airport Kiosk (after security).
65 SE Washington St., Portland, OR 97214  Map
(503) 235-3174
---
Wild Roots Spirits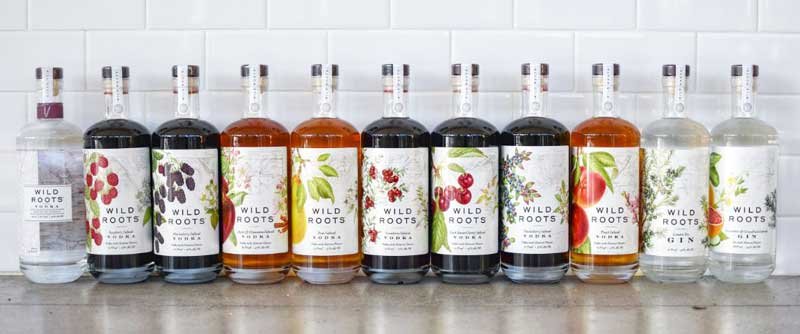 In 2019, Wild Roots opened a new tasting room on distillery row. the new tasting room can entertain up to 47 guests and boasts an industrial yet sleek aesthetic. The welcoming space features floor-to-ceiling windows allowing for plenty of natural sunlight – as well as a 6-seat bar, comfortable lounge seating, and high-top tables. Now you can sample flights of all-natural, fruit-infused spirits, traditional vodka and gin, mini-cocktails, frozen seasonal vodka slushies, and more. The new space is classy and comfortable, a nice place to relax for a few minutes. Mini-cocktails are $5. Vodka flights are $10.
Wild Roots Vodka uses all-natural ingredients. No artificial fruit flavors, no artificial colors. Instead, everything is naturally infused. Each bottle starts with a five-time distilled and five-time filtered grain-based vodka, infused with over a pound of natural locally grown fruit. You'll find Wild Roots Gin, Wild Roots Vodka, Marionberry Infused Vodka, Red Raspberry Infused Vodka, Cranberry Infused Vodka, Oregon Marionberry Infused Vodka, Pear Infused Vodka
Washington Apple and Cinnamon Infused Vodka, Dark Sweet Cherry Infused Vodka, and Peach Infused Vodka.
The Wild Roots tasting room is open daily from 12-6 pm.
77 NE Grand Ave Suite F, Portland, OR. 97232 Map
(971) 254-4617
---
You'll find our Portland Metro Area Distillery Map here: