H Mart Asian Grocery Open in Tigard – an excellent Asian grocery store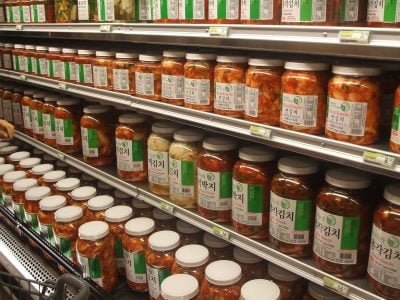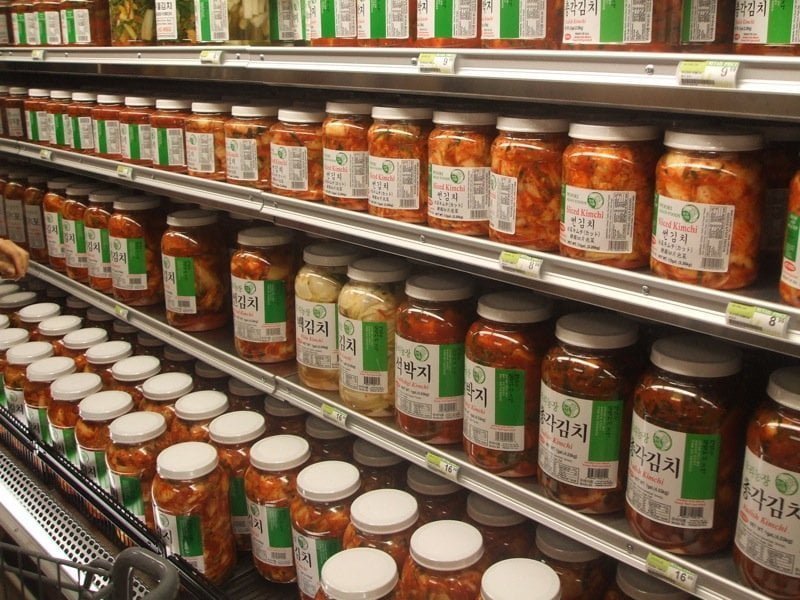 H Mart is a huge Asian/Korean grocery store. Think Uwajimaya on steroids. The store opened June 2008 on SW Pacific Hwy in Tigard (99W). It is easy to get there by going up I-5 to exit and heading west, just over 217. From Washington County, you'll want to jump off 217 at 99@ and head west. It is on the south side of the street, next to Sherwin Williams Paint & Firestone Tires.
As I said, it is a very large store, bigger by a third or more than Uwajimaya. As you enter, you'll find a food court on the right side of the store along with a bakery, a sushi counter, Korean food, and Chinese food/noodle counter. Ordering food can be confusing, and there is a bit of a language barrier. Once you order (a procedure in itself), stay and wait. They will EVENTUALLY call your number, which you'll find printed on your receipt.
The food is fine; a bit better than you might expect. I tried several things, but my favorite was the Bi Bim Bap, though the kimchi on the side was lousy. Still,  I'd probably eat here every time I shop. The bakery department in the front of the store was interesting. They offer a wide selection of sweet breads including many I haven't seen before, but a small quantity of each type. A large display case is full of fancy cakes and pastries.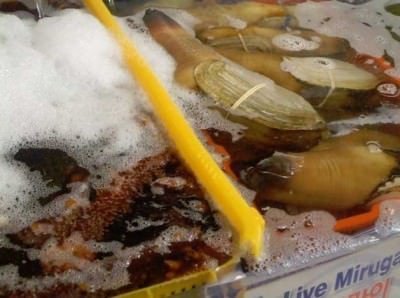 The produce section is large, but I like the quality better at Uwajimaya, which also has a better selection of more exotic items. There is a small wine and beer selection; I'm surprised they don't have more. In the back corner is an area for pre-made foods to take home. Along another section of the back wall is a very large seafood department. One thing turned me off right away: it reeked of fish. Not as in , "this smells like the sea!", more, "you need to clean your boat – this fish is old". Great selection, though, and I'd definitely check out H Mart again once the store has matured a few months.
The opposite corner in the back is taken up by a meat counter, which has lots of choices. There is at least five different types of short rib cuts alone. Quality looked very good. The rest of the store is pretty much what you'd expect, except for the incongruous addition of American foods sprinkled about, for example, lots of Asian noodles, and suddenly a display of cheap Ragu spaghetti sauce. I found this is pretty common throughout the store, though overall there was a very large selection of Asian items with no English on them whatsoever. I always have a good time in places like this trying to figure out what things are, but then I'm easily entertained.
On my first visit to H Mart I was with two Asian friends and one Caucasian friend. I went through first, got yelled at by the checker because I didn't wait for her to finish ringing all my groceries before swiping my card. She then asked if I had a store card. When I said no, she rang me up and sent me on my way. I waited while my friends went through. The next, a Korean was asked if he had a store card, and when he said no, he was immediately offered one with an application. As he was leaving, the bagger came rushing up with a free sample of tea for him – a large box.
Next came a Caucasian without a card, who wasn't offered one, and was sent on his way, followed by a Chinese friend who was immediately offered a card, and even though he said no, was given a big box of tea. Now I'm not saying they are prejudiced against Caucasians, but the whole thing was just kind of weird. I wanted free tea, damn it! [update: on subsequent visits this did not happen]
Anyway, the store has an interesting selection of Asian foods, and I expect it will be great once they get the bugs worked out.
Guilty Carnivore was at H Mart over the weekend when it was quite the madhouse. He took the pictures in this post, and you can see many more in his photo album.
Phone: 503-620-6120
Address: 13600 Sw Pacific Hwy, Portland, OR. Map