Note: DOC closed in 2020.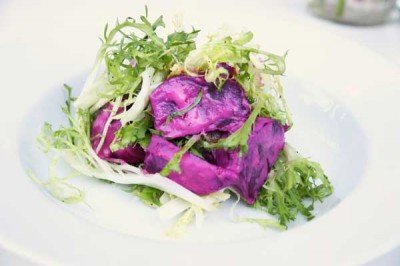 DOC restaurant always seems to fly under the radar, but they produce good food in a unique environment. Walk through the kitchen to enter the dining room, and once you sit down, most of the 20 or so chairs have a great view of the chef in action. Resist the urge to stir a pot, and join the rest of the party. There is a convivial atmosphere that encourages discussion between tables; something I always enjoy.
Under the latest team, the food has new energy. Executive Chef Jobie Bailey and Brian Scibetta create weekly prix fix menus, always taking advantage of the current harvest. Though each dish is available a la carte, I recommend you go for the entire package. The food is an anthem to the Italian style; straightforward, dressed in minimalist attire. My choices from the current menu are the Tillamook oysters with grapefruit and Campari mignonette or the heirloom tomato carpaccio and nasturtium salad with balsamic. Next the primi of cavatelli pasta, cauliflower, and mornay sauce. In the secondi section,  albacore grasps at the last wisps of summer, paired with corn, sweet and light Nardello pepper, and crème Fraiche. An excellent cheese plate gives a bit of a breather before a dessert brings you over the finish line; in my case a better than average panna cotta.
DOC is dinner as a package of experiences. A great date restaurant, it's one of those places where, halfway through the meal, she'll lean across the table and say, "You are going to come up for coffee, aren't you?"
Address: 5519 ne 30th ave., Portland, OR 97211 Map
Phone: (503) 946-8592
Website:
Hours: Tues – Sat 6pm – close. 2 seatings nightly
Happy Hour: n/a
Reservation Policy: Open Table 
Noise Level: moderate
Price: Prix fix – 5 courses $60. Optional wine pairing $40. Also available a la carte