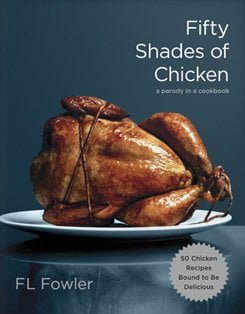 "A young, free-range chicken. A dominating, ravenous chef. Fowl play"
I am rendered speechless by the brilliance of a new cookbook called "50 Shades of Chicken" – not that is a great book (I haven't seen it in person), but because they are going to sell a pile of them. From what I hear, the entire book is full of double-entendre, featuring provocative recipes such as "Mustard-Spanked Chicken", "Dripping Thighs" and others which I will leave to your imagination. Here's an excerpt –
"I want you to see this. Then you'll know everything. It's a cookbook," he says and opens to some recipes, with color photos. "I want to prepare you, very much." This isn't just about getting me hot till my juices run clear, and then a little rest. There's pulling, jerking, stuffing, trussing. Fifty preparations. He promises we'll start out slow, with wine and a good oiling . . . Holy crap. "I will control everything that happens here," he says. "You can leave anytime, but as long as you stay, you're my ingredient." I'll be transformed from a raw, organic bird into something—what? Something delicious.
This video is pretty entertaining. Quite possibly not work safe as it contains a shirtless man and a naked chicken, but who's working on Thanksgiving eve?
It's on Amazon if you need to satisfy your chicken urges.