A Review of Lompoc's 5th Quadrant Brewpub in Portland
I'm the first to admit, I don't know a lot about beer. As long as it is too dark to see light through, I'm happy. Sometimes though, a relaxed environment, decent pub food, and a beer just hit the spot. During these recent warm evenings, I've been heading to 5th Quadrant, the newest incarnation of the Old Lompoc brewery on N Williams.
Owned by the folks behind the New Old Lompoc, the 5th quadrant with its high ceilings, old exposed wood beams and rough concrete floor show its roots as a car repair shop. The roll-up garage door is still in place, though replaced by a newer version that opens to a patio on nice days. Lots of the wood trim was recycled from an old Portland house. A unique aspect is the three booths down the center. At first glance, they are just normal tables, but for large parties, the dividing wall rolls up leaving seating large enough for 16 people. The overall feeling is warm in the winter, yet open and airy in the summer.
Food portions are quite large and rather upscale for pub food. For instance, take the 5th Quadrant salad. It's loaded with sweet roasted beets, crunchy hazelnuts, creamy Gorgonzola, good fresh greens, and an excellent, balanced orange vinaigrette dressing. It is one of the better salads of that type I've had in a long time. For $9.00 you get a portion so large it's hard to finish. Another winner is the Italian chopped salad. The lettuce is cut chiffonade style into thin strips before being mixed with salami, kalamata olives, tomatoes, cubes of decent smoked Gouda, and garbanzo beans. The whole thing is tossed in a basil vinaigrette. It's one of those salads with lots of interesting flavors and textures. There is also a Caesar of romaine hearts and a homemade dressing, but it was a bit bland and didn't really impress me.
Sandwiches are the mainstay at 5th Quadrant, all coming with your choice of soup, salad, fries, or coleslaw. The soups are pretty good, though a recent tomato-basil version had so much cheese on top the entire thing became a bit of a gloppy mess. The fries are excellent; slightly soft with a good sprinkling of sea salt on top, giving little explosive bursts as you bite into them.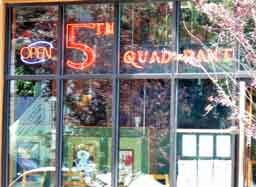 My first test of any pub is the burger. It's better than most; a thick ½ pound patty topped with all the normal accouterments, and your choice of smoked Gouda, Swiss or Tillamook cheddar. Juices run out every time you take a bite, if you hold it over the large mound of fries, they'll soak up all that goodness. The NY strip sandwich can be good if you happen to get a decent cut of meat. The first time it was a bit tough and hard to chew, the second time I liked it much better. It consists of a five-ounce strip, sautéed onions & peppers, mozzarella and garlic mayo on a hoagie roll. It arrives with a steak knife stuck through it to keep the whole thing together. I've also tried the BBQ pork sandwich. It comes piled high with pulled pork shoulder and just the right amount of coleslaw. We aren't talking world-class BBQ here; the sauce could use a bit more character, but it is satisfying. There is also a better than average meatloaf sandwich; grilled with lettuce, tomato, and mayo on whole wheat. After 5:00 pm, there are a few extra entrees; among them, a standard serving of meatloaf on a mound of mashed potatoes, sautéed vegetables and gravy; just like mom used to make. They even suggest the proper beer to go with your entrée.
For the vegetarian in your group, the offerings are better than most. I've had better eggplant Parmesan, but not in a pub, and the marinara sauce is pretty darn decent. There's also a portobello sandwich with roasted red peppers and a spicy rémoulade and a Garden Burger.
Beer, of course, is the star. I used to always get the stout but kept finding myself passing out on the couch by 9:00 pm. Now I'm going for a slightly lighter Lompoc Strong draft. There are Seasonal beers as well as five others made in house. A selection of "Guest Taps" is also available along with a few macro-brews and a few wines. In addition, 5th Element has hard liquor with a selection of specialty cocktails.
I haven't tried dessert yet; after a couple of beers and the huge portions, there hasn't been room. Overall, service is excellent, better than a lot of the more expensive restaurants around town. The beer list is, of course, excellent, with something for everybody. Drop by 5th Quadrant and enjoy a cold microbrew. There are plenty of interesting conversations to overhear, the sun feels good on your face, and you'll enjoy some of the best pub food in Portland.
Phone: 503-288-3996
Address: 3901-B N. Williams Ave., Portland, OR. 97277  Map
Hours: Daily 11:00am -1:00am
Website: Lompoc Brewing