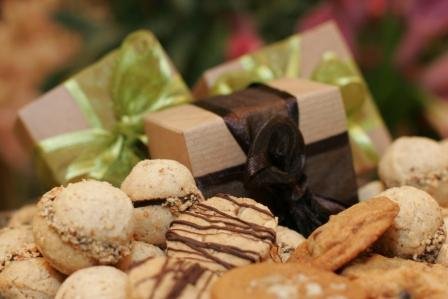 Note: 2/16 – Two tarts has closed.
You two little tarts!
I don't want to love you, you wicked temptress! You are my Delilah, weakening me with your gooey chocolate chip cookies sprinkled with sea salt; cookies that called me back to the register even after I'd sat down. My femme fatale, how well your alluring treats weaken my resolve, they make love to my cappuccino – buttery, salty, crunchy – I must have one with every cup. You are a siren with your peanut butter delights drizzled with bittersweet chocolate, your cappuccino creams of cinnamon goodness, or your sassy pecan tessies. My diet has been dashed upon the rocks.
However, I must chant a hymn unto you, my Cupid. I love that your little cookies are the perfect size; I can indulge myself without guilt. I am enchanted with every tart. You bewitch me; daily I buy two or three; talismans to seduce an unsuspecting friend.
Now it is time to share our love.
Suddenly, they are everywhere: Foster and Dobbs, Coffee House NW, Zupan's, City Market, New Seasons… tiny little cookies, that are quite simply the best tarts I've had in some time. The brainchild of Elizabeth Beekley and Anna Phelps, Two Tarts Bakery has spread from their original stand at the Portland Farmer's Market, sending their goodness across the city. Now they have opened a retail store at 2309 NW Kearney.
I love that a salesperson looked at me once and said, "dude… can you imagine getting stoned and eating this entire jar!", and for a moment, I could.
The tiny cookies are so inconspicuous it's easy to miss them – I always look for them near the register. It's worth your time tracking them down, and I promise, when you walk out of the store, you'll still be thinking about them. Oh, and the extra ones I buy to share? I'm secretly glad when, after walking down those little side streets and back alleys and entering through the basement, I don't run into anyone I know.
TwoTartsBakery.com